Science-based wildlife management gave us the abundant natural resources we enjoy as hunters today, and it can help ensure we keep them for tomorrow. That's why QDMA's new five-year mission goals include increasing our annual expenditures on deer research to help solve problems that whitetails and hunters now face. It's also why we attend the Southeast Deer Study Group meeting each year to learn the latest findings by deer scientists around the nation, information that not only helps manage our nation's most important game species, it can also help you hunt and manage them more successfully in your home woods. Here are several items I gathered at the most recent meeting in Nashville, Tennessee, that caught my attention as a deer hunter.
486%

 
Increase in the average number of mature bucks harvested per hunter across 16 years of Quality Deer Management at Ames Plantation Hunting Club in Tennessee. Wade GeFellers of the University of Tennessee said that prior to QDM, each season about one in 20 members of the club killed a buck that was at least 3½ years old. Today, it's one in three. Club member Kevin Jernigan contributed to that statistic with the 3½-year-old 8-pointer you see in the photo above, which he killed on December 7, 2017.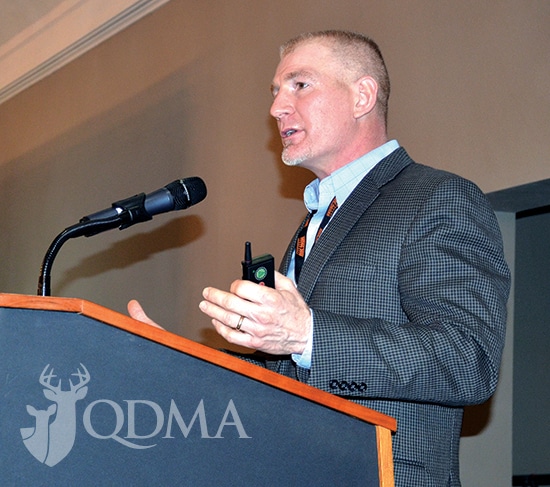 1 inch
This much rainfall in a day effectively doubles a fawn's risk of dying. Justin Dion of the University of Delaware studied survival rates among 109 fawns in an area of southern Delaware that is almost totally devoid of coyotes and where there are no bears or bobcats, allowing him to look at fawn survival factors in the absence of predators. He found that fawns with higher birth weights and older mothers enjoyed higher survival rates, but rainfall also emerged as a factor that influenced survival. Even a drizzle had a measurable effect, and the heavier the rainfall, the harder it was on fawns. Being wet and cold saps a fawn's energy, and if it is already struggling with challenges like low birth weight, rain can be deadly. Justin elaborated on his fawn-survival study in a recent issue of Quality Whitetails magazine, which you will receive when you join QDMA.
During the rut, weather (including temperature, wind speed and precipitation) did not appear to be a factor in buck movement.
25%
Proportion of deer hunters doing most of their hunting in Arkansas's 10-county chronic wasting disease (CWD) "Red Zone" who said they were not aware deer in their county had tested positive for CWD, according to Christopher Middaugh of the Arkansas Game & Fish Commission (AGFC). The survey, conducted one year after CWD was first found in Arkansas, was intended to determine the effectiveness of AGFC education campaigns. Of the same group of Red Zone hunters, 58 percent did not know where to take their deer to have them tested for CWD. Of all hunters in the Red, Yellow and Green zones, 79 percent were very or somewhat concerned about CWD.
474
Number of coyotes trapped over three seasons on 24,000 acres in South Carolina (about one coyote per 50 acres over three years) in a study to see if coyote reproduction rates increased in response to the removal. Overall productivity of the population declined, yet the population size remained stable. Immigration of new coyotes into the study area was the problem. Though well-timed trapping before fawning season can in some cases improve fawn survival where it has been affected by predators, don't fool yourself into thinking this will have a long-term effect on the coyote population. As Dr. John Kilgo of the USDA Forest Service said, "We're gonna have to learn to live with them."
Zero
Number of deer out of 60 wearing GPS collars that died on September 10, 2017 – the day the eye of Hurricane Irma passed within 13 miles of the Southwest Florida study area and brought 135 mph sustained winds and 12 inches of rain. Heather Abernathy-Conners of Virginia Tech reported that does significantly increased their movement rate the day of the storm. Bucks moved less compared to the week before but more than the week after the storm, likely related to post-rut movement patterns and less so to the storm. All deer selected areas with higher elevation where flooding was less likely. Clearly, Everglades deer are hardened survivors. In this dangerous land – where they live with floods, fires, black bears, bobcats, coyotes, Florida panthers, alligators and invasive pythons – they have to be!
3 to 4 months
Approximate period of immunity from hemorrhagic disease (EHD and bluetongue viruses) that a doe transfers to her fawns if she has previously survived the disease and developed antibodies. Dr. Mark Ruder of the Southeastern Cooperative Wildlife Disease Study at the University of Georgia said the benefits for fawns are not permanent but certainly help shield them from infection in the first few months of life.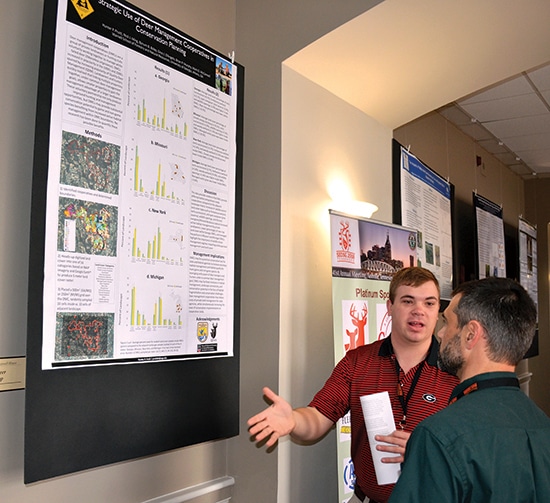 75% vs. 37%
Private land vs. public land survival rates for 61 yearling bucks tracked in southern Delaware by Jacob Haus of the University of Delaware (below, with one of his study subjects) – and you can probably guess which land type had the higher survival. Yearling bucks that spent all their time on private land enjoyed 75 percent survival even though local regulations allow for one of the two bucks in the bag limit to be any age (at least one of them has to have a minimum outside spread of 15 inches on both public and private land). This is an astoundingly high survival rate for yearling bucks considering regulations allow hunters to take them legally. The 37 percent survival rate was for yearlings that set foot on public hunting lands to any extent during the hunting season, which may only seem "low" in comparison to the very high rates on private land. QDMA members can look for an article by Jake with more of his findings about buck survival on public and private lands in the October/November 2018 issue of Quality Whitetails.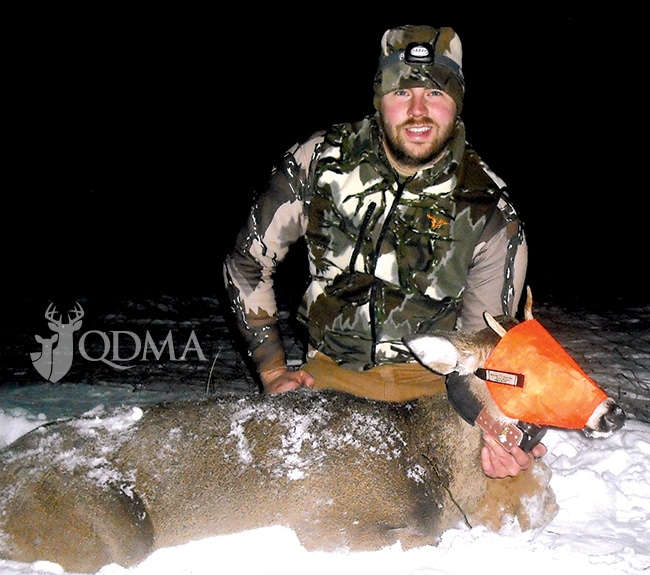 7,389
Number of buck jawbones in the dataset analyzed by Oscar Cortez Jr. of the 800,000-acre King Ranch in Texas to see if sandy soils or supplemental feed affected the accuracy of aging deer by tooth wear. Two age estimates were available for every buck: one made by a biologist using the tooth replacement and wear method (TRW) and one with the cementum annuli technique, which involves microsope analysis of cementum rings. Oscar, a graduate student at Texas A&M-Kingsville, compared data from bucks killed in areas of sandier soil with those killed in non-sandy soil, as well as those that had access to supplemental feed and those that didn't. Sand and supplemental feed had a very small effect on the variability that was seen between the techniques. However, the ages from the two techniques were within one year of each other 70 percent of the time. According to the researchers, the bottom line was this: estimating deer age using the TRW method has value in your QDM data collection, regardless of variations in soil or food types.
1977
The year that Mississippi State University and the Mississippi Department of Wildlife, Fisheries & Parks launched a two-county pilot project to collect deer harvest data on private lands that would help guide statewide deer management decisions. It was the first Deer Management Assistance Program (DMAP) in the country, and it went regional in 1980 and statewide in 1983. Today, 14 states offer DMAPs to hunters, most of them in the Southeast.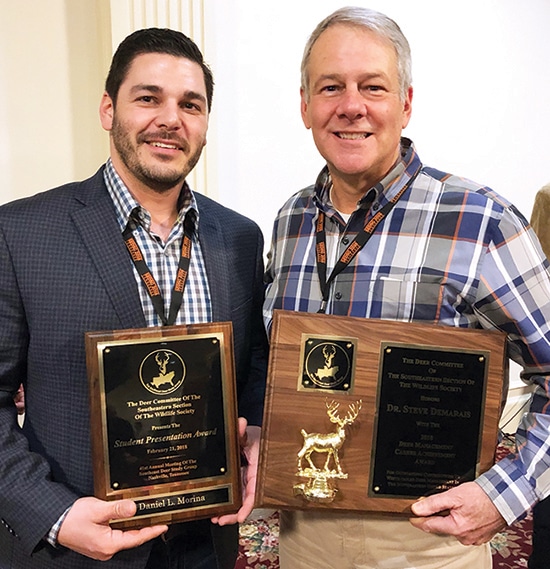 61%
Proportion of an entire year's worth of adult buck photos from passive (non-baited) trail-camera monitoring that were taken during the rut – a one-month period or only 8 percent of the year. Michael Biggerstaff of the University of Georgia used one camera per 50 acres in a 2,500-acre grid to look at factors involved in passive trail-camera monitoring on deer trails. Doe detections were consistent throughout the year with the best predictor of movements being time of day: Does moved most at dawn and dusk regardless of weather or season, with a distinct peak at dusk. However, buck detections sunk so low outside the rut that Michael could not detect weather influences on activity. This matches other studies that have found that annual buck movement rates peak when does are in estrus. During the rut, weather (including temperature, wind speed and precipitation) did not appear to be a factor in buck movement, but just as with does, buck movements in the rut peaked at dawn and dusk.