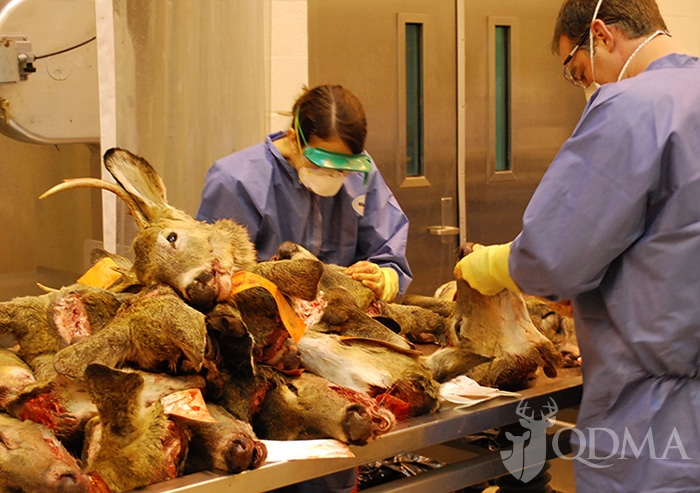 The 9th International Deer Biology Congress (IDBC) – which is held every four years and brings researchers and managers from around the world together to discuss and advance deer management and conservation – was held in Estes Park, Colorado, in August. Nearly 130 presentations were given at the meeting, and at least 20 of those focused on chronic wasting disease (CWD) and its impacts on current and future deer management programs.
QDMA's CEO Brian Murphy and I both attended and spoke at the meeting. The 2018 meeting included attendees from numerous states and 19 countries. It was truly a "who's who" of the deer world. A lot of great information was presented by speakers from Colorado to Korea. I took pages of notes, especially regarding CWD, but three key facts stood above all the rest.
Population Declines Are Real
Dr. Mary Wood from Wyoming Game and Fish presented data on Wyoming's mule deer herd showing how CWD is affecting them at the population level. Some hunting celebrities and other people claim CWD has never caused deer populations to decline. That is absolutely false. Dr. Wood showed long-term population declines in mule deer herds. The reason is simple. During 2010 to 2014 in Wyoming's South Converse deer herd, adult does that did not have CWD had 79 percent annual survival rates. This is great, but annual survival plummeted to 37 percent for adult does that were CWD positive! Over time, this leads to population declines, loss of hunting opportunity, and an uncertain future for that deer herd. Critics claim CWD isn't a big deal. Wyoming's actual data clearly shows otherwise.
Focusing on Antlerless Harvest is Important
Daniel Grear from the USGS National Wildlife Health Center in Wisconsin spoke about how genetic relatedness and deer social behavior affected CWD transmission among individuals and impacted management strategies. In short, deer are very social with a lot of interaction among related individuals. Much discussion on managing the spread of CWD focuses on yearling-buck dispersal. However, Daniel's data showed that does were 10 times more likely to be CWD positive when there was one CWD positive relative nearby. This has huge implications for how we manage CWD. Rather than being solely focused on buck harvest for fear of yearling bucks spreading the disease, I believe we need a much larger focus on antlerless harvest to keep deer herds in balance with the habitat and to keep doe family groups from becoming reservoirs for CWD.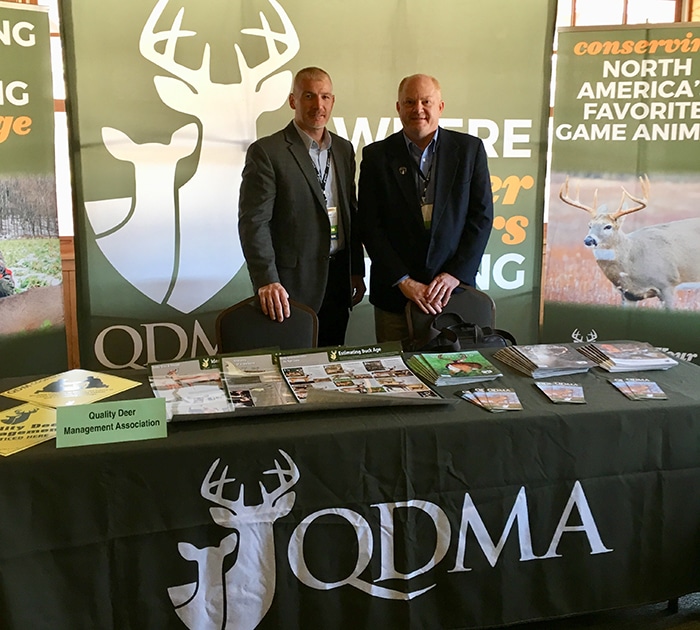 It's Still Okay to Protect Yearling Bucks
Finally, one of the most impactful statements from the meeting with regard to CWD came from Dr. Mike Miller of Colorado Parks and Wildlife, one of the most respected CWD researchers in the world. When Dr. Miller speaks, people listen. He spoke on day one of the IDBC on lessons learned during the first five decades of CWD. He shared that while CWD prevalence is similar between the sexes in elk, it's about twice as high in bucks than does, and because of this we should not be encouraging folks to practice QDM or manage for older bucks. Following his statement there was a noticeable tension in the room. Attendees were scribbling notes, whispering among peers, and mentally calculating how this would impact current deer programs and future recommendations.
My mind immediately went to hunter participation rates and support for state wildlife agency programs. Dr. Miller seemed to be discounting the core buck management cornerstone of QDM which is to protect the majority of yearling bucks. Currently about one third of all antlered bucks shot in the United States are 1½ years old, another third are 2½ years old, and the remaining third are 3½ years or older. This age structure, a result of the QDM movement pushed by QDMA since our inception 30 years ago, provides incredible hunting opportunities and hunter engagement with their respective state wildlife agencies.
In the name of science, do we need to return to shooting every yearling buck we see in CWD-affected areas to keep them from reaching 2½ or 3½ years of age? Following Dr. Miller's presentation there were a few minutes for questions. With a heavy heart, I took the microphone and asked, "Dr. Miller, based on your statements that we shouldn't encourage QDM or manage for older bucks, could you clarify what you mean by 'older'? Do you mean we shouldn't manage for bucks that are 2½ years and older?"
His exact reply was, "No, by older I mean we shouldn't be managing for bucks that are 4½ to 6½ years old."
I was overwhelmed with relief. Dr. Miller's recommendations fit perfectly within QDMA's Recommended Practices for Deer Hunters in CWD Areas, which we published in 2016. In that document we state it is QDMA's opinion that as long as hunters continue hunting, shooting antlerless deer, and helping keep deer herds in check, then it is more beneficial to have some adult bucks in the population than to shoot all bucks at a young age. If mature bucks are scarce, some hunters will become less active and shoot fewer antlerless deer. Our recommendation in areas where CWD is established in the deer population is for hunters to "harvest antlerless deer to help reduce deer density, continue protecting yearling bucks if they desire, and apply increased harvest pressure to all bucks 3½ years of age or older."
I believe some of the disagreement among deer managers today stems from a confusion over the actual threat of yearling bucks on the landscape and a misunderstanding of the recommendations from experts like Dr. Miller. I am proud QDMA's harvest recommendations fit perfectly with the most current CWD research and management strategies, and I hope data from the IDBC can be used to enhance deer and disease management programs across the whitetails' range.