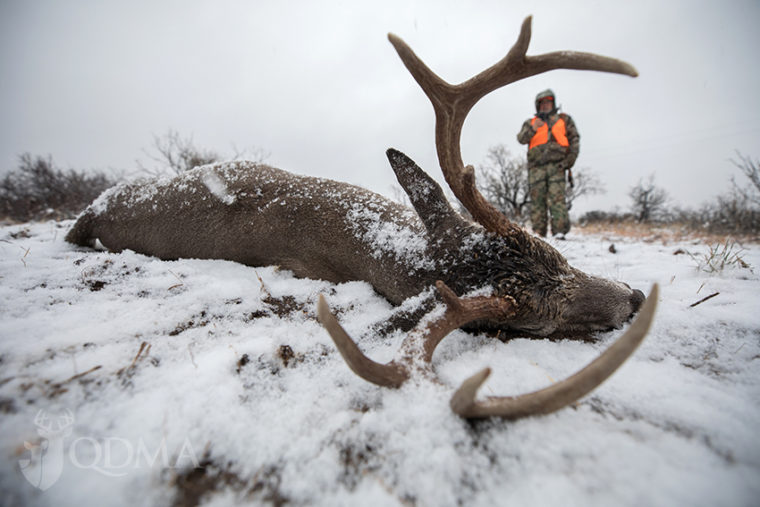 It's crunch time: the end of hunting season. You may be trying to beat the buzzer and shoot that big buck you've been after all year, or you might just be trying to put meat in the freezer. Either way, the late season can still produce some great hunting. You just have to know what you're looking for, be able to withstand the elements and stay in the game mentally. Here are three ways to find success with late-season hunting.
Know Your Hunting Area
Do you know the location of a reliable late-season food source where you hunt? How about bedding cover? Outside of a few areas in the South with a late rut, the end of hunting season is all about food. But the desirable deer foods have likely changed since October and November.
If you do happen to have a good food source, such as standing corn or soybeans, or a late-season food plot such as brassicas, this can be a great thing to hone in on. I'd consider running trail-cameras around potential food sources to quickly determine when deer are using it.
If your hunting area doesn't contain an attractive late-season food source, that doesn't mean you can't still fill a tag. Deer still need bedding and escape cover, and that may be what you have to hunt. If you have these types of areas, and I'm talking really thick cover that deer love to bed in this time of year, you'll want to understand not only where exactly they are bedding but where and how they are exiting and entering the cover. You can then setup on the edge of the bedding cover and intercept them on their way to food.
Also keep hunting pressure in mind. Are there pockets of your hunting area that have been pressured more heavily than others this season? The late season is a good time to focus on areas of lightest pressure up to this point in the season.
Dress For The Weather
There really isn't much that's worse than freezing your tail off in a deer stand. Staying relatively warm is paramount to being able to stay in the stand or blind longer and ultimately will help you fill a tag. The biggest thing for me is knowing how to layer. Typically, I don't wear all of my layers on the walk into the stand or blind. That will cause you to sweat, and then once you get situated that will just make you colder, quicker. I carry extra layers in my pack and put them on as needed to stay warm.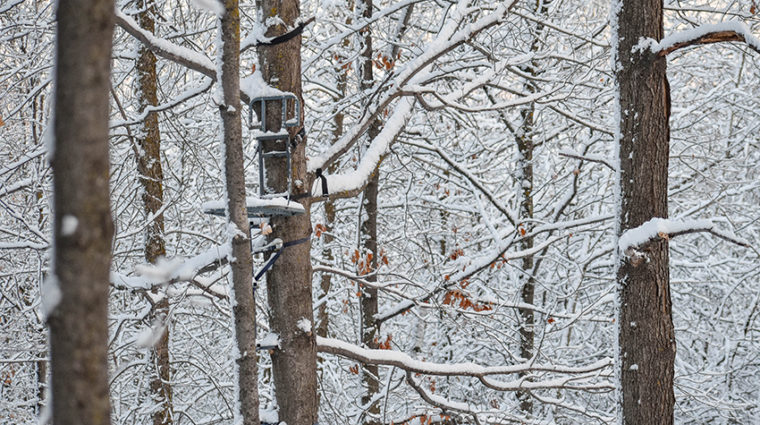 Another important part of dressing for the weather is keeping your head, hands and feet warm. Keeping your feet warm can be the most challenging of those, and cold feet can be the first thing to send you back home early from the stand. Wear wool socks and insulated boots. And just as you don't want to sweat during the walk in, the same goes for your feet. I like to walk at a slow enough pace into the stand or blind to help avoid my feet sweating.
For hands, I recommend wearing a thick, warm mitten or glove for the walk in and out. Once your set up and ready to hunt, you can switch to a thinner hunting glove. I've found this to be a great way to keep my hands warm, and then while I'm actually in the stand with my thinner hunting glove on, I always have my hands in a handwarmer on my waist. This way, they can stay warm during the hunt, but you'll still have dexterity to shoot your bow or gun when the moment of truth comes.
Stay Mentally Sharp
When it gets to December and January, I often feel mentally worn down from hunting season. Deer season can turn into a grind, but staying sharp mentally will help you achieve your goals. The last thing you want to have happen is to mess up during the moment of truth because you weren't prepared mentally for a shot opportunity.
First off, I'd recommend picking the right days to hunt. Considering weather, your work schedule, and the family schedule, pick days when hunting conditions and your schedule work best. If you continue hunting just as hard as you were during the rut, it can wear you out. Stay rested. Spend time with your family. Hunt when conditions are at their absolute best.
Second, make sure you're continuing to practice shooting your bow or rifle. It may have been a while since you last stuck a few arrows in the backyard target or took your rifle to the range. Practice not only keeps you on target, it also keeps your confidence high and your mind focused. You won't spend any energy worrying about whether your shot will be accurate when an opportunity arrives.
Finally, remind yourself it takes one moment for everything to change. Time in the stand without success can cause you to lose your focus and alertness. If you've been having a tough season and haven't been able to fill a tag, everything can still change in the blink of an eye. Each time you head to the stand, imagine it's the first day of hunting season. Get yourself in a mental zone of excitement and expectation, so when the moment does present itself, you'll be ready to make a great shot.
The late season can be a great time to fill a tag if you spend your time in productive locations, dress warmly, and stay mentally sharp. Good luck!