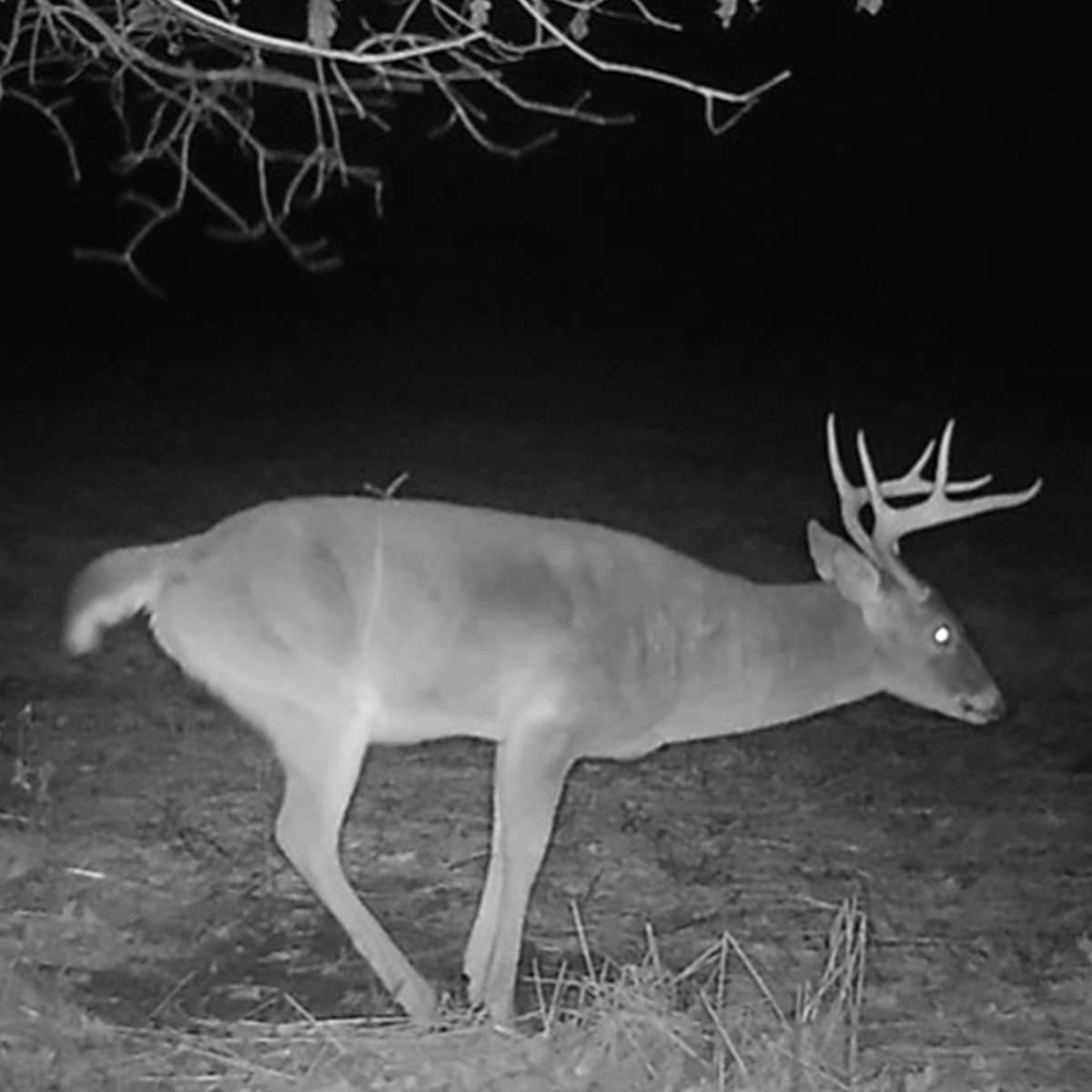 Good news is scarce in the fight against chronic wasting disease, so I'm pleased that I have some to share. A series of new tools could give us the ability to detect CWD in deer populations without relying on deer harvest.
Currently, CWD surveillance involves testing samples of lymph nodes or brain tissue from dead deer using laboratory methods with the acronyms ELISA and IHC. Trust me, you don't really need to know the biochemistry jargon behind these acronyms. But a third tongue-twister of a testing method, RT-QuIC (spoken as "R.T. Quick") shows promise for detecting CWD-causing prion proteins in very low concentrations outside of deer tissue – such as in soil – as accurately as the ELISA and IHC tests.
In three new studies of that potential, RT-QuIC may make it possible for wildlife agencies to monitor CWD's location without relying entirely on hunter- or agency-harvested deer. Deer harvest by hunters, testing of those deer, and targeted removal will remain important tools in managing CWD where it occurs, but additional detection methods like these would strengthen disease surveillance.
CWD Prions in Scrapes
On February 27 at the Southeast Deer Study Group meeting, Miranda Huang of the Mississippi State University Deer Lab reported on her efforts to detect CWD prions in whitetail scrapes. She sampled 99 scrapes in a CWD zone in southwest Tennessee, and 54 of them (55%) tested positive for CWD prions using RT-QuIC.
Miranda collected soil from the scrapes and clipped the tips of the licking branches above the scrapes for testing, since prions are shed by infected deer in both urine and saliva. Of all 99 scrapes tested, 35% of them contained CWD prions on the licking branch only, 14% in the soil only, and 6% in both soil and on the licking branch.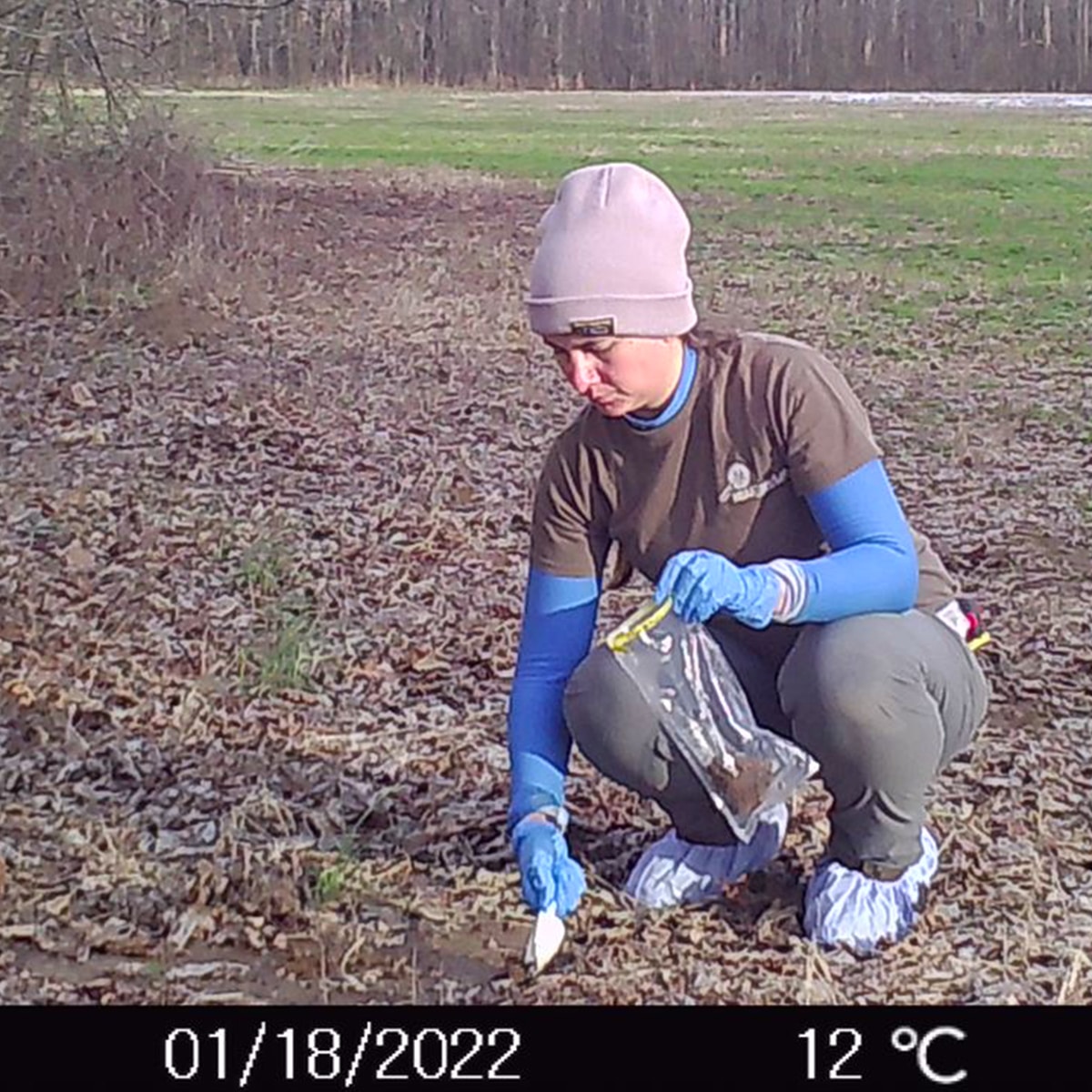 A trail-camera captured a photo of the buck at the top of this page at one of Miranda's study scrapes. A hunter later harvested this buck, and it tested positive for CWD. Additional testing of scrapes in an area of northern Mississippi – on properties where CWD had not previously been confirmed in harvested deer – also found CWD prions.
Miranda's study is the first to confirm CWD prions in scrapes. Her results suggest the potential for wildlife agencies to use scrapes as a CWD monitoring tool.
Deer Feeder Sentinels
Also at the Southeast Deer Study Group meeting in February, Marc Schwabenlander of the University of Minnesota's Center for Prion Research and Outreach presented a poster of his ongoing study looking at detection of prions on deer feeders.
Other research has determined that prions are more effectively held by surfaces made of stainless steel and glass. Marc attached "sentinels" made of these materials to deer feeders in a way that deer were likely to touch these surfaces with their noses or mouths, then he tested these sentinels for prions. He ran tests in Minnesota, Texas and Mississippi in CWD-positive captive deer herds and CWD-positive wild populations, plus a healthy captive herd as a "control" test. In the positive herds, RT-QuIC testing found CWD prions at approximately the same prevalence rate as CWD in the study populations.
This is the first study reporting preliminary success at detecting CWD prions simply by swabbing deer feeders and testing the swabs. "More refinement to come, but the results so far are definitely promising," said Marc.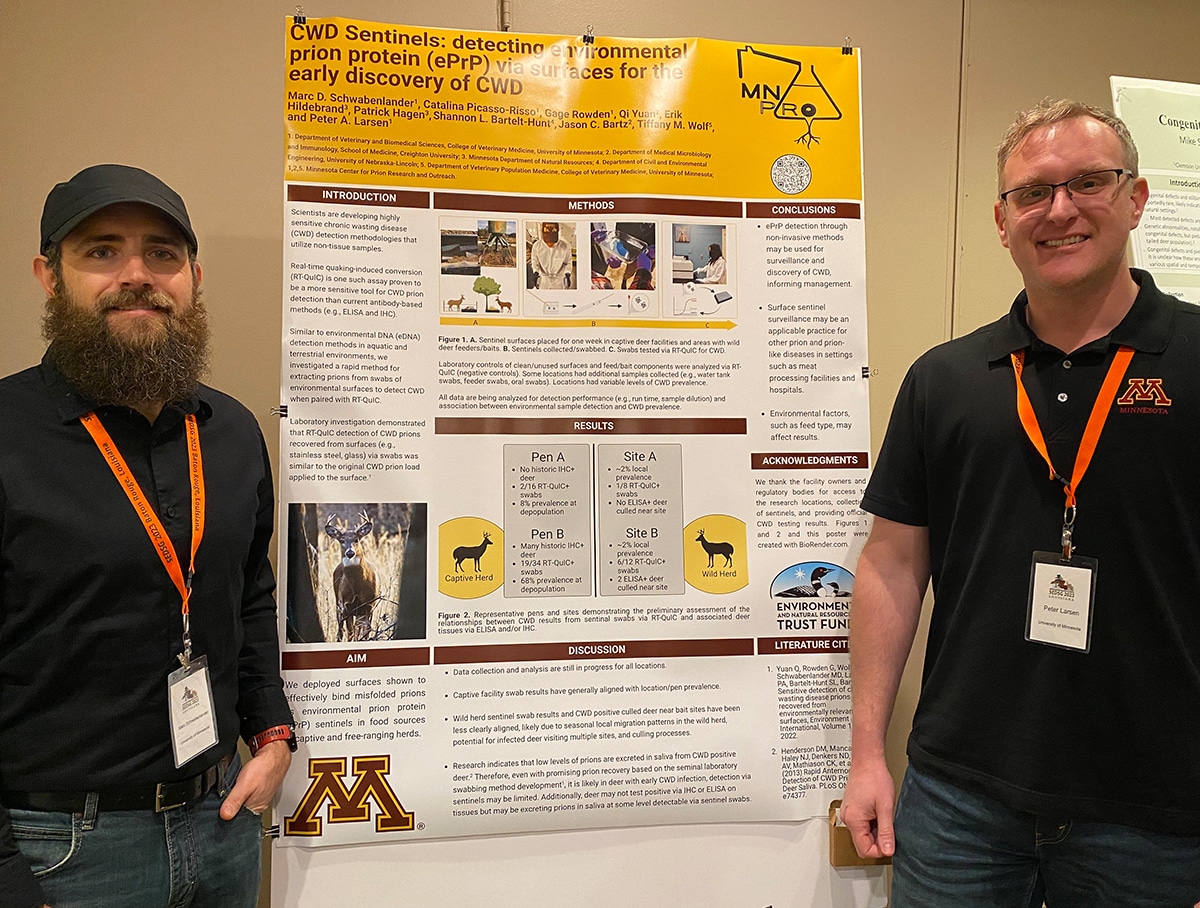 The Sniff Test
In another first in February, researchers with the University of Pennsylvania's Penn Vet Working Dog Center and the Wildlife Futures Program (a partnership between Penn Vet and the Pennsylvania game Commission) published a new study in the journal "Prion" describing the first-ever attempt to train dogs to detect CWD prions through scent.
Previous research found that feces of CWD-positive deer produce unique volatile organic compounds that could allow dogs to differentiate between them and the feces of healthy deer. Two Labrador retrievers and a Finnish spitz participated in the study. First, the dogs scent-trained in a controlled setting using samples of deer feces from several regions of the country and from deer in early and late stages of CWD infection.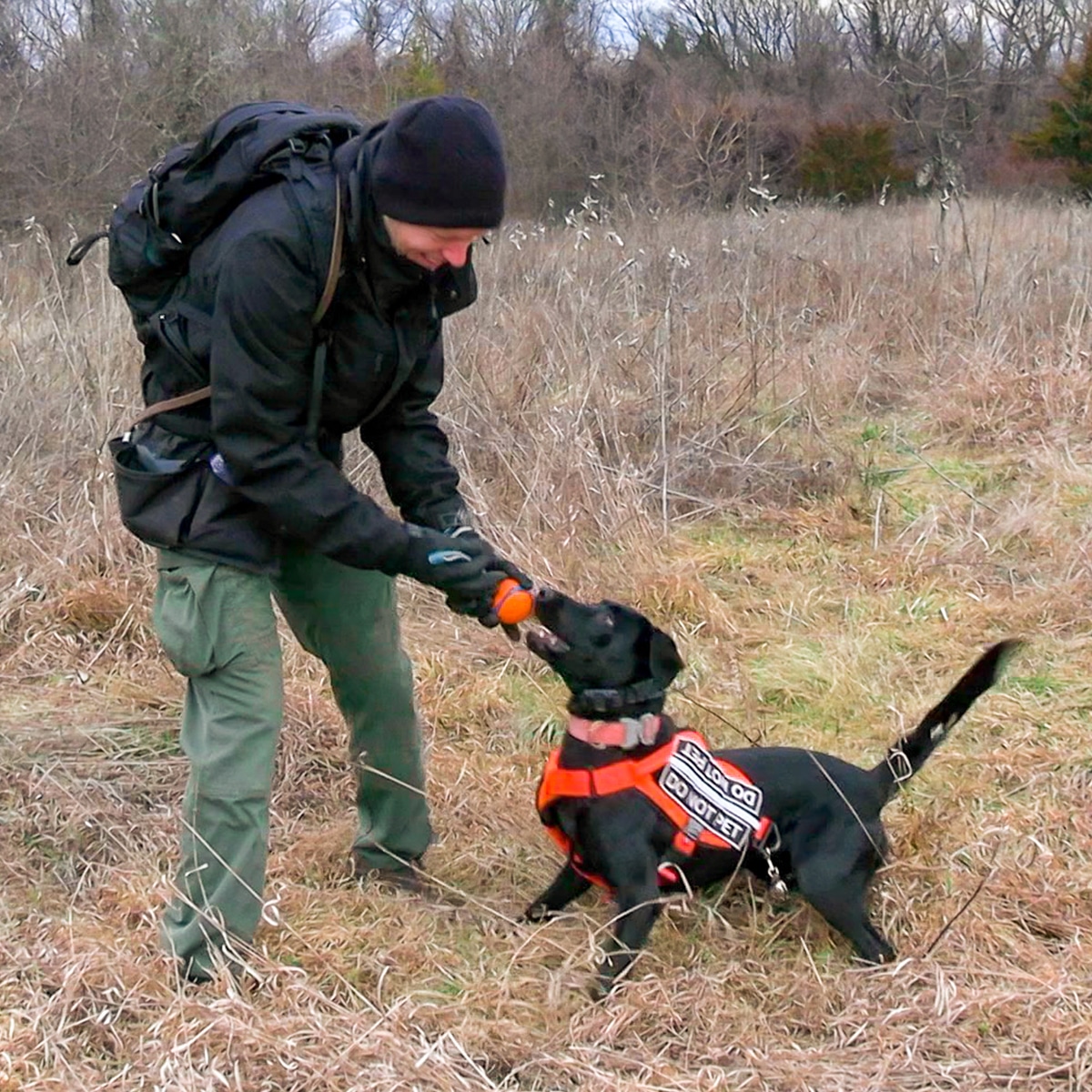 These are working dogs controlled directly by handlers. They do not search for or chase actual deer and are trained only to alert to deer feces.
Field tests in simulated conditions followed scent training. In these tests, the dogs alerted on eight out of 11 positive samples (73%) and falsely alerted to negative samples in 14 out of 78 trials (18%). They alerted significantly more frequently on CWD-positive samples than CWD-negative samples.
The results suggest dogs could be a useful, efficient and cost-effective tool for CWD surveillance on the edges of outbreak zones, around CWD-positive captive deer facilities, and in other areas of concern. RT-QuIC testing would be used to confirm the presence of CWD prions in feces whenever dogs alert. The work is ongoing and looking for ways to refine dog-training methods and increase success rates.
Join the Ongoing Fight
If you're waiting on a miraculous solution to the problem of chronic wasting disease in deer, you're likely to be disappointed. Rather than a single break-through like a vaccine, the solution may be an unexpected new tool, or several of them, just like those above. Even these new tools are still being studied and will be for some time, and they won't be appropriate for use everywhere. While these advances won't eradicate CWD, scientists learn from every new study, and we gain new ways to confront the threat of CWD in deer. That's why NDA remains supportive of new funding for additional research, and it's why we ask deer hunters to engage in the fight and help slow the spread of CWD. By doing this, you help buy time for science to find more new weapons.