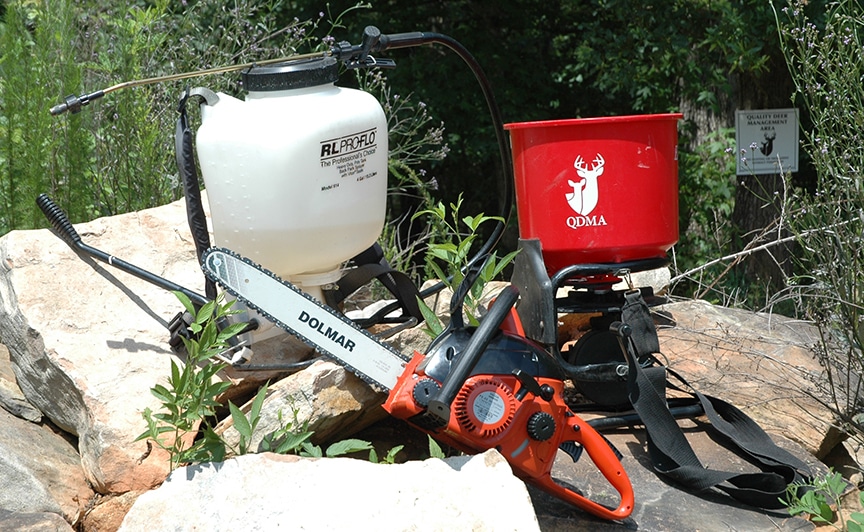 Unless you hunt in portions of the Deep South, deer season is over. And for those who hunt in south Alabama and Mississippi, you have precious few days left. The end of the season can be depressing. Some of us turn to waterfowl hunting in January, and some enjoy an occasional rabbit or quail hunt through February, but many are at a loss for what to do until turkey season opens, crappie start biting, or the weather warms and it's time to start preparing to plant spring food plots. If that is your case, I have some good news for you — there is plenty to do now! In fact, here are eight things to do.
Kill Weeds Early
This winter has been relatively mild in most areas. It's January, and I just got back from deer hunting in south Mississippi where it was 78 degrees (with a full moon). Although this particular property was well-managed, while riding around the property I pointed out how the warm weather had stimulated growth of cool-season weeds, including ryegrass (yes, ryegrass should be considered a weed), cheatgrass, chickweed, henbit, and purple deadnettle. With the mild weather, these weeds are getting a head-start, and you can expect them to be taller, denser, and even more competitive in your food plots and "old fields" going into spring. So, if you haven't already, check your food plots, early successional areas, and along your roads closely and spray the undesirable plants now. The older and larger they get, the more difficult they are to control.
Freshen Your Firebreaks
If you intend to use prescribed fire this winter or spring to set back succession and encourage fresh growth in your fields or to influence the understory in your thinned woods, you can go ahead and disk firebreaks as soon as soil conditions allow (not too wet) so you'll be prepared when conditions and the timing are right for fire.
Disk to Encourage Deer Forage
If you intend to set back succession in your old fields by disking, it soon will be time to do so. If you are in the Deep South, mid-February through early March is a good time to disk and encourage forbs. Those of you in the Mid-South region should look to complete disking by late March, and for those further north, disking should be completed by mid to late April, or as soon thereafter as conditions allow. After disking, a preemergence application of imazapic herbicide (such as Plateau) will selectively kill many problematic annual grasses and forbs as they germinate through spring and leave space for many desirable forbs and grasses to germinate and establish. Of course, this application isn't necessary on all sites, but if crabgrass, goosegrass, johnsongrass, japangrass, cocklebur, jimsonweed, nightshades, and pigweeds, among others, are problematic on the site, a preemergence application will help.
Yes, I know, deer will browse Japanese honeysuckle and privets in winter. However, you can do better! The deer on your hunting land shouldn't have to rely on those plants for winter food.
Kill Invasive Plants
Do you have problems with English ivy, Japanese honeysuckle, or privets gone wild? If so, now is a great time to selectively kill them without harming adjacent desirable plants. A foliar application of a glyphosate or triclopyr herbicide now will selectively kill these plants and not harm other plants that are dormant. A 3 percent solution of a glyphosate herbicide works well to kill privets and honeysuckle, and a 4 percent solution of a triclopyr herbicide, such as Garlon 3-A, works well to kill ivy. Yes, I know, deer will browse Japanese honeysuckle and privets in winter. However, you can do better! The deer on your hunting land shouldn't have to rely on those plants for winter food. I would rather have naturally occurring forbs grow in their place and provide much better forage, not only in spring and summer, but also in winter as some of those forbs, such as goldenrod, old-field aster, and daisy fleabane, have winter rosettes. Besides, I would hope your food plots are providing deer with much better food right now than what they would get from a waxy privet leaf or a purple honeysuckle leaf.
Let the Sun Shine Into Timber Stands
Do you have woods that are relatively unproductive for deer? That is, do your woods have relatively little forage available in the understory, or are they so open that you need to increase cover and reduce visibility in an effort to hold more deer on your hunting area? If so, there is no better time than now to selectively kill unwanted trees, allow more growing space for desirable species, and allow increased sunlight into the forest floor to stimulate forbs in the understory that provide optimum nutrition for lactating does and bucks growing antlers. Do you want to influence deer travel patterns? Now is a good time to hinge-cut select trees in an effort to provide horizontal cover and steer deer movement in a direction that will help increase your hunting success.
Overseed Perennial Forages
Consider your perennial forage plots, including perennial clovers, alfalfa and chicory. Are they thin from last year's drought? Do they need some additional seed? Now through late February is the time to spread some additional seed. You might be "frost-seeding" in the North, but it works just as well in the Deep South without the soil heaving from freezing and thawing.
Collect Soil Samples
How about the soil nutrient levels in your food plots? Are they where they need to be for optimum plant growth? How do you know? Now is the time to collect soil samples and have them tested so you can top-dress with the appropriate amount of fertilizer and lime.
Clear Shooting Lanes
When you were hunting this past season, did you see any deer you would like to shoot but couldn't because there were limbs in the way? Well, there is no better time than now to get out there and clear some shooting lanes. Be careful to not clear too much and make your lanes obvious. However, even if you do cut a little much, a lot will fill-in and "heal" as the vegetation grows through next spring and summer.
Of course, now is a great time to try new loads in your rifle, do some shooting, process your deer meat, and sit around the fire contemplating your management plan for the coming year. However, you shouldn't have to contemplate long to figure out you need to get outside and get started on all the necessary habitat improvements. In fact, there is hardly enough time to get everything done before it will be time to sight-in your shotgun for turkey season! Here's wishing you good luck with your winter management efforts.
Editor's Note: The newest edition of Craig Harper's book, A Guide to Wildlife Food Plots and Early Successional Plants, has all the seeding, spraying and plant identification information you need to implement his advice found in this article. Also, don't forget you can meet and learn from Craig in person at one of QDMA's Deer Steward courses.