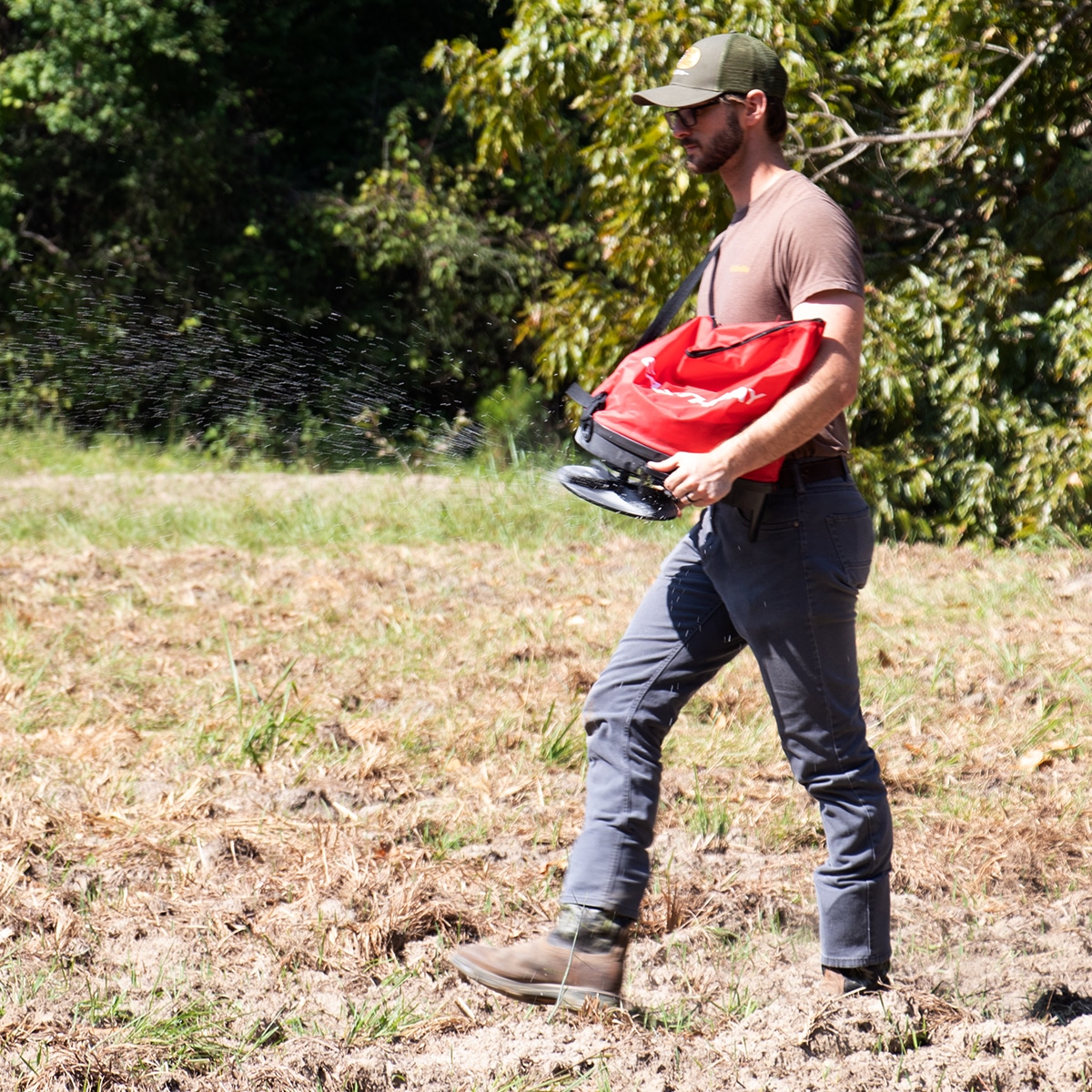 NDA's second Working for Wildlife Tour event with Meateater and Mark Kenyon of Wired to Hunt was bigger than the first! On September 23 at Leaf River Wildlife Management Area on the DeSoto National Forest, 87 volunteers and agency staff planted 35 acres of food plots and more than 200 crabapple trees on public hunting land.
Leaf River WMA is managed by the Mississippi Department of Fisheries, Wildlife & Parks, but it is located within the DeSoto National Forest – and NDA has multiple stewardship agreements with the U.S. Forest Service to improve habitat here, part of our Public Lands Initiative. NDA's Stewardship Forester Sean Hendley was on hand at the event to talk about the work NDA is doing on the National Forest and for the September 23 work day, which took place on National Public Lands Day and National Hunting and Fishing Day.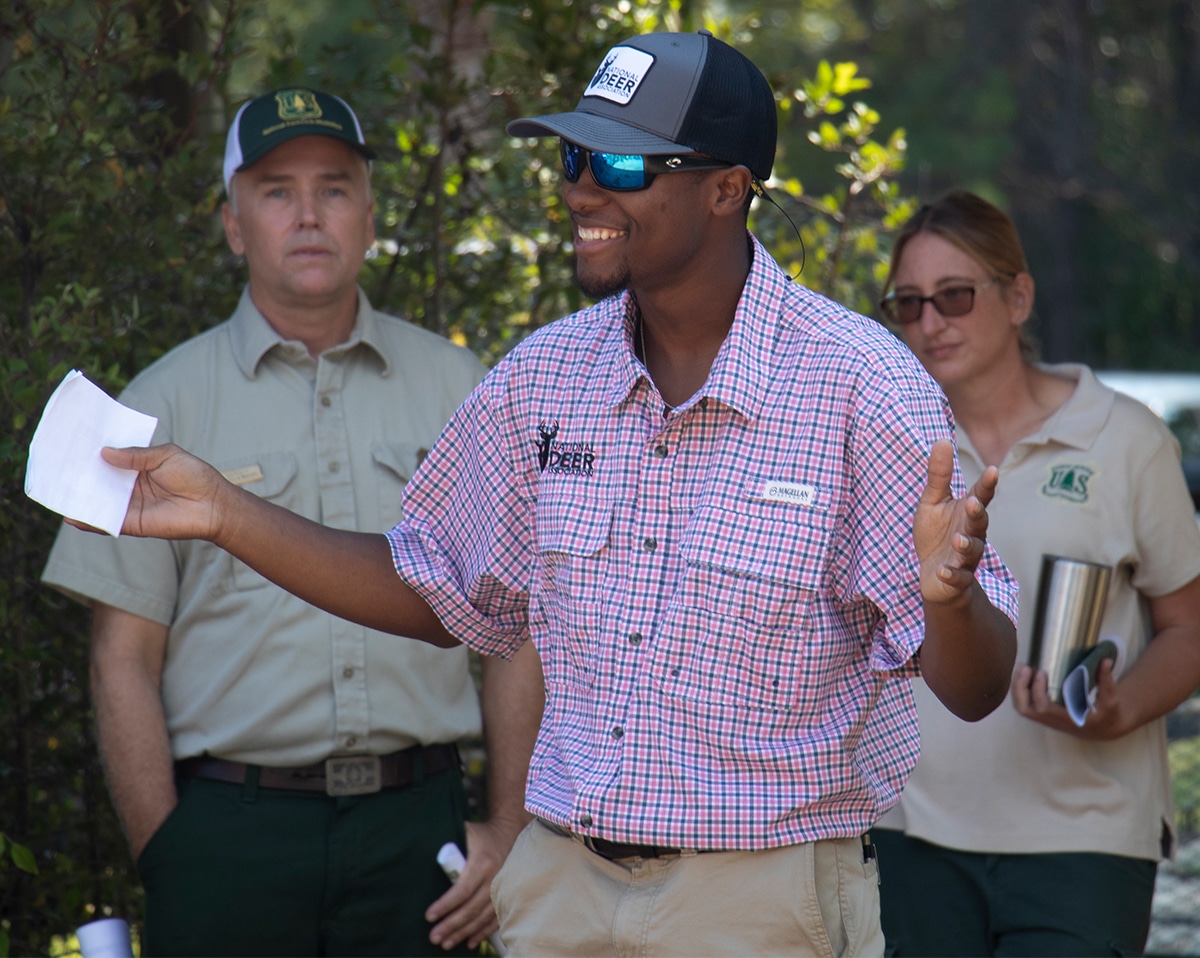 "It was the perfect way to celebrate," wrote Mark Kenyon. "Thanks to everyone that came out to do good work for wildlife and wild places, as well as the NDA, U.S. Forest Service and the Mississippi Department of Fisheries, Wildlife and Parks for the support to make it all happen."
Volunteers broadcast 176 pounds of Durana white clover and 706 pounds of crimson clover on 35.3 acres, which was comprised of 14 food plots distributed around the WMA. They ranged from 0.5 to 4.6 acres in size. The plots were prepped before the event and the longtime manager, LeDon Cooley, had already planted wheat and oats, which was just starting to germinate.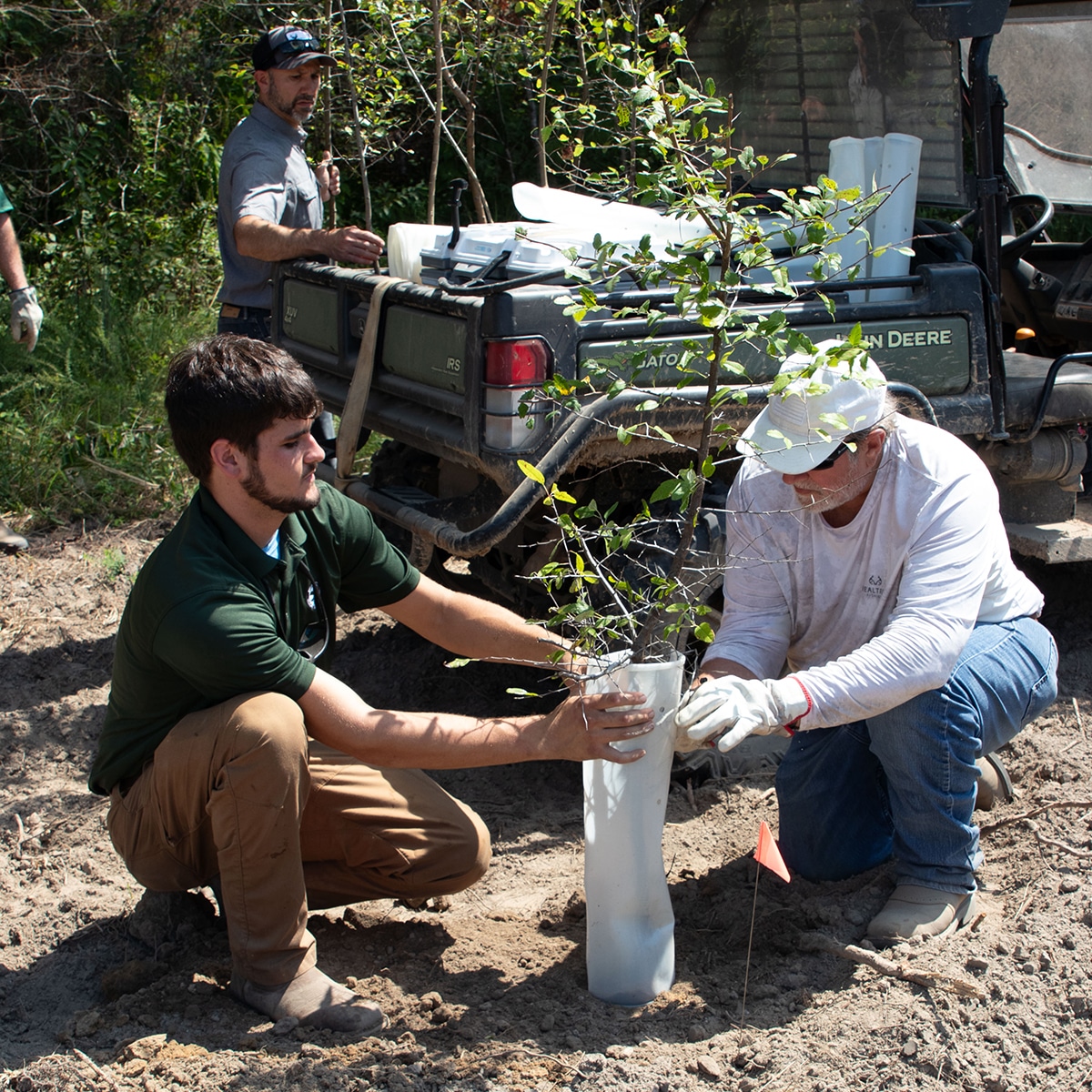 Volunteers also planted 200 crabapple trees in those same 14 plots, ranging from four to 24 trees per plot, and then installed biodegradable tree guards to protect the seedlings until they can become established. Eight groups split up the work, and MDFWP staff lead the teams to accomplish the land improvement goals for the day.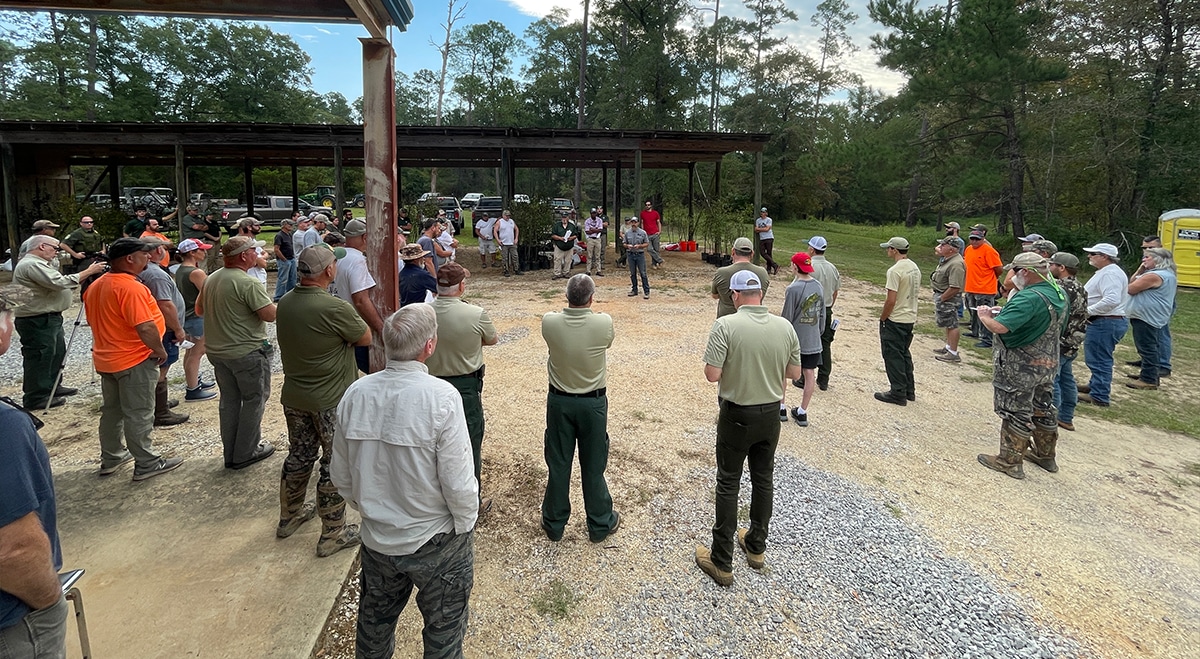 At the end of the day, volunteers enjoyed an onsite social and catered dinner from The Shed, a well-known barbecue destination, sponsored by Mississippi Power. Mark Kenyon and NDA staff members Matt Ross, Ben Westfall and Sean Hendley hosted. Mark passed out Working for Wildlife Tour t-shirts to volunteers to go along with NDA caps in FirstLite's Specter camo pattern. Special thanks also to Southern Forestry Consultants and the Bass Pro Shops / Cabela's Outdoor Fund for their involvement in NDA's Public Lands Initiative.
This Working for Wildlife Tour work day was part of NDA's larger Public Lands Initiative on National Forests in multiple states. In all, NDA's Public Lands Initiative has set a target of 1 million acres improved for wildlife by 2026.
NDA's final Working for Wildlife Tour event of 2023 will be on October 14 on Daniel Boone National Forest in Kentucky. To learn more or register go to www.deerassociation.com/wfw.