Follow Matt on Instagram.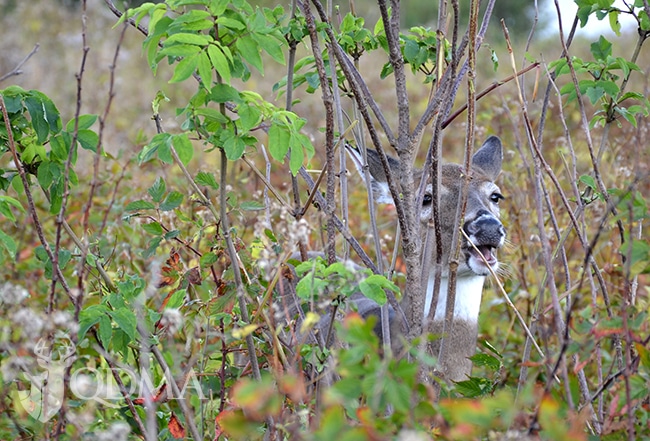 Finding evidence that deer are in a general area is a good thing for hunters, but finding evidence that deer are feeding in that area is even better. Deer are driven by few things in life, and perhaps the most influential is the need to eat on a daily basis to survive. What's more, deer alter their diet often, adapting to changing seasons and fluctuating food availability. They also always preferentially select the most nutritious and palatable food available at any one time. So, locate proof deer have recently been feeding in one spot and that may be all the edge you need to see and harvest a deer this fall. Here are three things you should ask if you want to become a deer forage expert.
Who's doing the eating?
Deer only have incisors on their bottom jaw, so they have to tear at woody vegetation rather than cut through it cleanly. When identifying twigs and branches that deer have browsed by deer, look for frayed, squared-off ends; leaves will also be squared-off for the same reason. Herbivores that have both upper and lower incisor will cut the branch clean, usually at a 45° angle. This is a scouting technique I wrote about in NDA's e-book, A Guide to Successful Deer Hunting. Because deer can reach anything between the ground and 6 feet in height, areas of high deer density may reveal a browse line and/or show changes in species composition, both indicators that you may need to increase the harvest of female deer, increase habitat quality, or both.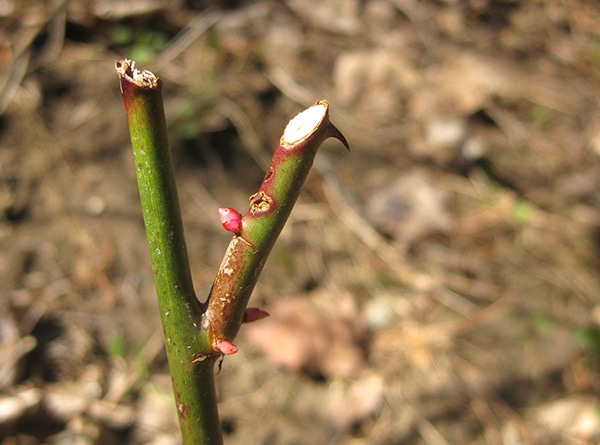 Deer also eat various sources of hard and soft fruits or mast, such as acorns, apples, and numerous berries; however, they are fairly efficient at consuming and digesting mast, particularly soft mast, so rarely will any evidence of their presence be left at the feeding scene. Occasionally you may find bits and pieces of partially-eaten hard mast that slipped out while chewing, but you'll want to corroborate this type of sign with fresh deer scat in the area to correctly identify if the animal that was eating there was indeed a deer.
Is it recent?
Deer droppings (or scat) are extremely variable in size and shape, changing with the seasons and available food sources. Although usually observed in groups of dark-brown oblong pellets, the shape is directly determined by the overall water content in the forage, which varies throughout the year. If the food is dry (winter) the scat will be very hard and fibrous and in the form of numerous small pellets; if the food is succulent (spring) it will be very soft and sometimes form a single clump of pellets or a solid, indiscernible mass.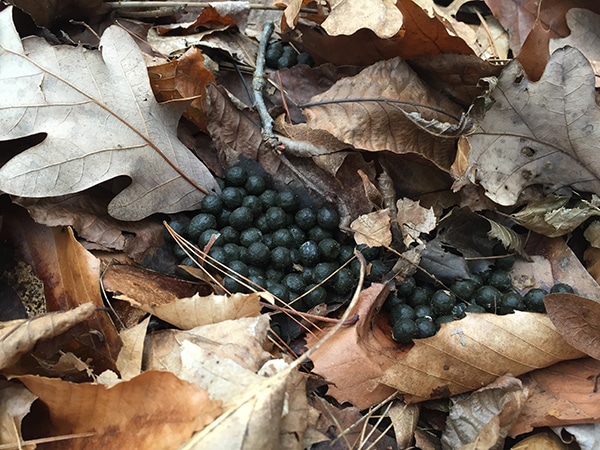 When deer scat is fresh it has a shiny, wet appearance from an outer covering of mucous-like material, which is lost in a matter of hours as it is exposed to the elements. As the scat ages it becomes lighter in color and the plant fibers become more and more visible; in the perfect conditions deer scat can last on the ground for several months or even years. Thus, if you find glistening deer scat you know that it's very fresh, so much so in fact that the deer that dropped it could still be in the area! Be ready.
Signs of browsing don't necessarily suggest deer prefer that forage – it may just be the best of what's left.
Was it something they wanted to eat?
Just because a place has green plants growing everywhere and its dog-hair thick does not mean the deer where you hunt have access to everything they could possibly want to eat. The plant composition within a deer's reach, particularly in a forested setting, will help tell the real story. What species are there? What's missing? Start by learning to identify the 10 most common plants you see in your woods. Grab a plant identification book and distinguish what's there, then determine if deer are actually browsing it. There will be some plants that are untouched and growing vigorously, and others that are present but can't grow more than a few inches before being eaten. What you likely won't know are the species that are absent but shouldn't be. Or, the ability to categorize plants that deer prefer versus those they eat on a limited basis or not at all. Signs of browsing don't necessarily suggest deer prefer that forage – it may just be the best of what's left.