Build a DIY Trail-Camera MountYou can build a homemade trail-camera mount from about $3 worth of hardware. QDMA intern and N.C. State Branch President Moriah Boggess shows you how in this video. For the full parts list, visit: https://deerassociation.com/build-diy-trail-camera-mount/

Posted by The Quality Deer Management Association on Tuesday, September 5, 2017
---
Ever wished there was a way to quickly adjust your trail-camera set-up without wedging sticks behind your camera to angle the camera up or down? Using a trail-camera mount allows you to quickly adjust your camera position and greatly improves your options when looking for a suitable tree. Camera mounts allow you to set your camera much higher or lower than you can with a strap or stick, allowing you to get it out of sight of deer and potential thieves. However, trail-camera mounts can be expensive, with some costing as much as $40.
I've started using a DIY mount that costs less than $2 to assemble! I have experimented with bolt sizes and have found that the following parts will make the most effective trail-camera mount. However, feel free to tweak the sizes you use for this mount to customize it to your needs.
To build this camera mount you will need the parts and tools listed below and your favorite natural-colored spray paint.
What you will need
1 Screw Eye: 2 inch

1 Eyebolt: 1/4 x 2 inches (20 threads per inch)

1 Hex bolt: 3/8 x 1 inches

1 Hex nut: 3/8 inch

1 Wing nut: 1/4 inch

3 Washers: 5/16 inch

1 Lock Washer: 3/8 inch

Two 9/16-inch wrenches

Spray paint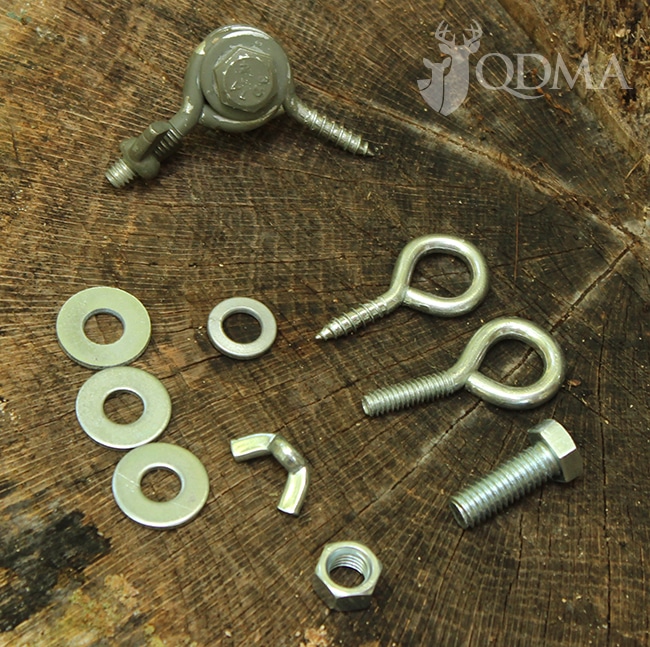 Assembly
To assemble your new camera mount take your 1-inch bolt and slide one washer onto it. Place the eyebolt on the 1-inch bolt then put another washer on. Next put the screw eye on the 1-inch bolt and then add another washer. Then put the lock washer on and put the nut on the 1-inch bolt and tighten to desired tension using two wrenches. Finally put the wing nut on the eyebolt and spray paint the mount with whatever color you wish to help reduce the shine.
Mounting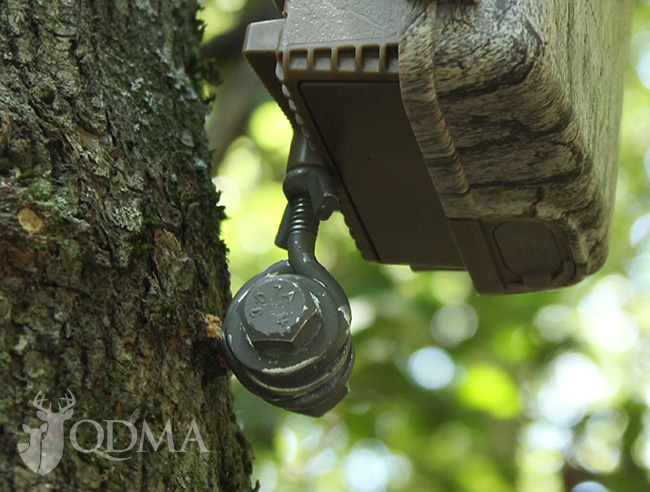 After screwing the mount into a tree, thread the camera on the eye bolt using the 1/4-inch threaded mount on the bottom or back of your trail-camera. Use the wing nut on the top of the eyebolt to tighten your camera to the mount and adjust the left and right motion of your camera. The central pivot in the mount will control the up and down motion of your camera. You will need to experiment with the amount pressure on this central bolt. If it is too light, the camera will fall forward and will not stay in place. If the pressure is too heavy, you will be unable to pivot the camera on the mount. I have found that if you tighten the nut until both ends of the lock washer are nearly flush, the camera will pivot easily on the mount but not move after being set up.
When using this mount you will find that some trees such as hickory and oak can be difficult to thread with the mount. In this case it is helpful to start the hole in the tree with a cordless drill or bow hanger that has some leverage. Also, research your hunting lease agreement or public land regulations to ensure that you do not violate a law or contract by threading this mount into a tree.
Moriah Boggess of North Carolina is a QDMA Intern and the president of QDMA's N.C. State University Branch.