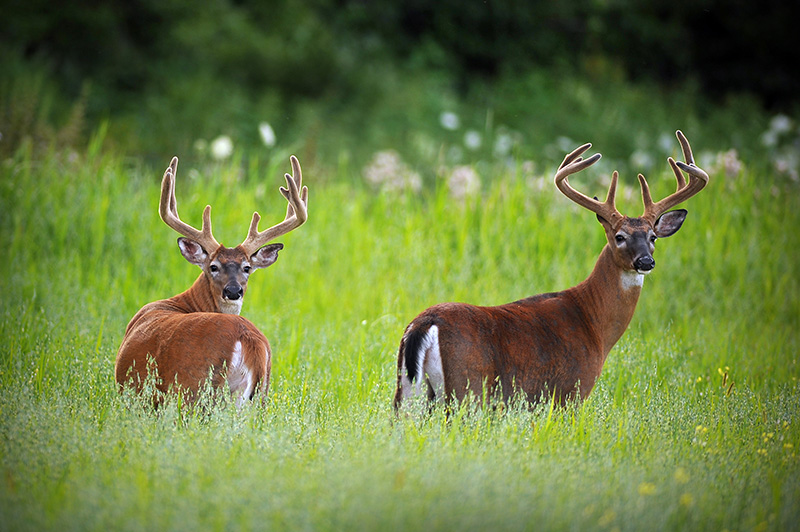 CWD Roundup is the National Deer Association's (NDA) bi-monthly update on all things chronic wasting disease (CWD). We'll provide the latest updates on CWD spread, research and policy from across North America. Updates are provided alphabetically by state and province.
Colorado
In early May, Colorado Parks and Wildlife (CPW) presented results of mandatory testing for CWD testing for the state's 2021 elk harvest. CPW tested its 14 highest priority elk herds, with special emphasis on those that overlap high-prevalence mule deer herds. Through the mandatory testing, CPW found that CWD in elk is still relatively low in elk herds statewide; detection of infected yearling elk is higher than expected; and geographic patterns of high infection level areas generally overlap for elk and deer.
Iowa
In mid-May, Iowa State University Extension and Outreach announced a partnership with the Iowa Department of Natural Resources (DNR) to offer two sessions of the educational program Chronic Wasting Disease Ambassadors. "Ambassadors" will be trained in the science-based management of CWD, both prevention and testing, and how to educate others within their community by wildlife biologists from Iowa State and DNR. Participants can include hunters and non-hunters, community members and anyone interested in wildlife conservation.
Maryland
In mid-May, the Maryland Department of Natural Resources reported that 53 white-tailed deer sampled within Allegany and Washington counties in 2021 tested positive for CWD. All of the positive samples were found within the existing Chronic Wasting Disease Management Area (DMA). A total of 710 samples were collected in 2021 from the DMA.
Michigan
In early May, the Michigan Department of Agriculture and Rural Development (MDARD) confirmed CWD in one white-tailed deer from a farmed cervid facility in Mecosta County. The infected three-year-old deer was discovered through routine testing as part of the state's CWD surveillance program for farmed deer.
Minnesota
In early May, the Minnesota Department of Natural Resources confirmed that one of the 54 deer shot by sharpshooters in Grand Rapids this spring tested positive for CWD. The culling and testing effort came after a car-killed deer that was tested in March came back positive for CWD.
In mid-May, the St. Louis County Board moved toward a permanent ban on captive deer, elk and moose herds used for commercial hunting and raising game meat. The move came several months after the county installed a one-year moratorium on growth in deer farms. A final decision on the permanent ban is expected in July.
Ohio
In early May, Ohio Department of Natural Resources (ODNR) Division of Wildlife confirmed nine additional wild white-tailed deer tested positive for CWD in northern Marion and southern Wyandot counties.  Five were bucks, and four were does. Testing was performed on hunter-harvested deer during the 2021-22 season, as well as through a planned operation in February and March to obtain additional samples.
Pennsylvania
In early June, the Pennsylvania Game Commission (PGC) provided an update on CWD surveillance. Since July 1, 2021, the PGC has collected more than 11,000 CWD samples from deer. Hunters across five Disease Management Areas (DMAs) submitted more than 5,000 of those samples. More than 2,900 samples were collected from processors as part of the PGC's statewide surveillance efforts. Of the number sampled, CWD was detected in a total of 253 deer.
Utah
In mid-June, the Utah Division of Wildlife Resources confirmed a positive CWD detection in a deer in Salt Lake County. As of June 16, 26 deer have tested positive for CWD in Utah so far this year. Currently, a total of 157 mule deer and 3 elk have tested positive for CWD in Utah.
Washington
In mid-June, the Washington Department of Fish and Wildlife (WDFW) announced it would be accepting and testing for CWD from deer and elk throughout Northeast Washington (Region 1) beginning July 1. WDFW has also started collecting and testing samples from road-killed animals that are being salvaged under the state's road kill salvage law. For the first time in a decade, the agency ran CWD check stations during the modern deer hunting season last fall.  WDFW biologists hoped to collect 1,200 samples from that effort, but only ended up collecting 400. All of those samples tested negative for CWD.
Wisconsin
In mid-May, the Wisconsin Department of Agriculture, Trade and Consumer Protection (DATCP) confirmed that a white-tailed deer at a Walworth County hobby farm tested positive for CWD. The farm and its herd are under quarantine while an epidemiological investigation is conducted by DATCP and U.S. Department of Agriculture (USDA) veterinarians and staff.
In late May, DATCP announced that a Langlade County deer farm infected with CWD was depopulated, the first such action at a CWD-positive Wisconsin facility in more than a year. The cull, performed May 18 by sharpshooters, removed the approximately 50 deer. CWD was discovered Aug. 13, 2021, at the facility when a 1-year-old doe tested positive for the fatal neurological disease. The farm had previously been placed under quarantine because it received a shipment of deer from a CWD-positive facility. None of the remaining depopulated deer tested positive.
Manitoba, Canada
In late June, Manitoba Natural Resources and Northern Development announced additional management actions to help prevent the spread of CWD, including expanding the harvested cervid mandatory sample submission zone and establishing a strictly regulated and managed mule deer hunting season in defined areas along the western and southern borders of Manitoba. CWD was first detected in Manitoba in 2021 in five mule deer along the Manitoba-Saskatchewan border.
Saskatchewan, Canada
In late May, the Saskatchewan Ministry of Environment announced that of 3,300 samples gathered from the 2021-22 hunting season, the province found 644 positive cases of CWD. Positive detections included 459 mule deer, 167 white-tailed deer, 16 elk and two moose. In the South Saskatchewan River Valley, the province estimates roughly 87% of male mule deer are infected and roughly 34% of female mule deer are infected. CWD has now been found in 59 of the province's 83 wildlife management zones.