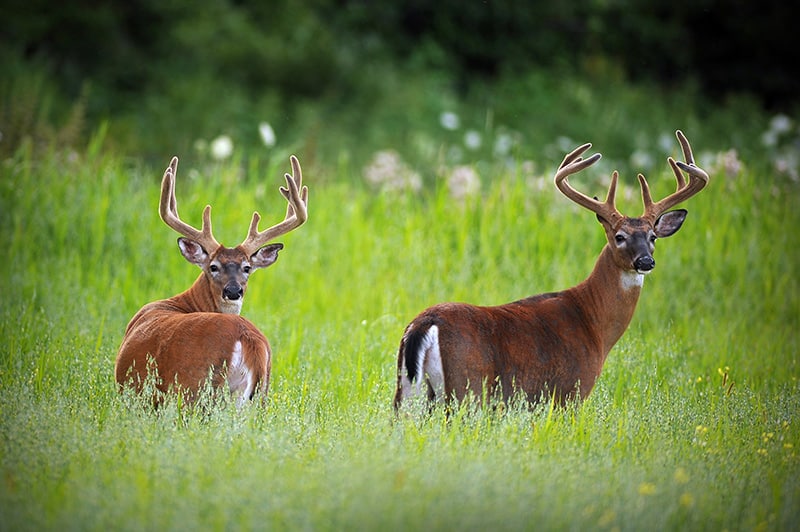 CWD Roundup is the National Deer Association's (NDA) bi-monthly update on all things chronic wasting disease (CWD). We'll provide the latest updates on CWD spread, research and policy from across North America. Updates are provided alphabetically by state and province.
Regulatory Reminders and Updates for Hunting Seasons
A general trend that we've seen over the last two months is state wildlife agencies issuing news releases with information and reminders for hunters with respect to CWD as they head afield this fall. These reminders have included information on CWD hunting zones, regulations within those zones, carcass transport rules and how and where to get harvested deer tested for the disease. Hunters should pay close attention to these reminders and would be wise to take another glance at their state wildlife agency's CWD webpage. Regulations and maps change quickly and often, and hunters must do their part to limit the spread of this disease.
Some states that have issued regulatory reminders include: Arkansas, Colorado, Idaho, Illinois, Kentucky, Minnesota, Montana, New Hampshire, North Dakota, Utah, Vermont, Washington, Wisconsin and Wyoming. Similarly, Alabama, Illinois, Iowa and North Carolina have held public meetings to update the public on CWD rules and management efforts.
California
In mid-September, the California Department of Fish and Wildlife (CDFW) staffed a voluntary, CWD check station at its Mount Shasta Fish Hatchery on the opening weekend of the general, north state deer season on Saturday, Sept. 17 and Sunday, Sept. 18 from 9 a.m. to 5 p.m. each day. Successful deer and elk hunters could bring their animals in to be sampled for voluntary disease testing as well as have their tags validated as required by law.
Idaho
In late October, Idaho Fish and Game (IDFG) announced that another white-tailed deer tested positive for CWD in Unit 14. The young doe was found dead along Slate Creek Road in in Idaho County, the same general area where CWD was first detected in November 2021.
Louisiana
In late September, the Louisiana Wildlife and Fisheries Commission (LWFC) adopted regulations for the CWD Control Area in northeast Louisiana. The current CWD Control Area includes all of Tensas Parish and portions of Madison and Franklin parishes. The regulations are intended to reduce further spread of the disease and are in response to a CWD positive detection on Jan. 28, 2022 of an adult buck harvested in Tensas Parish.
Missouri
In mid-September, the Missouri Department of Conservation (MDC) announced that it was deploying deer head drop-off sites in six counties in the St. Louis region. Each site has a freezer that will preserve the samples, which will be picked up later by MDC staff for CWD testing. Similar voluntary locations will also be available in CWD management zone counties, and mandatory sampling will again take place in CWD management zone counties over the opening weekend of Missouri's firearms season.
North Carolina
In late October, the N.C. Wildlife Resources Commission (WRC) reported a third deer in North Carolina tested positive for CWD. The deer was hunter-harvested in Surry County this archery season approximately 10 miles from the two previous positive detections in Yadkin County.
Oklahoma
In early September, the Oklahoma Department of Wildlife Conservation (ODWC) activated the next stage of the CWD Response Plan after a white-tailed deer carcass recovered along a Texas road about 2.5 miles south of the Oklahoma border in the western Panhandle tested positive for CWD. No CWD-positive wild deer have been found within Oklahoma's borders, but CWD has been found in two captive elk herds in the state. CWD has been confirmed in wild cervids in every state surrounding Oklahoma.
In early October, the Wildlife Conservation Commission passed emergency CWD rules to establish a Selective Surveillance Area (SSA). The emergency rules will restrict the movement of deer and elk carcasses or parts from within the boundaries of the SSA to outside the boundaries of the SSA. Hunters who harvest deer or elk within the boundaries of the SSA must clean those animals before leaving the SSA.
Texas
In late September, the Texas Parks and Wildlife Department (TPWD) and Texas Animal Health Commission (TAHC) discovered CWD in a deer breeding facility in Limestone County. This marks the first positive detection of the disease in the county. As part of a required CWD surveillance program, samples from four deer were detected with CWD prions by the Texas A&M Veterinary Medical Diagnostic Laboratory on September 5.
Washington
In late September, the Washington Department of Fish and Wildlife (WDFW) announced it's expanding its CWD surveillance program in eastern Washington's Region 1, which encompasses Asotin, Columbia, Ferry, Garfield, Lincoln, Pend Oreille, Stevens, Walla Walla, and Whitman counties. During this year's modern general deer season, WDFW staff will be taking samples from harvested deer and elk at voluntary check stations in both northeast and southeast Washington, as well as talking with hunters and answering questions they may have about CWD.
In late October, WDFW announced it was accepting applications for its newly-formed CWD Advisory Council. WDFW is forming the community-based group to specifically focus on advising WDFW's director on implementation of the Chronic Wasting Disease Management Plan. This group will also provide input on a University of Washington social science research project that seeks to understand the uncertainties, risk perceptions, and issues of trust that may define public support and opposition for CWD management.
Wisconsin
In early October, the Wisconsin Department of Agriculture, Trade and Consumer Protection (DATCP) confirmed that a white-tailed buck at a Vernon County deer farm tested positive for CWD. The results were confirmed by the National Veterinary Services Laboratories in Ames, Iowa, and the 1-acre farm has been placed under quarantine
Wyoming
The Wyoming Game and Fish Department (WGFD) is once again asking hunters to provide lymph node samples from their harvested deer and elk this fall to test for CWD. In return for samples, hunters may be eligible to win hunting gear. Hunters are eligible for different tiers of prizes based on the species, age and location of harvest of submitted individuals
In mid-September, WGFD announced mandatory CWD sample submission on mule deer harvested from Deer Hunt Areas 59, 60, 64 and 65. These hunt areas are home to the South Converse and the Laramie Mountains Herd Units. Check stations have been available throughout the fall.
In early October, WGFD confirmed the presence of CWD in Wyoming's Deer Hunt Area 155. The disease was detected in a hunter-harvest buck mule deer in September. Deer Hunt Area 155 is in the Jackson Region and is bordered by two areas that previously detected CWD in deer.
In late October, WGFD confirmed the presence of CWD in Elk Hunt Areas 47 and 49. The disease was detected in two hunter-harvest bull elk Oct. 12 and Oct. 15. Elk Hunt Areas 47 and 49 are located in the Cody Region and are bordered by areas that previously detected CWD in elk.