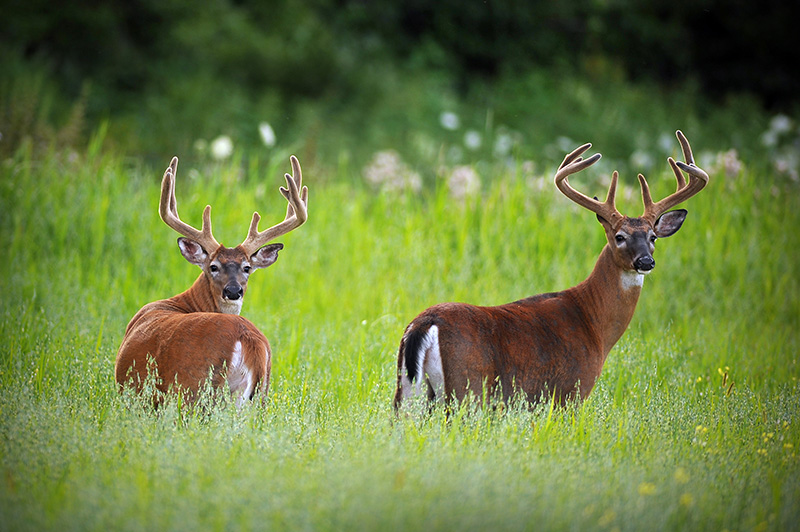 CWD Roundup is the National Deer Association's (NDA) bi-monthly update on all things chronic wasting disease (CWD). We'll provide the latest updates on CWD spread, research and policy from across North America. Updates are provided alphabetically by state and province.
Minnesota
In early August, the Minnesota Department of Natural Resources (DNR) announced the department is broadening options this year for hunters to get their deer tested for CWD. Hunters will be able to submit samples through taxidermists who are partnering with the DNR or by dropping off deer heads at self-service sampling stations. However, there will be fewer self-service sampling stations than in previous seasons, and they'll only be available in firearms season. Other options available include using mail-in kits (hunters remove the lymph nodes from deer themselves), dropping by one of the DNR-staffed sampling stations during the opening weekend of firearms season, or making appointments at area wildlife offices within CWD zones at any time during the deer hunting season.
In early August, the Minnesota Board of Animal Health (BAH) confirmed CWD in a four-year-old doe in a captive Winona County white-tailed deer herd. This herd has been officially quarantined since October 2020 and is part of the BAH's investigation into the CWD-positive Beltrami County herd.
North Carolina
In mid-August, the Nort Carolina Wildlife Resources Commission (WRC) announced that a second deer in North Carolina tested positive for CWD. The deer was harvested on a farm less than one mile from North Carolina's first CWD detection in Yadkin County in 2021, and it was tested as part of ongoing CWD surveillance efforts cooperating with farmers that have active depredation permits.
In late August, the WRC voted to adopt an emergency amendment to restrict the use of some natural deer attractants/scents in the Primary and Secondary CWD Surveillance Areas. The emergency amendment, applicable only to the CWD Surveillance Areas, prohibits possession and use of any excretion collected by a hunter from a harvested deer.
Pennsylvania
In late July, the United States Forest Service (USFS) proposed a permanent wildlife feeding ban on the Allegheny National Forest in northwestern Pennsylvania. The proposal came after a 1-year wildlife feeding moratorium was instituted in 2021 after a positive CWD detection from a deer on a Warren County hunting preserve. The proposal has since been adopted.
In late August, the Pennsylvania Game Commission (PGC) announced the expansion of Disease Management Area 2 (DMA2) after a road-killed deer tested positive for CWD. The deer, an adult female, was found in South Middleton Township in Cumberland County. As a result, DMA 2 is expanding east into more of Cumberland, Adams and York counties.
Tennessee
In mid-July, the Tennessee Wildlife Resources Agency (TWRA) announced that a 4 ½-year-old white-tailed deer buck in Dyer County tested positive for CWD. The deer was harvested last November and was submitted to TWRA by a taxidermist. The positive detection was a first in Dyer County, and due to the proximity within 10 miles, Obion County and Lake County became high-risk counties for CWD.
Texas
In early August, the Texas Parks and Wildlife Department (TPWD) announced proposed amendments that would establish or expand CWD containment and surveillance zones to either implement or improve surveillance efforts as part of the agency's effort to manage CWD.
In early September, TPWD announced a surveillance zone covering almost 200,000 acres in Duval, Jim Wells, Live Oak and McMullen counties will be implemented for two years. This zone will take effect prior to the 2022-2023 hunting season and TPW commissioners will consider the resulting data presented by TPWD staff to assess the need for continued surveillance in the established zone.
In early September, TPWD announced that CWD has been discovered in a deer breeding facility in Gillespie County. TPWD and Texas Animal Health Commission (TAHC) are collaboratively working to determine the source and extent of the first positive detection of the disease in this county. After the mortality of a white-tailed deer on the premises was identified, tissue samples from the one-year-old buck were submitted by the deer breeding facility as part of a required CWD surveillance program.
As of late August 2022, 376 captive or free-ranging cervids — including white-tailed deer, mule deer, red deer and elk — in 15 Texas counties have tested positive for CWD.
Wisconsin
In mid-August, the Wisconsin Department of Agriculture, Trade and Consumer Protection (DATCP) confirmed that a Waukesha County deer farm that tested positive for CWD earlier this year had been depopulated. Of the 20 ​animals depopulated, eight tested positive for the disease.​ In February 2022, DAT​CP immediately quarantined the farm when two 3-year-old white-tailed bucks tested positive for CWD.
In late August, DATCP confirmed that a Taylor County deer farm that tested positive for CWD​ has been depopulated. Of the 238 animals tested as a result of the depopulation, 61 were positive for the disease. In 2021, a 6-year-old white-tailed doe tested positive for CWD at the 22-acre farm, and the farm was immediately quarantined.
Wyoming
In late August, the Wyoming Game and Fish Department (WGFD) asked hunters again this fall to collect lymph node samples from deer and elk for CWD testing. For 2022, samples are requested across Wyoming in key deer and elk hunt areas, and six deer hunt areas are mandatory for samples.
Alberta, Canada
In mid-July, Alberta Innovates announced $1 million in funding in the CWD Research Program to support collaborative research directly related to understanding and managing CWD. The intent of the CWD Research Program is to:
reduce, control or eliminate CWD in the environment, and
introduce techniques to monitor and control the spread of CWD, and
increase employment in the science and agri-food sector.
Manitoba, Canada
In late August, the Manitoba government announced an investment of an additional $350,000 to help prevent the spread of CWD through year-round monitoring and enhanced sampling efforts during the upcoming big game hunting seasons. The $350,000 investment will enhance sampling efforts by establishing additional sample drop-off locations and reducing turnaround times for testing of samples submitted by hunters.