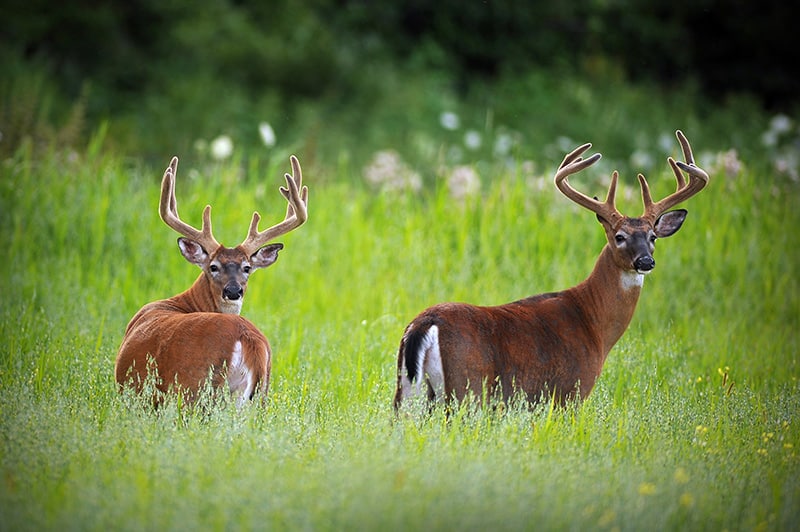 CWD Roundup is the National Deer Association's (NDA) bi-monthly update on all things chronic wasting disease (CWD). We'll provide the latest updates on CWD spread, research and policy from across North America. Updates are provided alphabetically by state and province.
Regulatory Reminders and Updates for Hunting Seasons
A general trend that we've seen over the last two months is state wildlife agencies issuing news releases with information and reminders for hunters with respect to CWD as they head afield this fall. These reminders have included information on CWD hunting zones, regulations within those zones, carcass transport rules and how and where to get harvested deer tested for the disease. Hunters should pay close attention to these reminders and would be wise to take another glance at their state wildlife agency's CWD webpage. Regulations and maps change quickly and often, and hunters must do their part to limit the spread of this disease.
Some states that have issued regulatory reminders include: Arizona, Florida, Idaho, Kentucky, Minnesota, Missouri, Montana, North Dakota, Texas, Vermont, Washington, Wisconsin and Wyoming.
Idaho
In mid-July, Idaho Fish and Game (IDFG) released CWD testing results from winter/spring testing across the McKinzie Creek, Slate Creek, and John Day Creek drainages. IDFG and the United States Department of Agriculture (USDA) Wildlife Services removed and tested 555 animals, which consisted of 203 mule deer, 343 white-tailed deer, and 9 elk. Of the animals removed and tested, a 5% overall positivity rate was detected from a total of 27 CWD-positive animals. This included 3 mule deer and 24 white-tailed deer. None of the elk tested resulted in a positive sample.
Iowa
In early August, the Iowa Department of Natural Resources (DNR) confirmed a tissue sample collected in mid-June from a road-killed adult buck deer in Marshall County tested positive for CWD. With the addition of Marshall County, 260 deer have tested positive in 16 Iowa counties since 2013. Iowa DNR has scheduled two meetings to update the public on CWD surveillance and management efforts in Jasper, Marshall and Grundy counties.
Oklahoma
In early July, the Oklahoma Department of Wildlife Conservation (ODWC) confirmed that a second wild white-tailed deer tested positive for CWD in the state. The deer was located in Woodward County after a landowner reported the deer behaving abnormally.
Texas
In mid-July, the Texas Parks and Wildlife Department (TPWD) received notification of two new cases of CWD in deer-breeding facilities – one each in Frio and Zavala Counties. In Frio County, a 2-year-old white-tailed doe died in a deer-breeding facility and was post-mortem tested following CWD surveillance testing requirements. This is the second deer-breeding facility in Frio County to have a positive CWD detection. In Zavala County, a 3-year-old white-tailed buck died in a deer-breeding facility and was post-mortem tested following CWD surveillance testing requirements. This is the second deer-breeding facility in Zavala County to have a positive CWD detection.
In late-July, TPWD and the Texas Animal Health Commission (TAHC) received notification of a new case of CWD in a deer-breeding facility in Brooks County. A five-year-old doe detected with CWD was transferred in 2022 from a facility in Frio County newly discovered to be positive for CWD. In this case, TPWD regulations required euthanization and testing for CWD as part of the epidemiological investigation. This marks the first detection of the disease in the county and the ninth CWD-positive breeding facility in the state detected in 2023.
In late July, TPWD adopted an emergency rule implementing additional movement and testing restrictions for white-tailed deer in deer breeding facilities. Among other provisions, the change requires all breeder deer to be ante-mortem (live-animal) tested for CWD (with a test result of "Not Detected") before transferring to another deer breeding facility or release site.
Wisconsin
In late-August, the Wisconsin Department of Agriculture, Trade and Consumer Protection (DATCP) confirmed that a Washburn County deer farm tested positive for CWD. The positive result came from a 3-year-old doe. The 150-acre farm has been placed under quarantine, where it will remain while DATCP and USDA veterinarians and staff conduct the epidemiological investigation.
Manitoba, Canada
In mid-July, the Minister of Natural Resources and Northern Development announced the Manitoba government is investing an additional $880,000 to help prevent the spread of CWD in the province. The funds will increase the capacity of Manitoba's mandatory sample program and reduce the turnaround time of test reports to mitigate human and animal health risks. The funding will also be used to increase staff capacity including another wildlife biologist position to support enhanced prevention, surveillance and monitoring. A total of 22 positive cases have been identified since CWD was first detected in Manitoba in 2021.
In late July, the Manitoba government introduced new amendments to the Wildlife Protection Regulation to simplify data collection and provide more options for hunters to engage in the mandatory sample requirements for CWD. Amendments now give hunters the option to extract and submit the testable tissue samples themselves rather than submitting the animal's entire head. In addition, mandatory sample submission periods have been extended from two days to seven days to allow hunters additional time to extract samples.