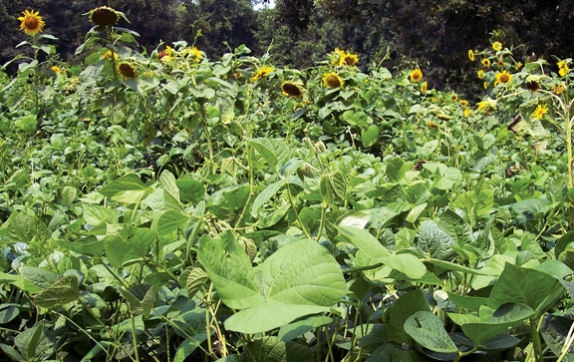 Along with soybeans and cowpeas, lablab is one of the primary forage legumes planted for deer each spring and summer – and for good reason.
Lablab (Lablab purpureus) is a warm-season annual legume that originated from Africa. It is widely adapted to a variety of soils and climatic conditions throughout the country. However, it does not tolerate wet soil conditions. It has a trifoliate leaf (similar to soybeans and cowpeas) that is bright green, and the leaflets are triangular. The stems are viney, and the flowers are white, pink, or purplish.
Lablab is extremely attractive and nutritious to deer, containing 25 to 30 percent crude protein in fields with good soil fertility. It is also tolerant of low fertility and soil acidity. Although it performs well with low fertility, the soil should be amended with the appropriate amount of lime and fertilizer to ensure plants achieve optimal nutritional quality.
Perhaps one of its best attributes is its ability withstand dry conditions. This is particularly important in arid regions out west or in the Deep South where summers tend to be long, hot and dry. Lablab is extremely productive and can produce in excess of 7,000 pounds of quality forage (dry weight) per acre throughout the growing season.
Compared to other forage legumes, lablab holds up pretty well to grazing pressure as long as plots are not too small and the deer density isn't too high (click on the photo in the Gallery below to see how fast a high-density herd can strip a small plot of lablab). Depending on local deer density and habitat quality, plots should be a minimum of 1 to 2 acres.
Soil Preparation
Test your soil to ensure the appropriate amounts of lime and fertilizer are applied to make sure nutrient levels are high and readily available by maintaining a neutral pH greater than 6.0.
Like other forage legumes, lablab does not need much nitrogen applied since it produces its own. However, phosphorus and potassium are important for optimal growth, nutritional quality, and attraction. Thus, be sure to apply the amounts recommend from the soil test to ensure nutrient levels are in the high range.
If you're broadcasting the seed, be sure to create a smooth, firm planting surface free of large clods and debris to ensure optimal germination. If no-till planting, kill the existing vegetation with glyphosate to eliminate weed competition a couple weeks prior to planting.
Planting
When broadcasting lablab, plant approximately 25 lbs./acre and cover the seed about an inch. If drilling the seed, reduce the planting rate to approximately 15 lbs./acre.
In the South, lablab can be planted as early as April and can be successfully established throughout the summer if soil moisture is adequate for germination. In the North, lablab should be planted starting in late May or early June.
One of my favorite summer mixtures is to broadcast lablab (10 lbs./acre), cowpeas (40-50 lbs./acre), and peredovik sunflower (5 lbs./acre). This is the blend seen in the photo above, and the lablab is seen in the foreground. I like to include lablab in the mixture because it persists longer than cowpeas, which holds deer in the area longer for early season bowhunting opportunities. Sunflowers are included to provide "ladder structure" for the lablab and cowpeas to climb upon for increased production. However, realize that if the deer density is high, sunflowers are likely to be overgrazed.
Most lablab seed is sold pre-inoculated these days. If you find non-inoculated seed, be sure to properly inoculate it with the appropriate inoculant prior to planting (inoculant code EL). Inoculating seed will result in a more productive and attractive stand as nitrogen fixation is greatly enhanced. This increases protein levels, which enhances body and antler development, as well as milk production in does.
Hunting Strategies
Because summer plots are a magnet for deer during late summer and early fall, I generally retain a couple of my most productive summer plots to bowhunt over. I will leave these plots alone when preparing fall plots and hunt them until deer consume all the forage or a frost occurs. This is often extremely effective, because deer are using the plots daily since natural food availability is low before acorns begin to fall, and patterning deer using the fields is quite simple. As soon as deer use subsides, I will plant fast-growing annuals, such as wheat and oats, which greatly benefit from all the nitrogen produced by the lablab
and cowpeas.
In my full profile of lablab in Quality Whitetails magazine, I covered more blends as well as weed control methods. To start receiving every full species profile in each issue of the magazine, I encourage you to join QDMA today.