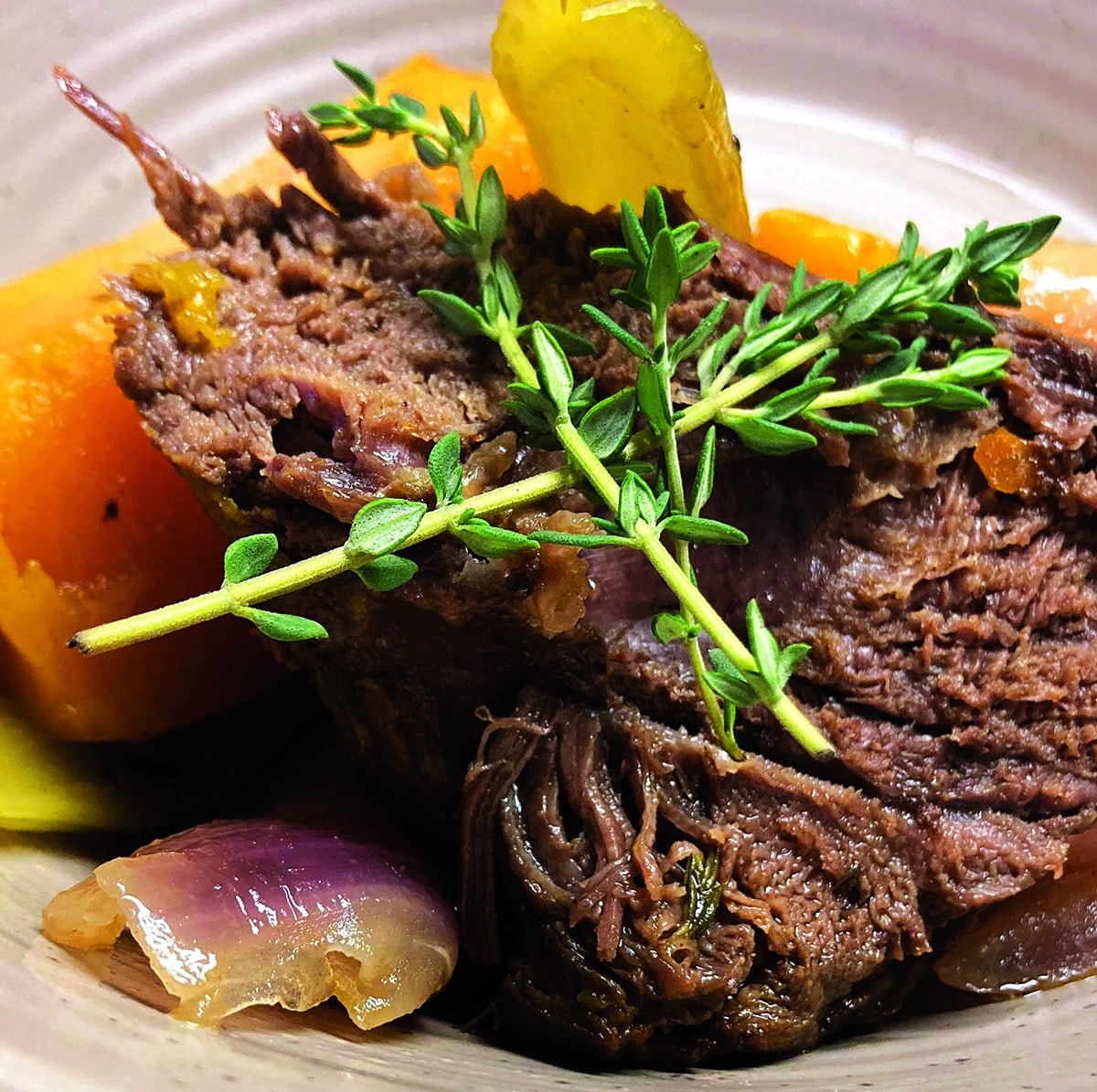 I like my venison roasts to be full-flavored and to give me a robust feeling of crisp air and fall weather. This recipe is just that. This slightly sweet and spicy twist on a familiar classic will leave your mouth watering for this comfort food and post-hunt storytelling.
Just like all good hunting stories, the ingredients for this recipe can be slightly adjusted to your liking and measured with your heart. For an optimal flavor experience, I highly suggest serving this venison roast alongside hearty mashed potatoes and a cold cider or beer.
Ingredients
For hot honey butter:
1 stick softened unsalted butter
2 tbsp honey
1 tsp cayenne pepper
1 tsp garlic powder
1 tsp paprika
1 tsp onion powder
1 tbsp fresh thyme
1 tsp coarse salt
3 tsp red pepper flakes
2 tsp cavenders greek seasoning
For venison roast:
1 venison shoulder roast
1 large red onion peeled & quartered (can substitute 5 large shallots peeled & halved)
7 celery stems washed and trimmed to fit cast iron (can substitute 4 large fennel bulbs trimmed and quartered)
4 sprigs fresh thyme
2 tbsp olive oil – 1 tbsp for the cast iron and 1 tbsp for searing the roast
1 bottle of hard apple cider
1 butternut squash peeled and cut into stick
4 carrots peeled and chopped into rounds
Instructions
Preheat the oven to 425°F. Make sure there is enough space in between the racks to place your cast iron pot.
Combine hot honey butter ingredients & mix thoroughly. Refrigerate butter while preparing other ingredients.
While seasoning your venison roast with salt, pepper, and garlic, heat 1 tbsp of olive oil over medium-high heat in a pan.
Sear your venison roast in the pan for roughly 3 minutes on each side or until the entire roast is brown and crispy. Set aside the roast on a plate in the fridge to cool.
Place celery, onions, carrots, sprigs of thyme and salt & pepper into the bottom of the cast iron. Toss with 1 tbsp olive oil. Arrange the roast items so that the venison can be placed on top of them.
Remove venison and hot honey butter from the fridge. Flip venison upside down on the plate so the bottom is facing up. Begin cutting several holes & pocket slits on the bottom side of your venison roast. Spread half of your honey butter over the top of the venison. Be sure to press and fill the butter into the pockets you have cut in the roast.
Place venison into the cast iron pot, butter side DOWN, on top of your prepared vegetables. Repeat pocket cutting & buttering process with your remaining hot honey butter into the top of your roast.
Place butternut squash slices surrounding the venison in your cast iron.
Pour one bottle of hard apple cider into the bottom of your pot.
Cook covered in an oven safe pot for 1 hour 45 minutes or until venison reaches an internal temperature of at least 155°F.
Garnish with fresh sprigs of thyme.