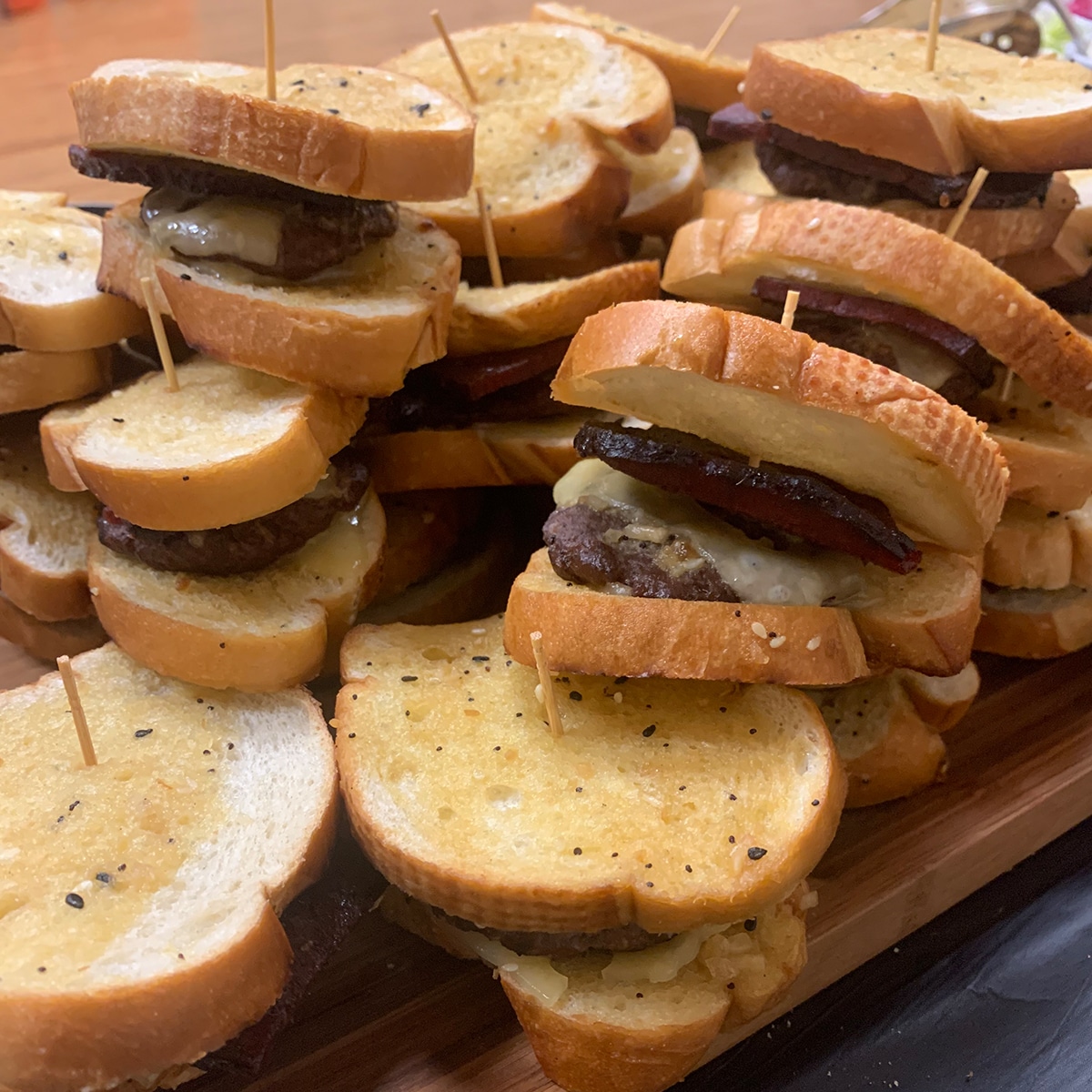 Sliders are always a hit at any party or event. This recipe was a great way to incorporate lean ground venison into a crowd favorite.
When I combine the sweet and savory flavors in these sliders, I've never had a complaint of "gamey" venison flavor!
Along with eating as much venison as we can harvest, I've always loved incorporating multiple wild game flavors. If you have it available or can make it yourself, goose bacon is a game changer for adding complex flavors into these venison sliders. However, we all love regular bacon too!
I hope you enjoy these venison bites at your next event!
Serves: 16 sliders
Preparation & Cook Time: 1 hour
Honey Mustard Glaze
Venison Sliders
1 ½ pounds thawed ground venison
Preferred steak seasoning – 1 tbsp
1 French baguette sliced

Can substitute 16 King's Hawaiian rolls

8 oz thin sliced Swiss cheese
Goose bacon

Can substitute regular bacon
Instructions
Preheat oven to 375 degrees. Place goose bacon into oven for 20 minutes. Remove when fully cooked. 
While the bacon cooks, in a large bowl mix together ground venison and your preferred steak seasoning. For this recipe we used a combination of Montreal steak seasoning, Smokehouse maple seasoning, and Cavender's seasoning. 
Begin forming small burger sliders with your hands roughly 2-3 oz each. 
Place sliders on a pan with a nonstick spray and place in oven for 20-25 min. Check the internal temperature with a meat thermometer regularly until it reaches 135-155 degrees depending on your preference. 
While the sliders cook, make the honey mustard glaze. Melt butter in a microwave safe dish. Remove from microwave and add mustard, Worcestershire, honey, diced onion, and everything bagel seasoning. Whisk until combined. Salt and pepper to taste
Remove sliders from the oven. Brush baguette slices and venison sliders with honey mustard glaze. Construct sliders placing Swiss cheese and bacon on top of the venison. Skewer the sandwiches with toothpicks and place back on a pan. If you are reusing the burger tray, make sure to soak up excess liquid before placing constructed sliders onto the tray. 
Place back in the oven for 5-10 minutes until cheese is melted and baguette slices are crispy and golden brown. 
Remove and serve warm.