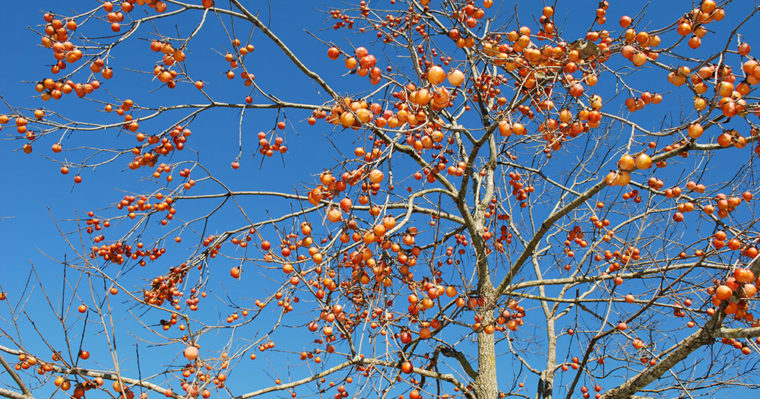 The deer should have been coming within range of my bow, and the fact that they were not was making me become more and more frustrated and perplexed. I had found a classic food within a funnel situation with deer meandering through the pinch point throughout the day, but always doing so just outside of my range.
The food source was three, mature, common persimmon trees (Diospyros virginiana), each of which had produced a copious crop and each of which was shedding its bounty. Not only were the whitetails not stopping at the trees to feed, they were also walking by them so quickly I had no time to release an arrow.
The real destination of all the deer was a little thicket located within the funnel but just outside of my effective shooting range. So finally I decided to stop fretting about why the deer weren't stopping where I thought they should and move my hang-on to where they were actually lingering.
While relocating the stand to the thicket, I decided to look around to satisfy my curiosity on what food was enticing the deer. To my surprise, the source was yet another persimmon tree that was considerably smaller than the aforementioned trio but was dropping fruits that seemingly the local whitetails much preferred over the other golf ball-sized orange globes that were littering the ground. Apparently, just as deer often fancy the acorns of one oak over the ones of nearby trees, the same holds true for a treat that the ancient Greeks called "the fruit of the gods."
I relocated the stand just 10 yards away from the smallish persimmon and returned there four days later the evening of October 30 after leaving the school where I teach. My hunting records show that I arrowed a deer at 5:44 p.m. that evening, and they also show that I killed a huge doe the next time I was aloft in the stand the morning of November 3 at 7:25.
Fresh off a tree, persimmons boast a creamy, sweet, almost honey-like flavor and pulp that is high in Vitamins A, B, and C as well as calcium, potassium, and iron. 
Those exact dates can tell us much about how to effectively set up near persimmon trees and why their fruits are so appealing to deer then – and to humans. Persimmons live from Connecticut and New York to Florida, westward to Iowa, Kansas, Oklahoma, and Texas. The trees thrive in stream bottom lands, along fence rows, and in abandoned fields and cropland.
On the 38 mostly wooded acres that my wife Elaine and I live on, we only have one persimmon tree, an about 30-foot tall specimen (typical of this species) that, I am embarrassed to admit, I never knew existed until we had lived on the land for 22 years. I had been conducting some timber stand improvement around some black oaks and while doing so realized that the dark, square plates of a tree that I was about to cut down were diagnostic of a persimmon. Since my TSI activities (and additional ones since), the tree has been producing much more fruit.
That fruit does not fully ripen in many areas until mid fall, often until after a frost or two, which explains why my local deer did not visit the tree where I enjoyed my aforementioned success until late October. Bite into this fruit before then and your mouth will pucker and a distinctly unpleasant "cottony" aftertaste will occur. I can't say for sure why deer find ripe persimmons so appealing, but I can state why Elaine and I do.
Fresh off a tree, persimmons boast a creamy, sweet, almost honey-like flavor and pulp that is high in Vitamins A, B, and C as well as calcium, potassium, and iron. When I am deer or turkey hunting in the mountains of Virginia and West Virginia and come across a persimmon tree with ripe fruit, I stop and eat four or five of them. The potassium and sugars within always revitalize me.
Elaine likes to make persimmon bread and cookies. Here's her recipe for the latter and a venison entrée that goes great with it. Note: it is extremely hard to separate the numerous seeds within a persimmon from the pulp; don't even try. Put a dozen or so persimmons in a strainer and then mash down on them with a heavy object such as a can.  Doing so will force the pulp and skin (which is edible) through the strainer. This will take a while, but the effort is worth it.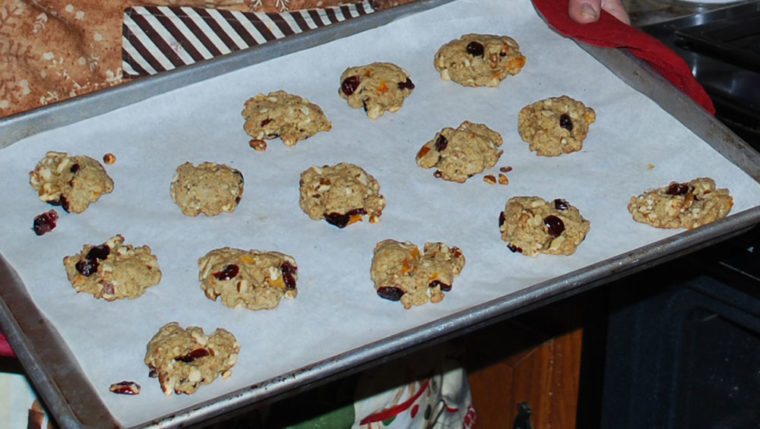 Persimmon Cookies
½ cup butter
1 cup sugar
1 egg
1 tsp. vanilla
2 cups flour
½ tsp baking soda
½ tsp baking powder
¼ tsp salt
¼ tsp each of cloves and nutmeg
¾ tsp cinnamon
¾ cup dried cranberries
1 cup black walnuts
1 cup persimmon pulp
Preheat the oven to 375 degrees F.
Allow the butter and egg to reach room temperature. In a separate smaller bowl combine the flour, baking powder, baking soda, cloves, nutmeg, and cinnamon. Stir to combine.
When the butter is softened, cream it in a mixer. When light and fluffy, add the sugar and mix. Next add the egg, then the vanilla, beating well after each addition. Gently mix in the persimmon pulp.
Add the dry ingredients to the batter, mixing thoroughly. Then fold in the cranberries and nuts. Besides black walnuts, we've also used shagbark and mockernut hickory nuts from the trees that grow on our land. These hickory nuts go great in either persimmon cookies or bread.
Drop by the rounded teaspoonful onto a cookie sheet lined with parchment paper.  Flatten the cookies slightly with your fingers.
Bake at 375 degrees for 12-13 minutes. The recipe makes about 4 dozen cookies.
Venison Pasties
The inspiration for Elaine's venison dish comes from Roger Wilson, rafting operations manager for Adventures on the Gorge in Lansing, West Virginia. Roger's wife's English ancestors hail from Cornwall where they made pasties (basically a pie crust with a thick rim for holding) with a filling consisting of lamb, beef, chicken, or fish. Also within can be such vegetables as peas, onions, and various root veggies, says Roger, as well as apples, cherries, and pears. Pasties were very popular with Cornish miners, and they brought their passion for this dish to the West Virginia coal mines.
"Traditional Cornish pasties are intended to be an entire meal," says Roger. "One-half meat/vegetable, the other cooked apples. Of course they can hold any food variation. I would guess that our Southern fried apple pie came from pasties."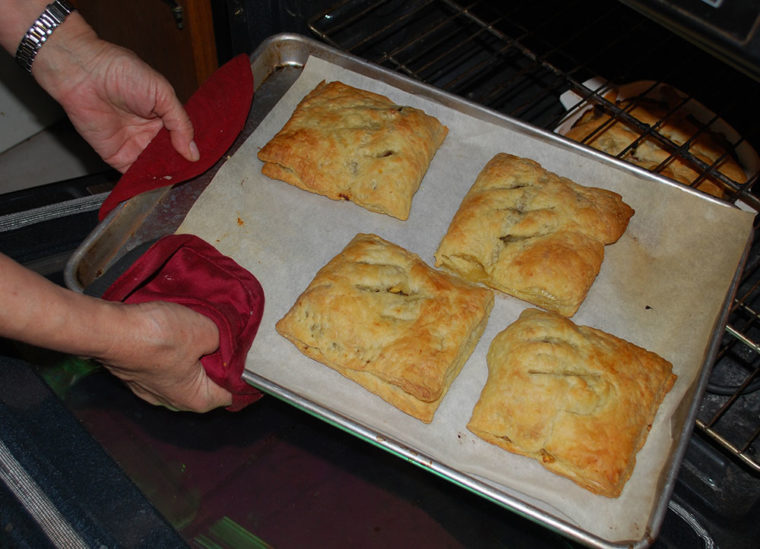 Pie crust recipe of your choice, enough to make both a top and bottom crust
1½-lb. venison roast, cleaned of all silver skin and cubed into 1-inch chunks
2 tbsp. oil
2 cups broth, we use vegetable broth, but beef or chicken broth will work
2 medium peeled and cubed potatoes
1 medium onion, chopped
2 carrots, shredded
1 cup peeled and cubed rutabaga (or turnip)
¼ tsp. garlic powder
Salt and pepper to taste
In a skillet, brown the venison in oil. Then cover with broth, cover, and simmer for 1½ to 2 hours until tender. We use a 10-inch Camp Chef cast iron skillet.
Prepare the pie crust. If using circles of pie dough, each circle will make one large pasty, but if you prefer you may cut the dough into smaller portions and make smaller pasties.
Remove the meat from the skillet and shred with fingers. To the meat mix, add ½ cup of the cooking broth, along with the onion, carrot, potatoes, rutabaga, garlic powder, and salt and pepper as desired.
Spoon the mixture onto one-half of the pie crust. Fold over the rest of the crust to seal, them crimp the edges with a fork to seal more tightly. Cut 2-3 slits into the top for steam to escape.
Bake at 375 degrees for 45-55 minutes until golden brown. Allow to cool about 10 minutes before serving.