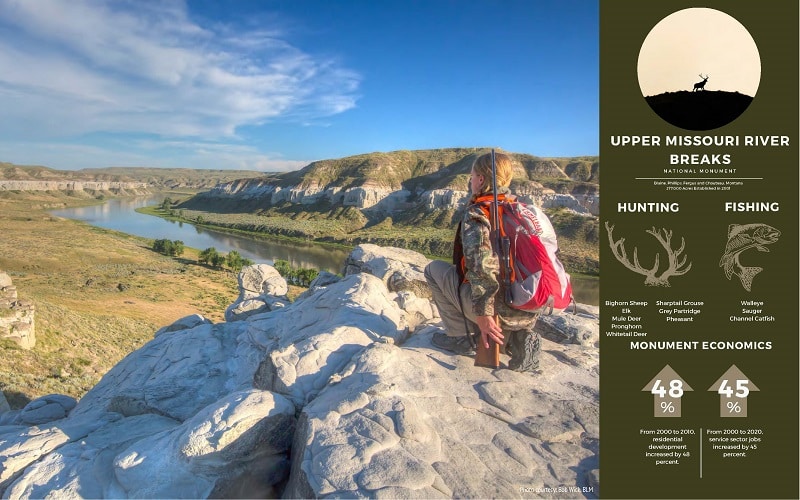 We were on our third day of stalking Montana pronghorn down in what is known as the Missouri Breaks. It was rifle season, but man, it was still a hot day. We finally glassed a small herd a mile or so away, so we started sneaking our way towards them. We were lucky that there was some topography between us because when the group finally made their way to the side of the hill we were on, I was set up for a great shot. I was expecting a 250 or 300-yard shot, but we ranged them at 120 yards. Shooting on that steep of a hill was making it a bit tricky to create a sturdy rest. Once I finally got my sight in place, the buck of the group came into view and with a steady pull on the trigger my tag was filled ending a great day of hunting.
Little did I know that I just harvested a pronghorn on some of the very same ground the Lewis and Clark expedition had explored back in 1805. In fact, the area is incredibly rich in history, culture and scientific value. In 1976, Congress designated the Missouri River segment and corridor in this area a National Wild and Scenic River, and the area became a National Monument in 2001. The Breaks still remained largely unchanged from the time that Lewis and Clark passed through over 200 years ago, offering – and this is key – hunting, fishing, rafting and other recreational opportunities in pristine landscapes.
In a new report supported by the National Deer Association – National Monuments: A Hunting and Fishing Perspective – 25 conservation groups and outdoor businesses outlined eight principles to be followed to generate meaningful hunt-fish support for the creation and management of national monuments on public land:
Important fish and wildlife habitat must be conserved;
The monument proclamation must clearly stipulate that management authority over fish and wildlife populations will be retained by state fish and wildlife agencies;
Bureau of Land Management and U.S. Forest Service lands must remain under the authority and jurisdiction of these multiple-use focused land management agencies;
The monument proclamation must direct reasonable access for fishing, hunting, and wildlife management, including allowances for terrestrial habitat improvement and water developments;
The input and guidance of hunters and anglers must be included in management plans for national monuments;
The monument proposal must be developed through a public process – one that includes hunters and anglers, as well as appropriate state, Tribal, and local governments;
The monument proposal must gain support from local hunters and anglers; and
Hunting and fishing opportunities must be upheld and the historical and cultural significance of our outdoor traditions explicitly acknowledged in the monument proclamation.
When used properly, the Antiquities Act – which gives the Executive Branch the authority to establish National Monuments – has given us the opportunity to maintain some of the world's best public hunting and fishing areas by conserving large and vitally important landscapes. It is critical that hunting, fishing and other recreation opportunities remain a priority on lands considered for National Monument status, and the above principles ensure that prioritization.
The report also includes stories from sportsmen, sportswomen, and business owners with deep connections to four different national monuments, including the Upper Missouri Breaks National Monument, where my pronghorn hunt took place. Since the Antiquities Act became law in 1906, 18 Presidents have set aside national treasures as monuments for the American people to enjoy. National monuments aren't only a part of history, they also help support the $862 billion outdoor recreation economy, which includes hunting and fishing.
The NDA recognizes the historical, cultural, scientific and recreational value of National Monuments done right. The report, and the principles outlined within, provide a roadmap for doing just that – creating monuments that are widely supported and maximize value.