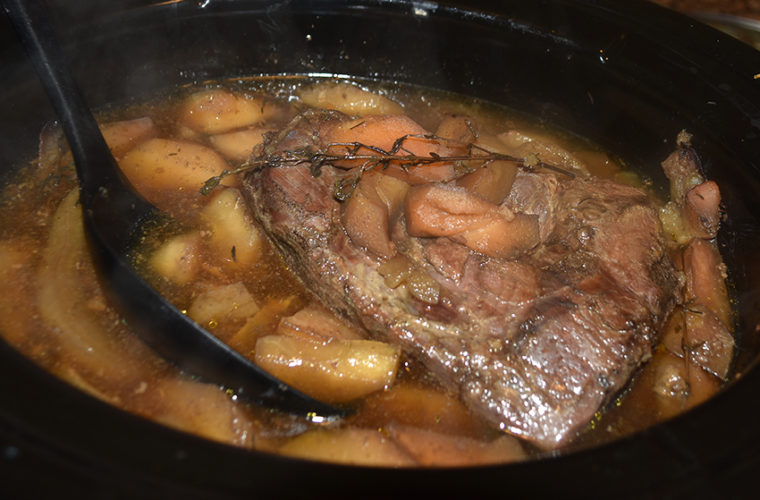 My wife Elaine and I enjoy venison year-round, and we also enjoy gathering and eating fruits and other foods that result from habitat improvements on our land. We've planted apple trees for deer nutrition, but we enjoy eating them too, and Elaine found they even work well combined in this apple venison roast recipe. The two apple varieties that work well are ones that deer hunters and habitat managers might want to become familiar with: Black Twig and Old Fashioned Winesap.
Hands down, Black Twigs rate as the favorite apple variety I've ever planted. They rank high for pies, eating out of hand, and storing for long periods of time. Winesaps certainly register well, too, as one of the premier eating and cooking apples. Both are late ripening and thus can be important foods for whitetails well into the fall.
Bill Shelton, whose family operates Vintage Virginia Apples and Albemarle Cider Works in North Garden, Virginia, said the two varieties have much to offer.
"Black Twig and Winesap are both later-ripening and longer-keeping apple varieties," he said. "I would also add Arkansas Black to that list as it is a very dense apple and would last longer both on the tree and ground should they fall.  All three ripen in mid to late October. One point to note is that all of these varieties are pollen sterile and need one or more other varieties to pollinate them. Grimes Golden or Virginia Hewes Crab are traditional pollinators and also yield apples that would attract deer. They both ripen in September.  
"Black Twig and Winesap will store into the early spring in an old refrigerator or an unheated root cellar. Arkansas Black will store even longer. As to how long these varieties will hang on the tree, it is somewhat dependent on temperature.  At higher elevations, they should be fine to later October or early November. At lower elevations and higher temperatures, they will start to drop earlier in late September or early October."
The Shelton Family orchard is located in the Piedmont of the Old Dominion, so apples of this variety planted in the Northeast could easily be available to deer well into December. Conversely, Southern states would have a much earlier ripening.
Here's how Elaine combines our harvest of venison and apples.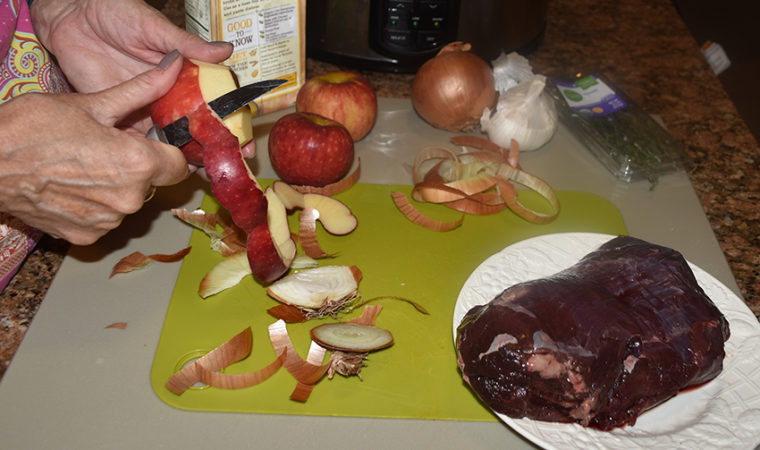 Apple Venison Roast
Ingredients:
2 lb. venison roast

2-3 cups broth. Venison, vegetable, beef or turkey broth all are fine

1 large yellow onion, sliced

3 Winesap or Black Twig apples, peeled and sliced

1 Tbsp. Worcestershire Sauce

6-8 sprigs fresh thyme

3 garlic cloves, minced
Directions:
Place onion slices in a slow cooker. Put venison roast on top.

 

Sprinkle apple slices on top and around roast. Sprinkle roast with minced garlic. 
Pour broth around roast. Add Worcestershire sauce to broth.

 

Place thyme sprigs on top of roast.

Cover and cook on low setting of slow cooker for 8 hours. Slice and serve. Goes great with mashed or cubed potatoes, coleslaw, and, obviously, apple pie.
Bruce and Elaine Ingram are NDA members from Virginia and the authors of Living the Locavore Lifestyle, which covers hunting, fishing, gathering, and growing your own food. Write to Bruce and Elaine to order your copy.