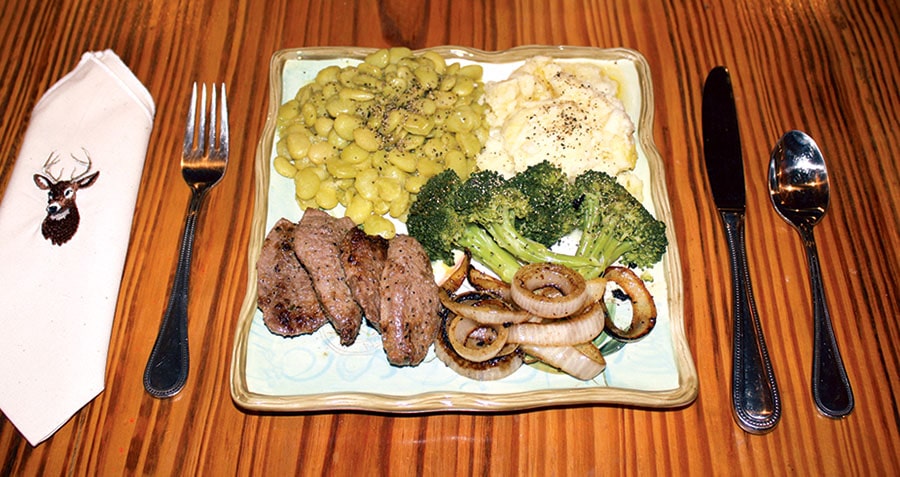 Every hunter likely has a friend or family member who is a non-hunter, if not several. You probably avoid hunting-related conversations with some or all of these folks for fear of getting into a debate that may turn sideways. However, sticking our collective heads in the sand and avoiding these types of conversations is the opposite approach we should be taking with the non-hunting public.
Only 6 percent of Americans are hunters, a staggering statistic. Although it may seem as if you see big trucks with hunting-related decals everywhere you go, we are in fact quite a minority. We hunters only maintain our privilege to hunt by the grace of the remaining 94 percent of the population who doesn't. We are fortunate that approximately 80 percent of the non-hunting public approves of hunting under most ethical conditions, but it's our responsibility to ensure generations after us are granted this opportunity and approval as well.
How do you begin to create a dialogue with non-hunters? Should you aim to change their minds or just work to maintain their support? There are a few different ways to begin these conversations, but I've found my preferred approach to be what Steven Rinella of Meat Eater TV calls "venison diplomacy." Like many interesting conversations, my "venison diplomacy" story originated at a bus stop.
Venison diplomacy at the bus stop
Because of our work schedules, I took over the morning school duties for my wife when our daughter started 1st grade. Initially, I didn't really see myself becoming friendly with any of the other parents waiting with their kids at the bus stop, but after meeting there more than 500 mornings, through rain and snow and 90-degree days, I became friends with one. Through our 8:00 a.m. conversations, I came to know that "Jil" is from California and her husband is from Utah. I learned they enjoy the non-consumptive outdoors and are both chemists. They're wonderful people – friendly, inquisitive, fairly liberal (nothing wrong with this, just setting the stage) and not necessarily fans of hunting in general. During our morning chats, we started with bland conversation topics like jobs, kids and weekend plans, but we eventually discussed our hobbies. I could tell from our conversations, as I had skirted around hunting as a topic, that Jil and her husband were not big fans of hunting, and for the longest time I avoided talking about it or divulging the fact that I'm a die-hard bowhunter.
One early spring day, I was speaking with Jil at the bus stop about our plans for the upcoming weekend, and I decided to begin easing into a conversation about hunting. I mentioned I had been taking my daughter to the archery range to shoot our bows, and I was taking her on her first turkey hunt this upcoming weekend. I explained that she was excited, and I was looking forward to sharing this outdoor experience with her. Jil's hesitant response told me this information was not exactly well received. I changed the subject, but I felt it was a good first attempt.
Over the final weeks toward the end of the school year, I continued to talk about hunting with Jil and her husband, who took over bus-stop duty when Jil was out of town for work. I relayed with enthusiasm the different regions and states I was hunting and the game I was chasing. During our conversations, I was always sure to emphasize my experiences more so than the particulars of any harvest. Not only did this seem to land better with them, but, truly, it's also these broader experiences in wild places that are most important to me. It didn't occur right away, but as time passed they became more comfortable with the idea of hunting. They listened as I explained how I hunt, why I hunt, and that I consume the wild protein provided by every animal I harvest. They learned that I am as passionate about managing habitat on our properties as I am about bringing home a kill.
As they better understood my connection with nature and my purposes for hunting, they began asking me about upcoming hunts and asking about any animals I had recently seen. They even started telling me about bucks they were seeing while biking or hiking around our neighborhood. I think they were warming to the idea of hunting in a conversational way but were still not completely onboard.
Setting the Table
One day, my wife and I invited Jil and her husband over to our home for dinner. I had asked them in advance for their permission to prepare a venison dish for them to try. Knowing they were "foodies" – people who love all kinds of interesting food – I figured they wouldn't turn down an opportunity to try something new.
I prepared my best venison dish for them: seared venison medallions with a bourbon, horseradish and mushroom white sauce. As we ate, they asked me a lot of questions like where the venison came from and whether I skinned and butchered the deer myself. While answering their questions, I explained that I preferred to process my own game as a way of continuing to pay respect to the animal after the harvest.
After dinner, our conversation continued over a bottle of wine as we discussed everything from our kids, to politics, to conservation and then eventually to why I hunt. At this point, Jil's husband appeared to be more accepting of hunting, but Jil still seemed unsure. Being the inquisitive, scientific type, she continued to ask me questions about my hunting methods, but we had danced around the issue that most people have with hunting in general: the kill. I felt the best way I could explain this was to walk her through my emotions from the moment that my arrow found its mark; explain to her my shaking limbs as I climbed out of my stand; describe to her the anticipation as I searched for and then located my kill; and finally portray to her the tranquility that washes over me as I place my hands on the animal.
When people talk of hunting, few acknowledge the emotional component, and I cannot remember a time that I've harvested an animal and not felt the telltale lump in my throat as tears fill my eyes. As many understand, these are not tears of remorse. These tears flow because I know exactly who and what I am. I know they are a sign of respect and recognition for what this animal has given to nourish my family. And I know the type of hunters I surround myself with feel the same way.
After this revelation, Jil's comprehension of the term "hunter" seemed to change. It's unlikely that theirs will become a family of hunters, however their acceptance of a few packages of venison to prepare on their own confirmed the impact of our conversation. And because of that conversation, I think they now understand that hunting is much more than releasing an arrow or firing a round. Hunting is a privilege that comes with a great responsibility to the animals we pursue.
Not every conversation with a non-hunter will result in creating allies, but a little venison diplomacy can help cement our future as hunters.
Did you know QDMA has set a goal to share 20 million meals over the next five years with friends, family and others not residing in the donor's household? We need your help! Join QDMA today, and learn more about our five-year mission goals.