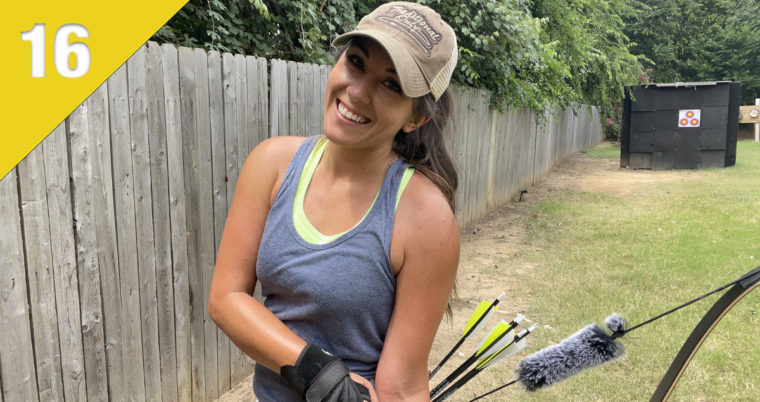 Her first bow was fashioned by her father out of a stick and string when she was a child. Now, Jen Delaney can blow out candles and put an arrow through the opening of a spinning wine bottle and does it with flare as she taunts her doubters. Those are just a couple of her many trick shots she pulls off with her traditional archery gear. Her talent combined with a natural ability to entertain has made her the most popular archer on TikTok, and her Freedom and Feathers audience is growing by the day with more than 1.2 million followers. She also has significant followings on Instagram and YouTube.
In this episode, Nick and The Doctor talk with Jen about her journey as an archer, and why it's so important to her to pass the sport along to others. They also discuss how to reach broad audiences with a shooting, hunting, and conservation message. A new hunter, Jen talks about her excitement to learn more about the sport and spend more time afield in the coming years. This is a fun show you definitely don't want to miss.
It's also an Ask NDA Anything episode, and the guys share their methods for keeping hands warm in the field in response to a listener's question. Remember to send us your Ask NDA Anything questions, which will be answered in the next episode. To submit your question and be considered for a coveted NDA hat, please email Nick Pinizzotto.
Listen Now:
Important Links
Follow Nick Pinizzotto on Instagram
Follow Mike Groman on Instagram
Music by Bensound
Subscribe to the Podcast on:
About the National Deer Association
The National Deer Association (NDA) is a non-profit deer conservation group that works to ensure the future of wild deer, wildlife habitat and hunting. Thank you for subscribing to our podcast!
Support NDA's mission by becoming a member today.
NDA has the highest ranking from Charity Navigator, an independent group that monitors non-profits for financial efficiency and effectiveness.
Learn more about deer and deer hunting in our weekly, free e-newsletter.
Follow us on our other channels: Facebook | Instagram | Twitter | YouTube