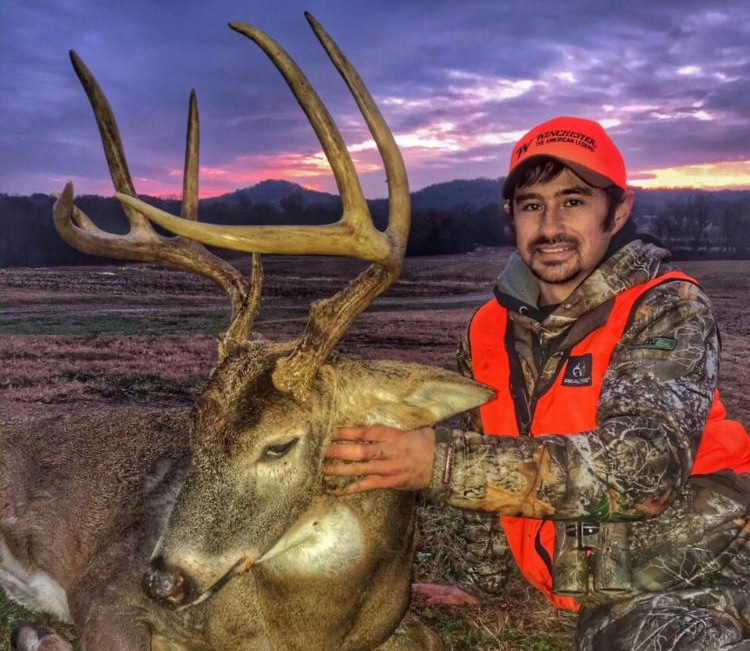 The National Deer Association is pleased to present its 2021 Signpost Communicator of the Year Award to Josh Honeycutt of Kentucky. Named after the organization's first newsletter, the Signpost Award goes to an outdoor communicator who shares accurate information with deer hunters, works to ensure a strong future for whitetails, and supports the NDA and its mission.
Honeycutt is the owner of Honeycutt Creative LLC and a prolific outdoor writer who has produced hunting content for more than 50 different outlets including magazines, newspapers and websites over the past 12 years. He's also a hunting show and podcast presenter, photographer and videographer. He's a member of the Professional Outdoor Media Association (POMA) and the Southeast Outdoor Press Association (SEOPA) and serves as a Board member of SEOPA.
Since 2012, he has managed or assisted in producing content for Realtree's website as a freelance editor and writer. In all of his writing and content production, he focuses on whitetails, especially do-it-yourself hunting and management tips for hardcore deer hunters and stories of hunting success that involve some of the largest whitetails killed each year. He also informs his audiences about deer science and important issues like chronic wasting disease (CWD).
"Josh stands out from the crowd of outdoor content creators as a communicator who does his homework to get the facts and science right while producing some of the most interesting and compelling new content in the deer space," said Lindsay Thomas Jr., NDA's Chief Communications Officer. "Over the years, Josh has been a strong friend of NDA, attending our national events, regularly interviewing our staff members for his stories, citing statistics from our annual Deer Report, and promoting our mission work to his audiences."
In addition to being an outdoor content producer, Honeycutt also works with hunting-industry brands to help them create content and marketing plans for their own platforms.
NDA CEO Nick Pinizzotto recently interviewed Honeycutt for NDA's Coffee & Deer podcast, and Pinizzotto had this to say about him: "In this day and age when anybody can start a blog and be a writer, you can pick out who's good at it, and who is not putting the work in. Josh puts the work in. He's also really good at generating ideas and writing about things that are unique that not everybody is gong to write about."
Click here to listen to the Coffee & Deer episode with Josh Honeycutt.
Previous winners of NDA's Signpost Communicator of the Year Award include Mike Hanback of Virginia (2020), Dan Johnson of Iowa (2018), Tony Hansen of Michigan (2016), Will Brantley of Kentucky (2015), Mark Kenyon of Michigan (2014), Scott Bestul of Minnesota (2013), Andy Whitaker of Alabama (2012), Patrick Durkin of Wisconsin (2011), Bob Humphrey of Maine (2010) and C.J. Winand of Maryland (2009).