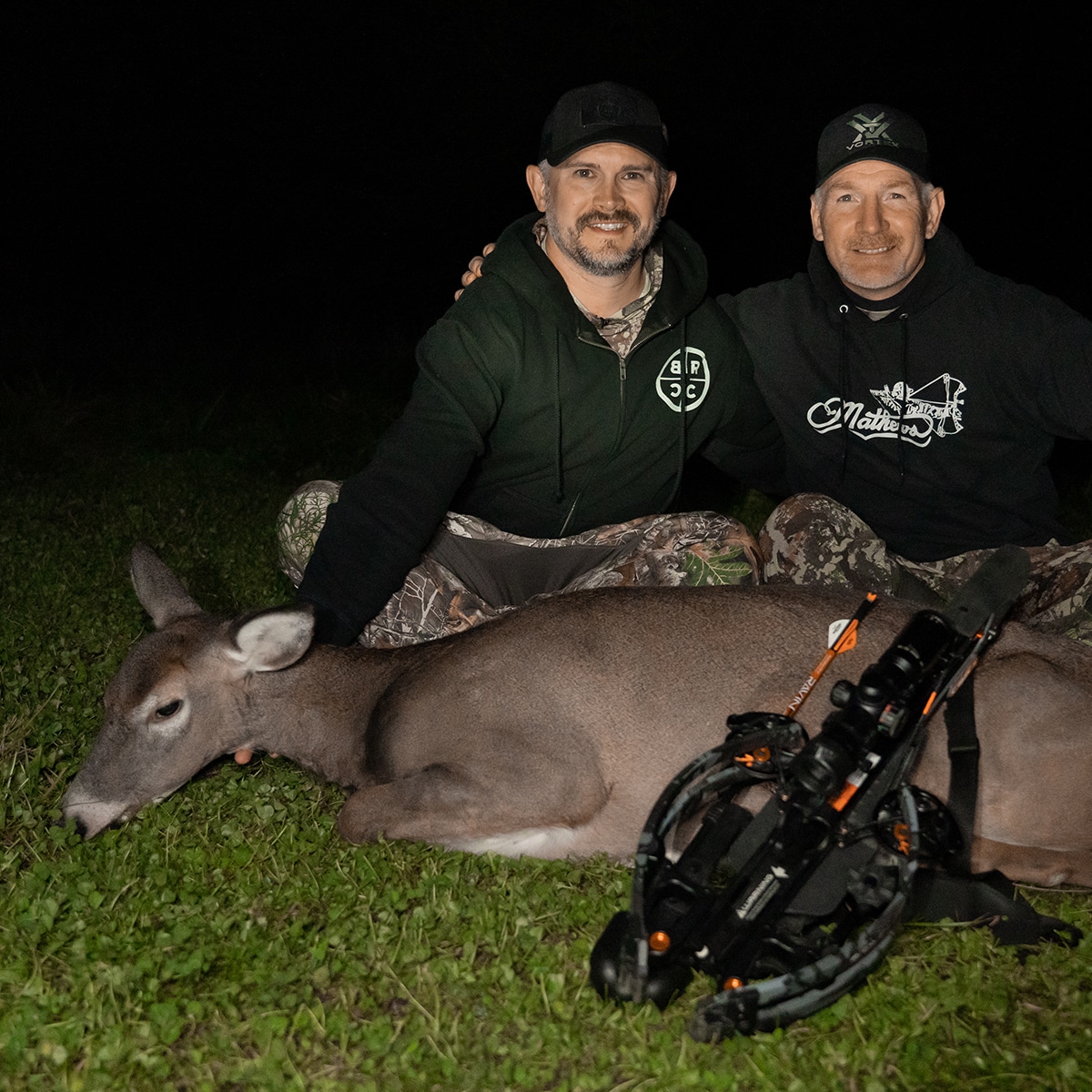 NDA's Field to Fork program pairs inexperienced adult hunters with mentors, gives them the information and training they need to get started, and then allows them to go out on their first hunt using borrowed equipment, all while getting to sample a variety of dishes made with venison. They go home with a set of skills they can use to put food on the table and a new pastime they can share with friends and family.
NDA holds Field to Fork events in multiple states, and we had a pretty full calendar of hunts just in Pennsylvania, some of which were held on private property and others on state or federal land. I'll be taking you on a tour through each of these locations and highlighting the experiences of the participants.
Meet the Participants
Our first location is the property of the Bearded Buck in Mahaffey, Pennsylvania. It's a rural property that consists of over 3,000 acres and is home to owner Jerry Tibbott, star of the Bearded Buck show on the Sportsman Channel. Jerry and his son Austin have both taken the National Deer Association's Deer Steward courses, and in 2018, Jerry was given the NDA's Deer Manager of the Year award. Needless to say, the property is very well-managed, and this year three lucky participants were chosen to experience their first hunt there October 13-16.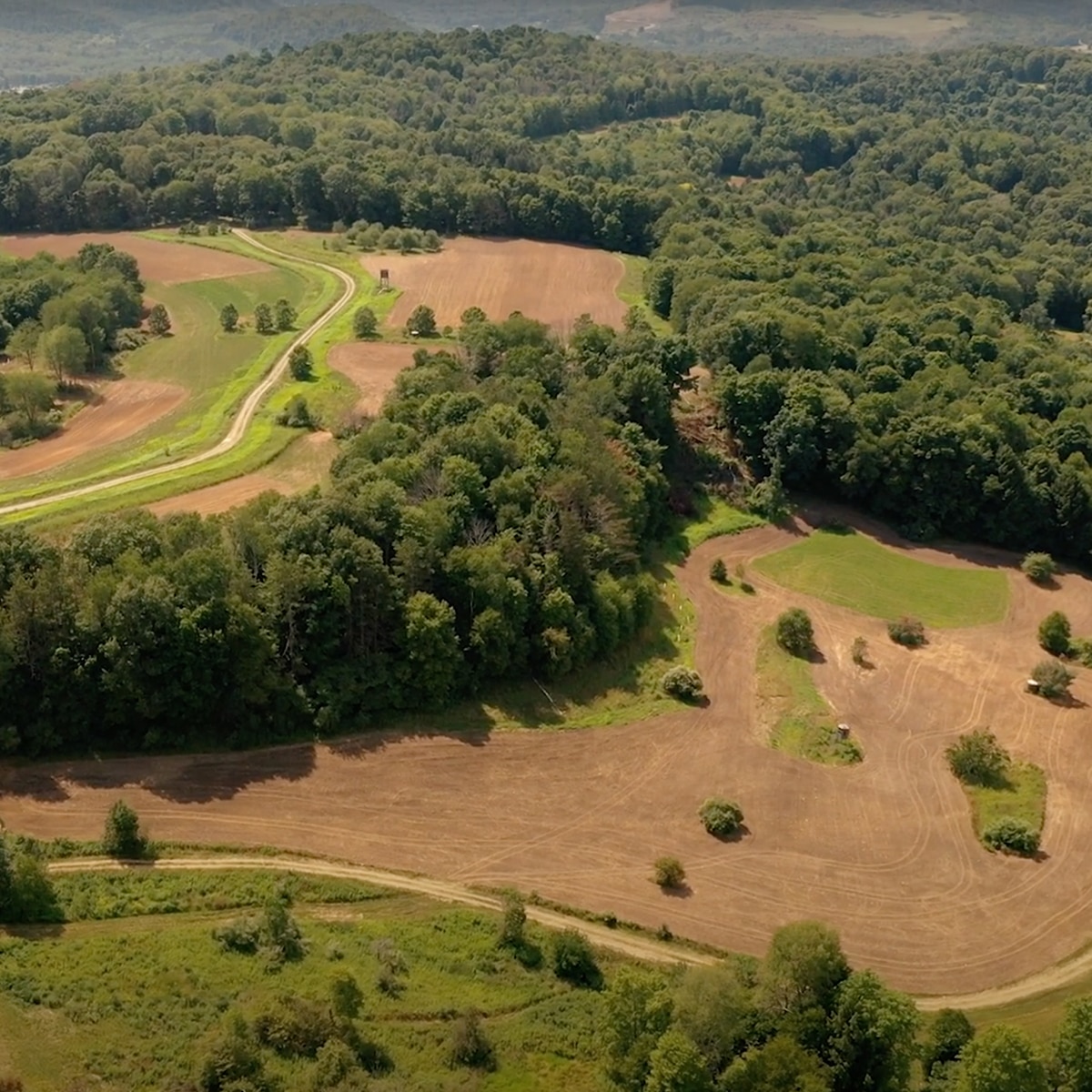 Though the event took place in western Pennsylvania, all of the new hunters hail from southeastern Pennsylvania. Jamie Coyle and Rose Hammerman, both residents of Philadelphia, are instructors for Coyote Tracks, a non-profit that helps children explore nature through games, survival skills, and adventures. Keith Doyle, an engineering manager from Schwenksville applied for the program several times before finally being selected. For him, passing the skills to the next generation was one of the core motivations for learning to hunt.
"My sons and I have a love for nature and sourcing our own food from the land," he said. "I want to be able to pass on the tradition to them and bond with them over this experience."
The mentorship team from the NDA was composed of Kip Adams and myself. We also had two cameramen from the Bearded Buck, Gavin and Mike, who were both experienced hunters.
DAY 1
The attendees stayed in a brand-new hunting lodge, which included a fully stocked kitchen and bar, taxidermy displays, comfortable rooms, and views that looked like they were taken out of a calendar. The evening of their arrival, they were treated to a dinner of filet mignon. It was a lot to take in. Add to that the fact that the participants were sitting on one of the most well-managed pieces of land in the state, teeming with wildlife, and that the entire experience was given to them free of charge.
"I feel like I won the lottery… like, is this even real?" Keith said.
"I rolled up the first night and there was warm dinner still waiting for us, you know, three hours late," Jamie said. "Everyone was hanging out and sharing stories, and it was very welcoming and friendly."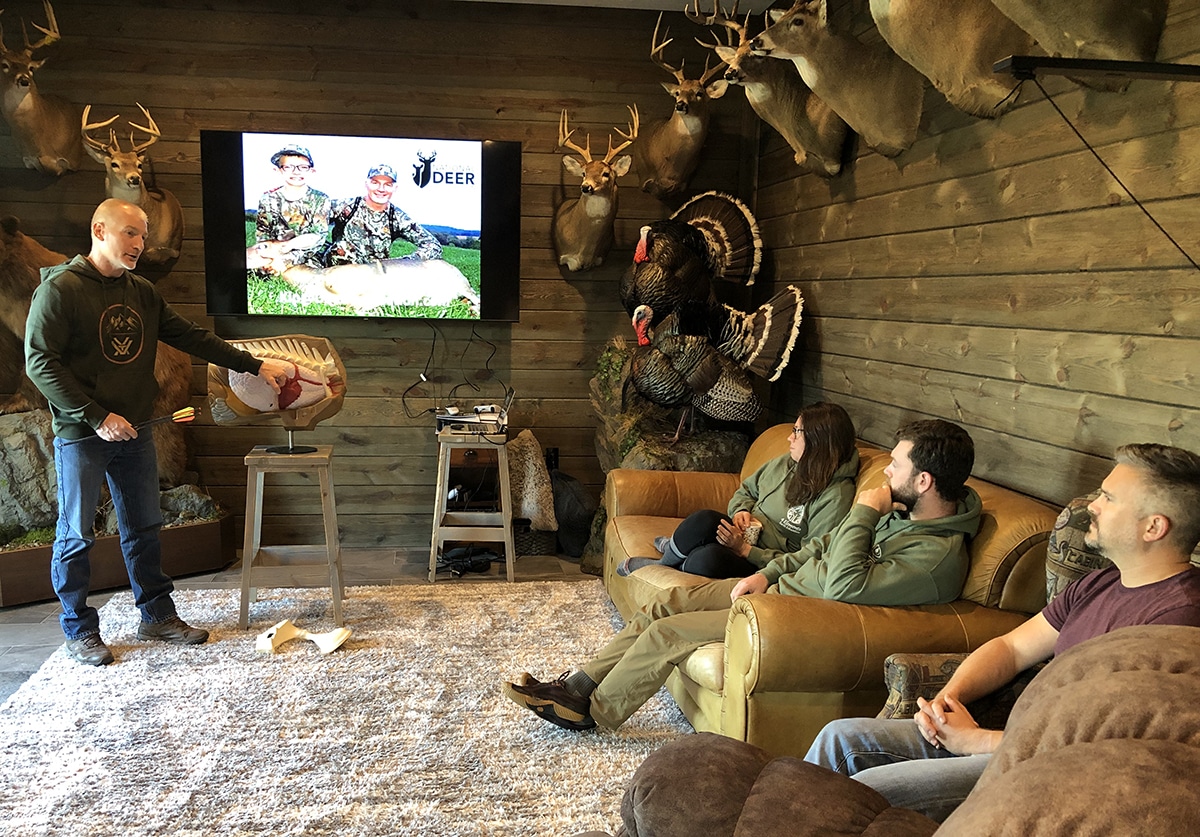 DAY 2
The next morning, Kip gave the attendees a thorough presentation on deer biology and shot placement, and then it was time for the archery range where mentors passed on safety tips and guidance on how to use the crossbows. Once everyone was comfortable using the equipment, we had another delicious homemade meal (meatballs!) prepared by the Tibbotts, and then headed out for the first hunt of the weekend.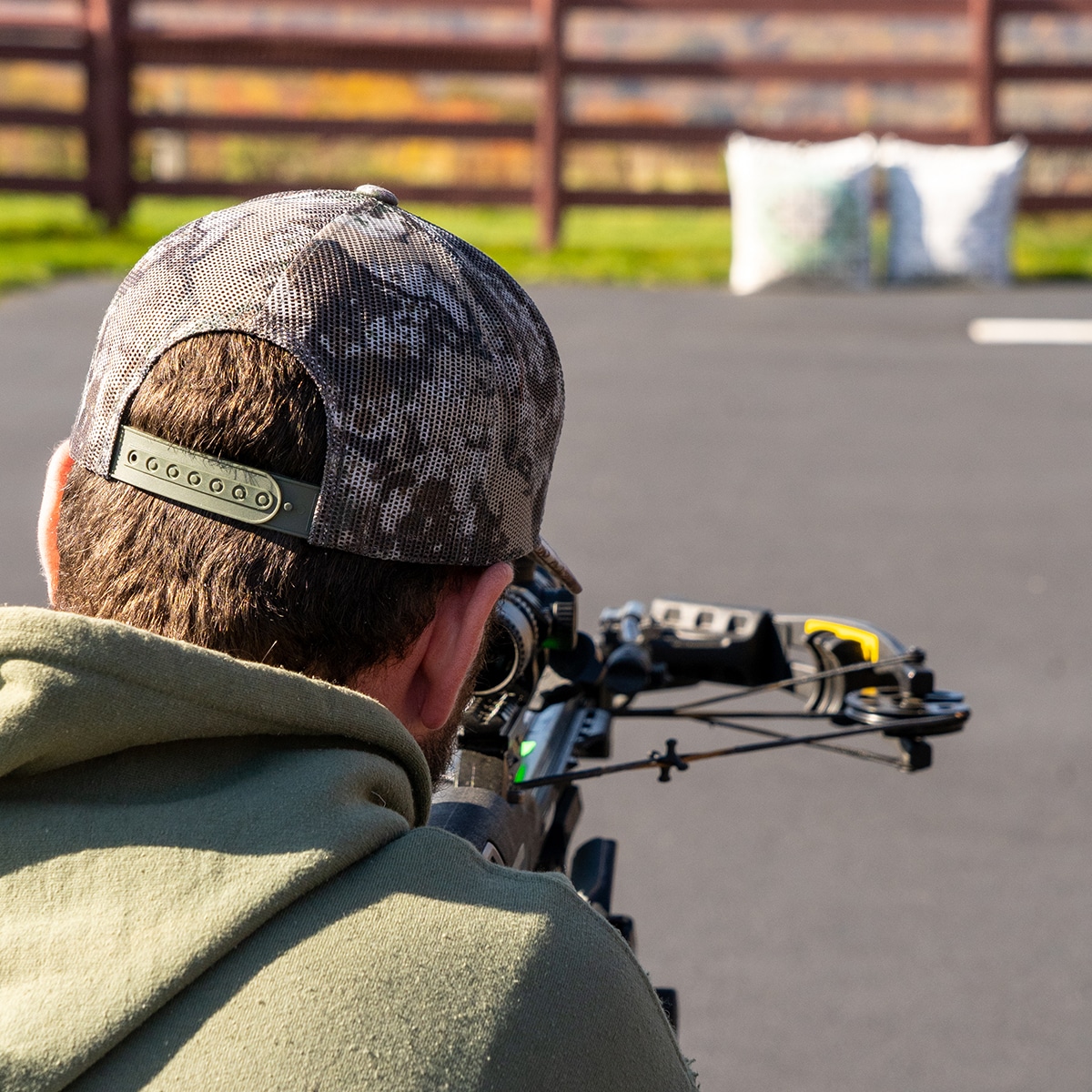 The property is so vast that no team was positioned near any other. Rose, Gavin, and I sat in a ground blind on the edge of a narrow brassica food plot nestled between stands of timber. It didn't take long for deer to start emerging. A small group of does and fawns fed in a slow-moving arc to our left, until one doe that we'd identified as a good target finally made her way in front of us and within range. Rose, despite her nerves, did everything she was taught and executed a perfect shot.
"You feel the adrenaline going up each time a deer is close," she said. "And I don't feel that when I'm planting seeds or digging out my potatoes."
After a quick blood trail, we found the doe lying in a small hollow just down the hill. Everyone's reaction to taking their first deer is unique. Some shout and give high-fives, while others take a different approach. Rose knelt down quietly beside her deer and gently stroked its fur. We gave her all the time she needed. Afterward, I asked her what she had been experiencing in those moments.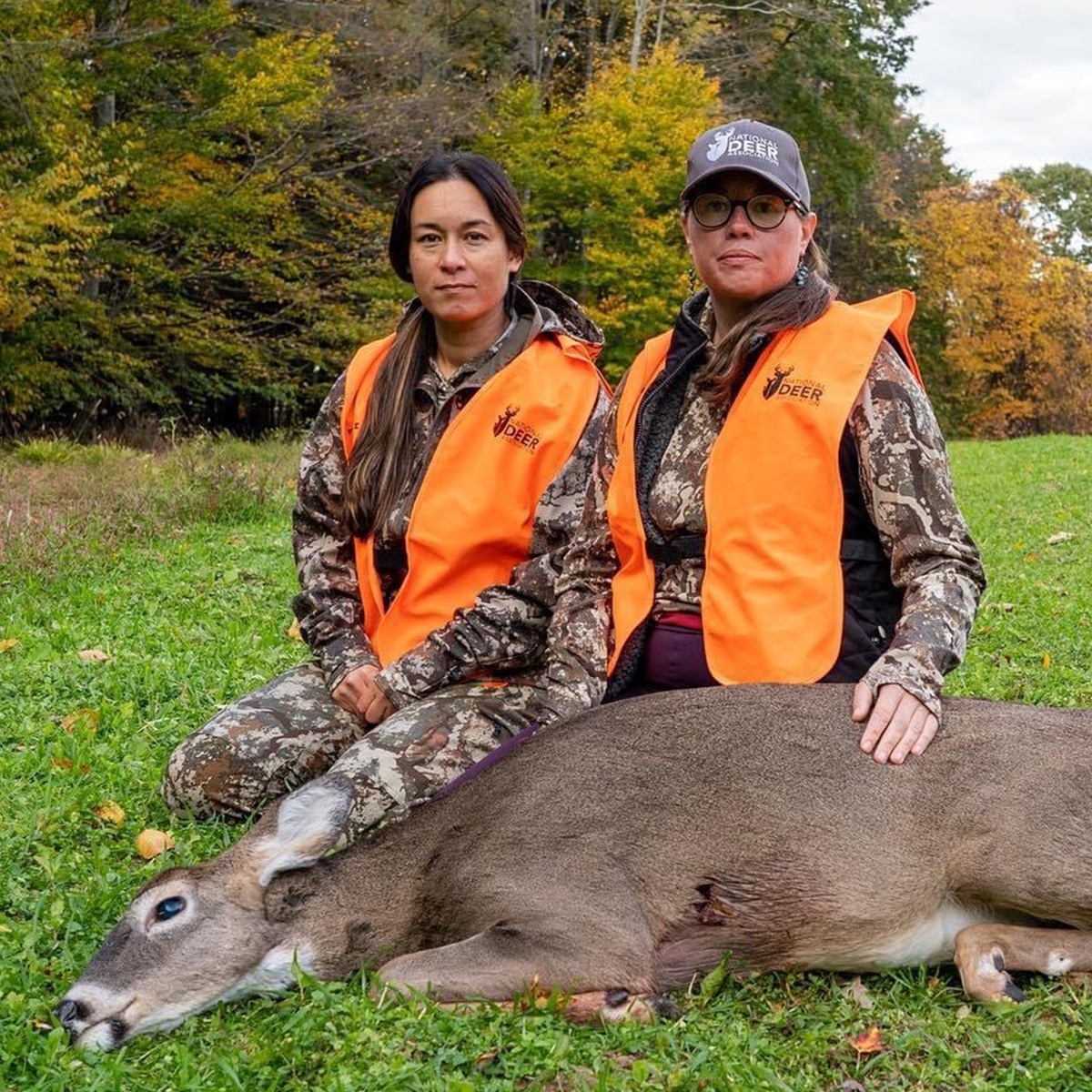 "It was a combination of processing what had just happened, reverence, prayer, and gratitude," she said. "Having grown food for a while now, this is now another example of not wanting to be divorced from my food. It shouldn't be easy. It should be more than a price tag."
When we returned to the lodge for dinner (grilled pork chops with apple butter!), we found out that Keith, who had been paired with Kip, had also had a great sit.
"We saw the biggest buck I've ever seen in person walk right past us," said Keith. "I think it was about 5 yards away. Didn't even know we were there. And then it just laid down and bedded right next to the blind. It was insane."
This was a doe hunt, however, and Keith would have to wait patiently for a different deer to present itself. Later that evening, it did.
"I got a great opportunity at about 20 yards. Got to take a shot. I couldn't stop shaking. It was excitement, it was – I don't even know how to explain it. It's something you have to really experience to get what that feeling is like."
But not everything went as planned. Even though the shot looked good after reviewing the footage, she was difficult to track.
"We had some trouble," Keith said. "We tracked her as far as we could, but she kept going pretty far. So we took a break, came back, and had dinner."
"Everyone's kind of reassuring me, telling me 'Everything's ok! It's alright, it's a good shot.' After dinner, everybody just grabbed their boots like 'Let's go get her!' and everyone's encouraging and excited. That was one of the most amazing experiences – the group of people, ready to help, excited for you, excited to go along and actually track with you. It was great."
But we had to pull out again. Fresh blood late in the trail indicated we had bumped her. We were afraid of pushing her too far, so we planned to pick up the trail first thing in the morning.
DAY 3
We set off in the UTVs with high hopes, but not 50 yards down a steep hill from where we left off the previous night, there she was. The coyotes had gotten to her first. Keith couldn't believe it.
"I was like no, that's not the deer I shot. It can't be her. There's nothing left."
Jerry, Austin, and all those familiar with the property said they had never seen a deer devoured so quickly.
"It was an emotional roller coaster," Keith admitted.
We all headed back to base camp somewhat dejected, but the mood picked up because it was time for the next demo. Kip, using a doe he had harvested the previous night, pointed out the various glands that deer have on their bodies and the functions of each. He then followed that up with a field-dressing demo. Back in the shed, he continued with skinning and processing the deer, deboning it the way his father had taught him. What was left was a pile of meat that could have easily fit in a standard backpack. Because we were in a CWD (Chronic Wasting Disease) zone, he also demonstrated how to remove lymph nodes and submit them for testing.
"You feel the adrenaline going up each time a deer is close, and I don't feel that when I'm planting seeds or digging out my potatoes."

Rose Hammerman
After a quick lunch and some more archery practice, it was time for the final hunt of the weekend. Rose, having already harvested her doe, went with me for an observation sit in an elevated box blind overlooking what they call the "Garden Plot" – the most luxurious buffet of foods a deer could ever want, stretching out in all directions. I lost count of how many deer we saw – well over 50 – including several mature bucks. We watched them feed, posture, spar, and go about all the natural behaviors that most people never get to witness.
Meanwhile, Keith was hoping for a second chance at success.
"Didn't think I was going to get another deer close enough," he said. "The winds were swirling and we got busted a few times, but they started browsing across the hill again, and I got a nice shot at 24 yards. We didn't have to track her very far at all."
Jamie nearly got a harvest but wasn't able to connect.
"I think I must have leaned forward when I pulled the trigger," he said. The bolt missed its mark and he watched the doe walk off, fading into the long shadows of the hillside, but he still got to experience the thrill of the hunt.
"That state between having excitement and fear and reverence mixed with a very focused physical action that needs to take place was a really cool balance."
He also enjoyed the experience from the point of view of a naturalist.
"Watching deer without them knowing you're there for hours on end was unbelievable. Normally you see a deer and it's crossing the road or running away from you in the woods. So having experiences where within a hundred yards of you is a herd of deer, and you're watching interpersonal relationships happen was just phenomenal."
That night we enjoyed a dinner of pizza and what Jerry calls "backstrap wraps." Slices of back strap are pounded thin, sprinkled with a dry rub, then rolled up with bacon, cream cheese, and minced jalapeños. The bite-sized nuggets are held together with toothpicks and thrown on the grill. They are as delicious as they sound.
"When I arrived, I certainly didn't feel confident at all about hunting and had no experience, but through the process of being mentored, in such a short amount of time, I felt like I could handle something like that."

Rose Hammerman
Afterward, it was a group effort as the three attendees practiced their skinning and processing skills on the two deer harvested by Rose and Keith. Kip, the Tibbotts, and I were there for moral support but also there to lend a hand when needed. I showed them some alternate techniques for field dressing and skinning and helped them debone their deer. There was beer, some music, and great conversation to round out the night. Though Jamie wasn't able to harvest a deer of his own, no one went home empty-handed. Kip gifted him the meat from the doe he had processed earlier that day.
DAY 4
The next morning, after packing up, saying some goodbyes, and making sandwiches for the road, I had some extra time with the three mentees to reflect upon their experiences. There were several recurring themes that emerged, and I'd like to take a moment to let you hear them in the hunters' own words. The first theme was that each participant had developed a newfound sense of confidence that was instilled from a community of mentors.
Confidence Born of Community
"When I arrived, I certainly didn't feel confident at all about hunting and had no experience, but through the process of being mentored, in such a short amount of time, I felt like I could handle something like that." –Rose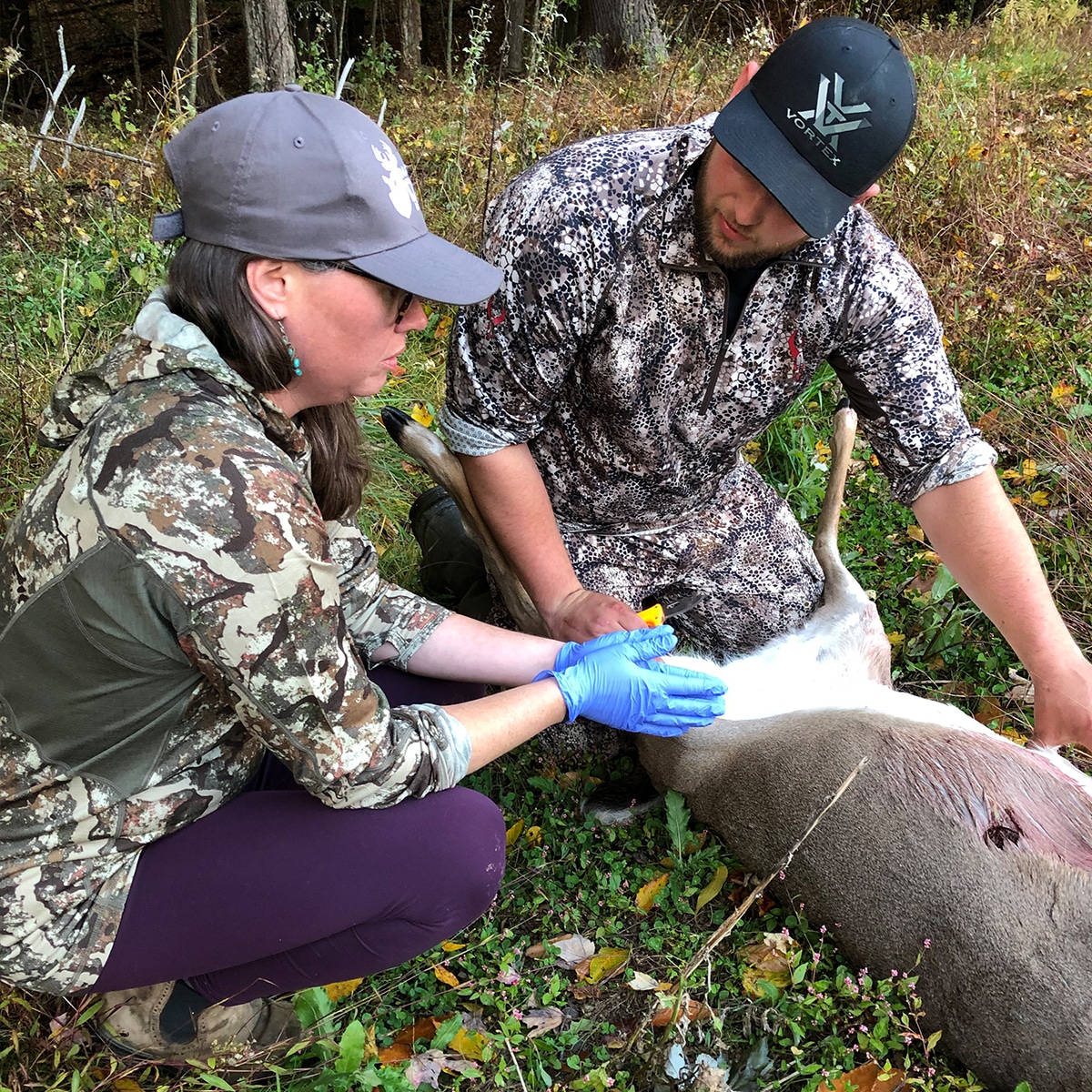 "I had been trying to learn this on my own. I read countless books, talked to people online, I've watched videos. But being able to experience this with a mentor… I definitely feel way more confident. And now I know some people that – if I'm tracking a deer all night again – I can give them a call, and everybody's going to put their boots on and get out there with me. It's a pretty cool community. All the mentors are sharing stories about camp and what it's like growing up hunting, and now I have a story of my own to tell… that's pretty awesome." –Keith
"I did not expect to get what I'm considering to be a college degree in three days… lessons on everything from habitat to where the winds are coming from and how they're changing throughout the day to cloud cover and shadow, down to the actual deer itself and how all of these things come together. I never would have learned that by myself. Having a time and space where people who are experienced are sharing this wisdom that would have taken me decades to learn was something I didn't expect and something I'm so grateful to have experienced." –Jamie
Understanding Stewardship
"You can use the human mind for so much good. Growing up in a city, seeing subways and trash and skyscrapers and noise, all the things that we think of as human… you come here and see it flipped completely to the opposite. Because of the years of work that went into this place, many generations of deer to come will be able to survive and thrive here because the landscape is happy and healthy and supported by people. That was something that I did not expect to see at a hunting camp and it just blew me away." –Jamie
"I think one of the most interesting things was learning about how all these people are giving their time and money and really devoting their life to managing the lands here so that the deer can thrive. I didn't know about all the conservation efforts that went into this and how many people are behind it and what it takes to really keep the herd healthy. Hunting is a great part of that." –Keith
Time in Nature
"Watching the sun wake up the sky and then watching the turkeys trickle through… it was like a natural rhythm – which to me, coming from the city, is almost like slow motion. What I thought would be fast-paced was actually a very mellow, relaxing time. Seeing the natural world do its dance was invaluable." –Jamie
A Desire to Pay it Forward
"This is something I want to do with my boys so that they have the opportunity to experience this as well. They can pass it on to their kids if they have any. We can go out and they can be the guys that are leading point, tracking the blood. You can't put a price tag on that." –Keith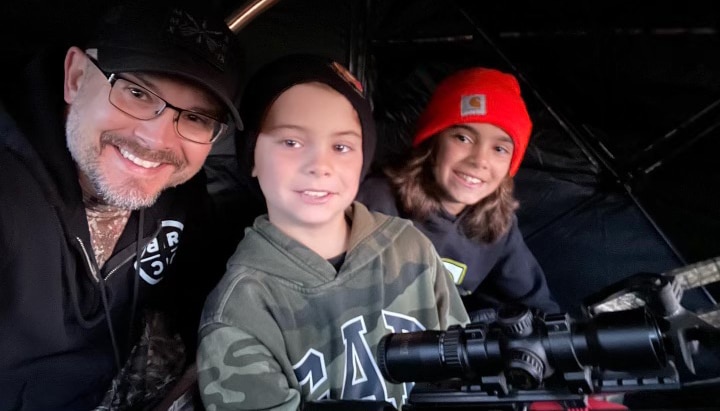 "Part of the process of hunting for me now is being connected to the animal, besides just eating the harvest, but wearing the backpack that I might be able to make with it, or teaching the kids how to work with the hide so that they'll be able to teach somebody else. There's no ending to the cycle. Once you're in a situation like this, being able to pass it on to others, that's our job here – to give thanks and give back." –Rose
Why NDA Does What We Do
We are helping new hunters make friends and memories. We're passing on skills and teaching people how to put food on the table. That is certainly making a huge difference in these individuals' lives, but there's a much bigger picture unfolding here. Hunters are the backbone of the North American model of conservation. Through the purchase of hunting licenses and eventually gear of their own, new hunters will join existing hunters in funding conservation efforts like research, wildlife management, increased public land access, and habitat preservation. With traditional hunters on the decline, I truly believe that these Field to Fork events, by opening the doors to people who don't come from hunting families, are helping to secure the future of conservation. And that benefits everyone, whether they hunt or not.
Though it costs about $250 per attendee to run these events, participation is always free, and the memories are priceless. This is made possible through the contributions of many people in the form of NDA memberships, donations, sponsors like First Lite (who introduced the Camo for Conservation Initiative), the generosity of private landowners and volunteers, and as you will see in future posts, partnerships with the Pennsylvania Game Commission, US Fish and Wildlife, Friends of Heinz Refuge, and the Pennsylvania Department of Conservation and Natural Resources.
Follow along as we take a tour of our next Field to Fork destination: John Heinz National Wildlife Refuge.