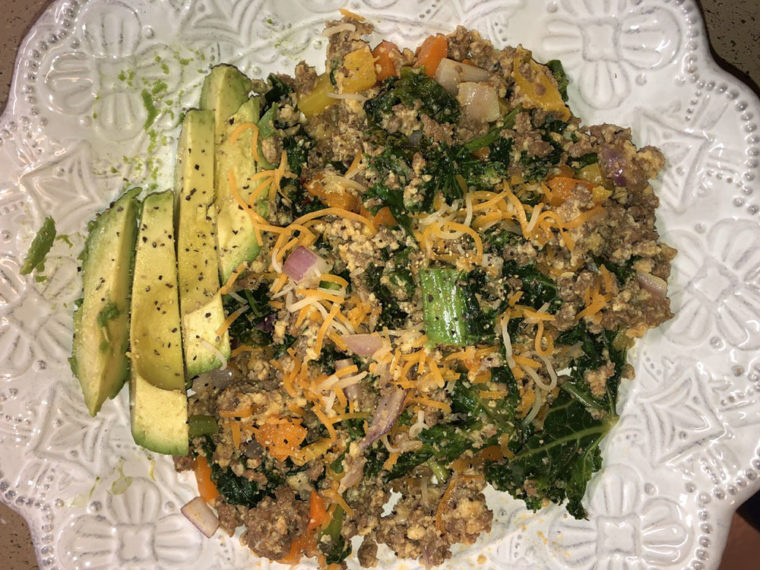 As hunters, we all know the importance of a hot, home-cooked breakfast after a long, cold morning in the woods. For many, this is another integral part of the deer hunting experience and camaraderie that we look forward to every year at deer camp. Some of my best memories from deer camp come from not just the hunt, but the stories and laughter that were shared around a piping hot cup of coffee and a fresh breakfast. What better way to refuel after an early morning than sharing a meal loaded with fresh, hearty ingredients including venison from a previous successful hunt?
Every Monday night, my wife and I make breakfast for dinner, and these loaded venison scrambled eggs have become a staple in our household. Not only is it healthy and loaded with protein and garden-fresh vegetables, but it won't put you in a food-coma like most post-hunt meals!
Ingredients
½ lb. ground venison
8-10 eggs
2 bell peppers (I prefer red and yellow)
½ large red onion
2-3 cups of kale or fresh spinach
Organic grass-fed butter
Shredded cheese
Preferred seasonings, and salt and pepper to taste
Prep:
Dice bell peppers and onions into small pieces
Chop the kale/spinach
Whisk 8-10 eggs together in a separate bowl: Set aside
Directions:
Brown a ½ lb. of ground venison
Sautee chopped veggies in grass-fed butter
Add 2-3 cups chopped kale or spinach
Once veggies are tender, add in 8-10 combined eggs and browned venison
Scramble on medium/medium high heat until eggs are cooked.
Optional: bake in an oven-safe pan (I use a cast iron skillet) at 400F for 25-30 minutes until the eggs appear puffed and cooked for a frittata.
Add shredded cheese, jalapenos and whatever other toppings you desire
Salt and pepper to taste
Serve with sliced avocados or tomatoes
Enjoy!
This is one of my favorite unconventional venison recipes, and I experiment with different seasonings, toppings and add-ins regularly, so I encourage you to tailor this recipe to your liking!