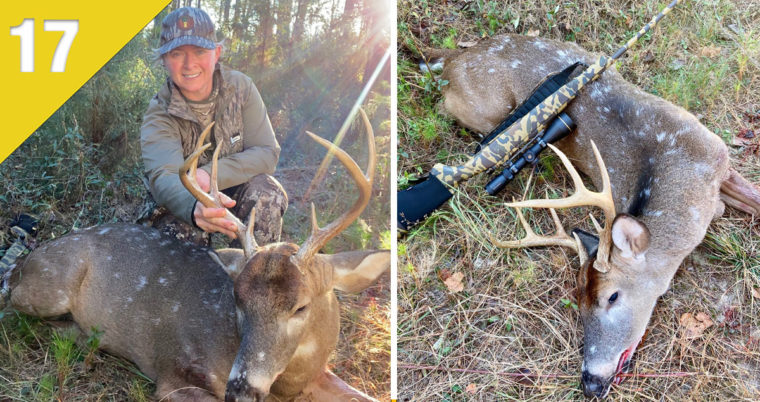 You often hear deer hunters saying things like, "It's going to be hard to top that one," after they or a buddy shoots a trophy buck. In the case of South Carolina deer hunter Lucy Mahon, it's going to be nearly impossible to outdo herself by taking a more unique trophy than she did during the 2021 season.
A few weeks ago, Lucy, a dedicated Coffee & Deer Podcast listener, shared photos of her beautiful eight-point buck with a unique spotted hide. Nick and The Doctor invited her on the show to explain how she first became aware of the deer and eventually caught up with it after several failed attempts. She also shares her story of having quit deer hunting because of a negative experience she had, and how it took almost two decades before she decided to go again.
If you have a great deer hunting story you want to share, send it to nick@deerassociation.blackbaudwp.com, and you just might find yourself as a guest on the show.
Watch Now
Important Links
Show Sponsor: Browning
NDA Hunting for Love Sweepstakes
Follow Nick Pinizzotto on Instagram
Follow Mike Groman on Instagram
Music by Bensound
Subscribe to the Podcast on:
About the National Deer Association
The National Deer Association (NDA) is a non-profit deer conservation group that works to ensure the future of wild deer, wildlife habitat and hunting. Thank you for subscribing to our podcast!
Support NDA's mission by becoming a member today.
NDA has the highest ranking from Charity Navigator, an independent group that monitors non-profits for financial efficiency and effectiveness.
Learn more about deer and deer hunting in our weekly, free e-newsletter.
Follow us on our other channels: Facebook | Instagram | Twitter | YouTube