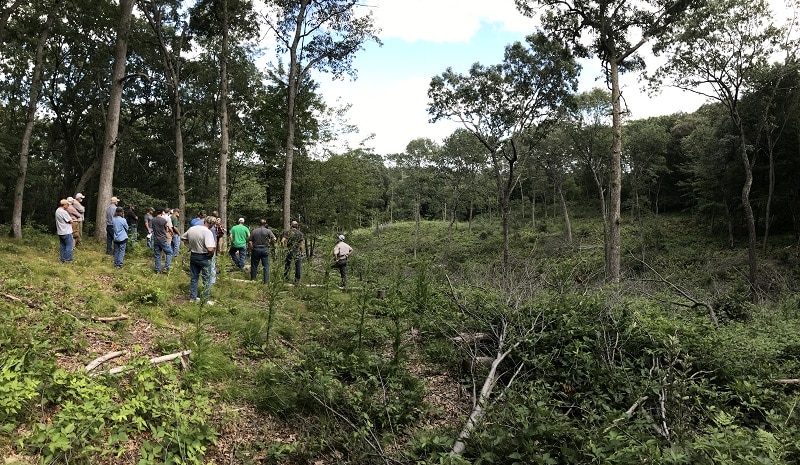 The National Deer Association (NDA) applauds the recent bipartisan introduction of the Forest Conservation Easement Program (FCEP) Act (S.2631) in the U.S. Senate. This innovative legislation will fill a critical gap and help keep private forestland intact and sustainably managed for timber, allowing the lands to continue providing numerous benefits to rural and urban communities. The legislation was introduced in Senators Kirsten Gillibrand (D-NY) and Roger Wicker (R-MS).
According to the U.S. Endowment for Forestry and Communities, approximately 500,000 acres of U.S. forestland are converted to other land uses every year, highlighting the urgency of conserving and maintaining privately owned forested areas. While this forestland loss has been offset by reforestation of other lands, the quality of forests replacing those that have been lost are not equal. Moreover, forests are facing greater threats than ever before, including wildfire, habitat loss, pests, diseases and invasive species.
"Healthy, working forests are a vital part of our ecosystems, economy, and ethos – we simply can't afford to lose more," said Matt Ross, NDA's Director of Conservation. "The National Deer Association has been a proponent of private forest management for over 35 years; we're proud to work with legislators and conservation partners to stand up the Forest Conservation Easement Program so that more landowners can make the decision to keep forests intact. As we look forward, we're also committed to assist Congressional leaders to see this important bill become law."
FCEP will prevent the conversion of forests into non-forest areas by offering reliable funding to purchase development rights from willing private landowners, which will be codified as voluntary conservation easements. FCEP is an expansion of and successor to the current Healthy Forests Reserve Program (HFRP) under the U.S. Department of Agriculture Natural Resources Conservation Service (NRCS).
At its core, FCEP introduces two components, both of which seek to expand conservation program options on private and tribal forestland while supporting sustainable forest management and production:
Through forest land easements, NRCS will allow eligible entities, such as land trusts, to purchase working forest conservation easements, filling a void among federal programs. Currently, no existing forest easement program allows land trusts to hold easements.
Through forest reserve easements, NRCS will purchase forest conservation easements directly from forest landowners while additionally providing financial assistance for the management and restoration of the lands to benefit at-risk species. This aspect of FCEP serves as the successor to the HFRP.
The NDA, along with a broad coalition of conservation, sportsmen, and working forest organizations and companies, is working to include FCEP legislation in the 2023 Farm Bill's conservation title with mandatory funding.