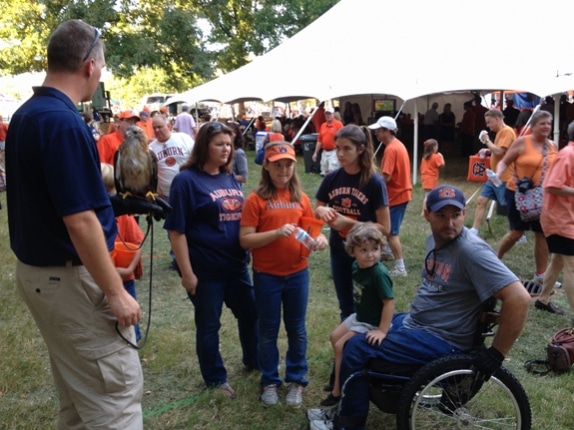 Editor's Note: Falls from a treestand can happen at any time after you leave the ground. No matter what type of treestand you are hunting from, every hunter should practice treestand safety by wearing a safety harness with a lifeline from the time they leave the ground until they return. This lesson is one that Julie McGowin and her brother Dean Ward (pictured above with his wife, two daughters and nephew) hope fellow hunters can learn from their own personal experience. Julie writes…
It has been almost six years since my brother's accident. That balmy January afternoon, my brother Dean joined me to go deer hunting in Alabama.
That evening he never met me back at the truck, so I drove to the food plot where he was hunting. I didn't see or hear him and called out for him. Silence.
I drove back to the meeting spot, and he wasn't there. Instinctively, I knew something was wrong, and panic was setting in.
I went back to the plot, screamed and honked the horn. The noise brought him back to consciousness, and he calmly and quietly called to me, asking me to help him up.
It had been quite a while since the time he fell. The blood from his nose and ears had dried on his face, head and jacket. I was scared he had accidentally shot himself when I saw the gun lying there and all the blood. He struggled to breathe as he told me about shooting a doe and unloading and lowering his gun.
He said he was just taking a nap and his legs were asleep. He asked me again to help him up. I told him no and asked him where he was, and he was unaware he was even on the ground. He didn't remember climbing down. I asked him where he was hurt, and he said he was fine and again said his legs were asleep and asked me to just help him up.
I showed him the blood on his hands with my flashlight. I tried to explain that he was hurt and I couldn't help him up, but he had to keep my flashlight and I would go call for help (There was no cell coverage). I prayed with him before I left, knowing it could be the last moments he would be alive. He was so pale and cold. I told him I loved him and would be back soon. Leaving him to get help was necessary but one of the hardest things I've ever done.
It was almost exactly an hour later when the life-flight chopper lifted off from the food plot. After surgeries, weeks in ICU, months in rehab and a complete renovation to his home, my brother returned from his hunting trip. He still likes to come hunt, and we have built several handicap-accessible hunting houses for him. He has accepted his C12 complete paralysis (from the waist down) far better than many people could. He happily shares his testimony and praises God for the recovery he has made. He has gotten his entire family into running 5Ks, 10Ks and marathons since his accident. This past year he placed in the Disney marathon.
This event was life changing, and we have learned and grown from it. But it could have been prevented with a safety harness.
My purpose in writing is to beg all my fellow hunters who are taking to the woods to please use a safety harness from the moment they leave the ground until they are standing on the ground again. Many falls from stands occur when the hunter is climbing up or down, and it is just as important to have the harness on then as it is once you are up the tree and settled.
Hunt safely, and good luck getting the big one.
Sincerely, your fellow hunter,
Julie McGowin
Julie also documented the recovery process on YouTube. These videos provide a better feel for what Dean went through.
Dean getting ready to leave the hospital in Pensacola, Florida, before heading to the Shepherd Center in Atlanta for rehab.
Dean at the Shepherd Center.
Dean's family, friends and members of his church worked to make his house livable for him after his return from the Shepherd Center. Every doorframe had to be widened, bathrooms reworked and made handicap accessible, the kitchen made accessible, and the carpeting removed and laminate floor installed. All of the labor was donated as well as money for the supplies. His church really blessed his family during this time.  
Dean speaks six months after his accident.