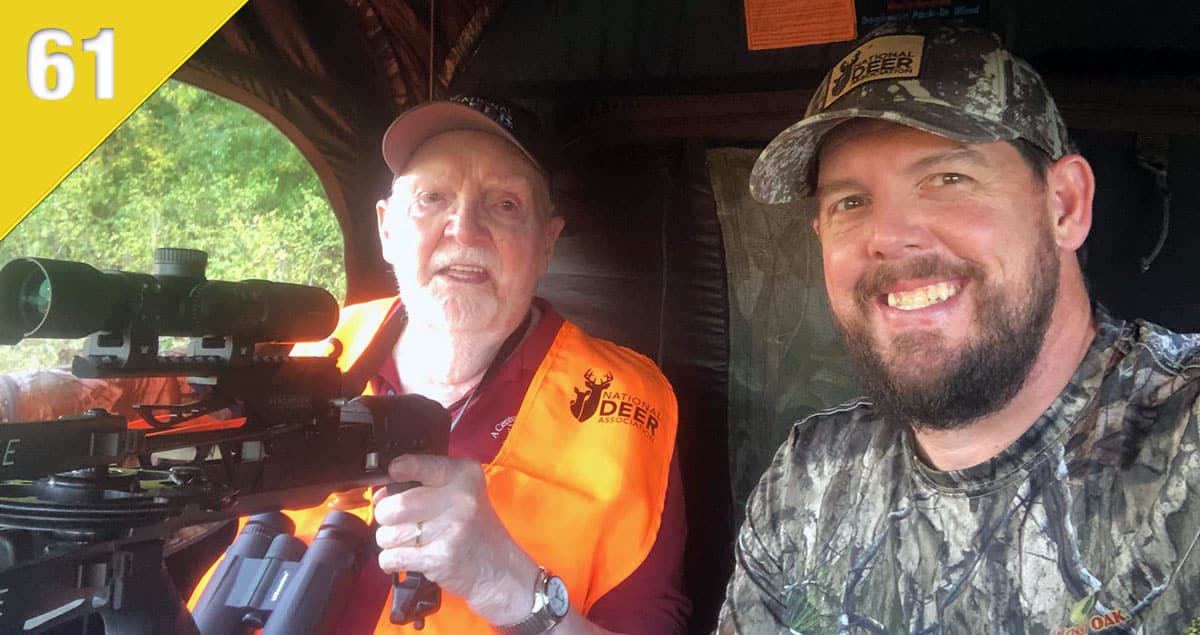 The National Deer Association recently teamed up with Baptist Homes & Healthcare Ministries to put on some very special Field to Fork programs for the senior residents of the Baptist Home of Arcadia Valley in Ironton, Missouri and the Baptist Home Ozark in Ozark, Missouri.
In Ironton, five "reactivated" hunters were given the opportunity to go out on the 160-acre campus property to try and harvest a deer with Mission Crossbows on opening day of Missouri's archery season. The Ozark Senior Field to Fork event recruited a few new hunters and reactivated some former hunters.
A total of six hunters joined NDA for two days of education, crossbow shooting, and deer hunting including 93-year-old Bessie Hume, who had never deer hunted before. In this touching episode, Nick and The Doctor talk with Baptist Homes & Healthcare Ministries CEO, Rodney Harrison, and NDA's Deer Outreach Specialist, Cheyne Matzenbacher, about the impact these hunts are having on the participants, as well as those helping them through the program.
Also in this episode, our hosts review their action in the deer woods and provide a current rut report. They filled a couple of tags over the last few days and are now focused on mature rutting bucks as we head into the most exciting time of year to be a deer hunter. Do you have a great deer story to share? If so and you have an interest in being a guest on the show, send an email to nick@deerassociation.com.
Episode Sponsor: Bass Pro Shops and Cabela's
Listen Now
Important Links
Video: A Field to Fork Story: Reactivating your Love for the Outdoors
Follow Nick Pinizzotto on Instagram
Follow Mike Groman on Instagram
Music by Bensound
Subscribe to the Podcast on:
About the National Deer Association
The National Deer Association (NDA) is a non-profit deer conservation group that works to ensure the future of wild deer, wildlife habitat and hunting. Thank you for subscribing to our podcast!
Support NDA's mission by becoming a member today.
NDA has the highest ranking from Charity Navigator, an independent group that monitors non-profits for financial efficiency and effectiveness.
Learn more about deer and deer hunting in our weekly, free e-newsletter.
Follow us on our other channels: Facebook | Instagram | Twitter | YouTube