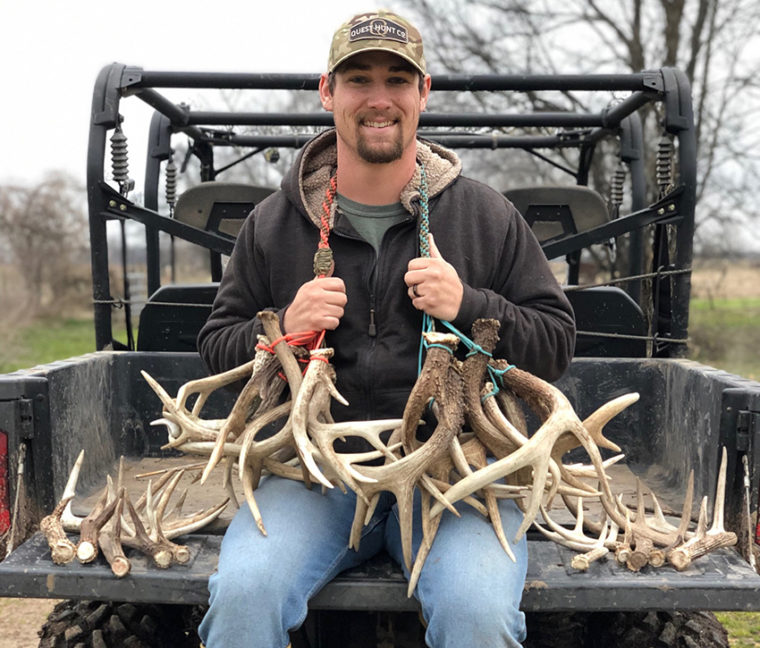 I had never read a comprehensive article with shed-hunting strategies for specific regions of the whitetail's range. So, I wrote one! I interviewed six shed-hunting nuts from the Midwest, Mississippi River Valley, Deep South, Appalachian Mountains, Northeast, and the Northern Great Plains. Let's look at what Brady Bradley of Arkansas had to say about shed hunting the Mississippi River Valley.
NDA members read my article in Quality Whitetails magazine in 2020. Now, NDA is going to share my article free online, in six parts. To be notified as each part is released, sign up for NDA's free e-newsletter here.
Each installment of this series is accompanied by a map from the onX Hunt app in that region, showing actual terrain examples you should look for.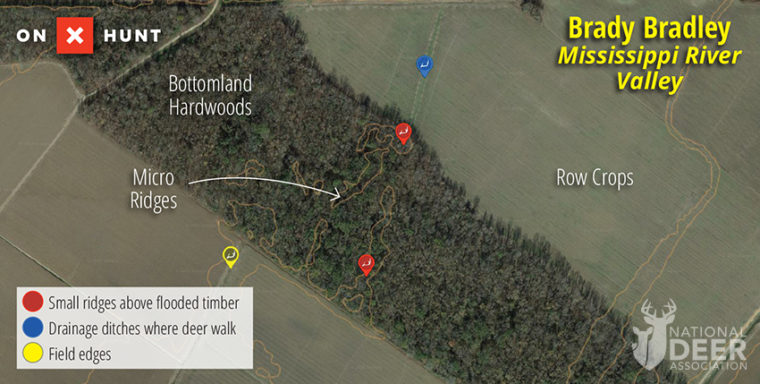 Brady Bradley – Arkansas
Southeast Arkansas is a unique part of the country. Here just below the Ozark Mountains, land is flat as a pancake and dominated by agriculture with bottomland hardwood forests bordering the mighty Mississippi. This part of the state, called the Delta, is shaped by the river with portions of the landscape flooding annually, adding another dynamic to shed hunting. Brady Bradley and his wife Cajun are hardcore shed hunters living in this region, hunting every weekend of January through March and even some weekdays when possible. This husband/wife team typically finds over 100 sheds a year and found well over 200 each of the last two springs.
Here, food is number one when shed hunting, and Brady attributes this to the area's extremely high deer population. The region is full of agriculture, however clean-farming practices do not leave much winter food for deer. This forces Brady to seek out fields with remaining food in them and concentrate his efforts nearby. Early in the shedding season, Brady and Cajun focus on the edges of these fields and don't push into thicker vegetation where deer are living until later in the season. When it is time to search bedding areas, Brady will pick a heavily worn trail exiting a field and follow it back to its source, picking up sheds along the way and then searching the bedding area that it leads to thoroughly.
When approaching bottomland timber surrounding ag fields, Brady targets high ground created by ridges or high spots in the timber. This is due in part to necessity, as it can be difficult to shed-hunt the seasonally flooded timber, but is also due to the water concentrating deer on these high spots. When greenbrier or switchcane thickets are in dry areas of the timber, Brady gets excited because these are excellent bedding areas and greenbrier an excellent winter food source. One notable difference between Brady's situation and that of others I interviewed is that here water is more of an obstacle to deer rather than an attractant. This changes how Brady shed-hunts water, focusing on how it pushes deer into certain areas rather than attracting them to its edge.
Another land feature typical of this country is an abundance of fence lines and drainage ditches that crisscross the landscape. Brady notes that he finds a lot of sheds while walking these fence lines. Ditches have also produced a lot of sheds for Brady, whether ditches along roads or irrigation ditches on field edges. These ditches seem to funnel deer to specific crossings and may jar antlers loose as deer jump them.
Next week, we'll head to the Appalachian Mountains with Doody Cook of West Virginia. Stay tuned, and remember to sign up for NDA's e-newsletter to get all of NDA's deer hunting content as soon as it's available.