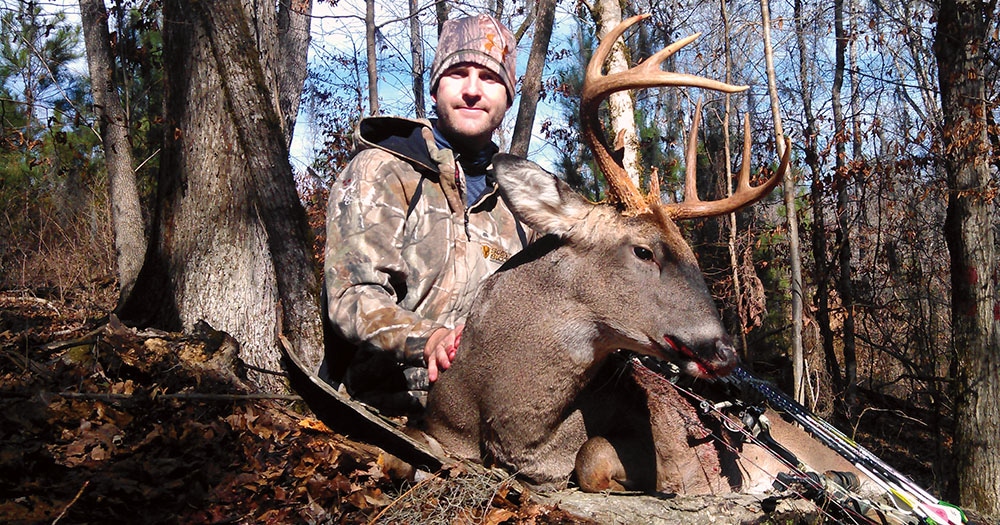 The author and his brother have spent 15 years targeting public-land deer both close to home and out of state. Follow them for DIY public-land success.
I couldn't believe my sleep-deprived eyes. A mature Missouri 10-point was on a steady trot in our direction! My heart jumped to my throat, and my knees started that untimely shaking act. My eye to a camera viewfinder, I was watching the buck weave his way toward us from my perch 20 feet up an oak tree. 
"He's coming," I hissed at my brother, Bowen. And come he did, to within 25 yards. He turned broadside and proceeded to rake a sapling until Bowen's well-placed arrow marked the culmination of four years of effort on public hunting ground. To this day, that is still my single fondest memory of pursuing whitetails, and I wasn't even the shooter! That deer represented years of trial and error, disappointment and frustration all rolled into one glorious experience I call public-land hunting. 
Let's call a spade a spade. Whitetail deer hunting is downright expensive. Aside from all the latest camo, high-tech gadgets and pricey weapons, the number one cost of pursuing America's most plentiful big game animal is land access. The majority of whitetail hunters have basically three choices when it comes to finding dirt to hunt on: 1. Be fortunate enough to own or have access to private property. 2. Lease property as an individual or group. 3. Ferret out public land which permits hunting. All three of these options present their own unique pros and cons, but for me learning how to get deer killed on public ground was my only viable option. Here is what I have learned over the last 15 years of chasing whitetails both in my home state and on out-of-state hunts. 
Filtering Close-to-Home Public Land
Let's start this discussion close to home. At first it can be a daunting task trying to weed through your state's regulations and different types of public properties in search of your public-land paradise. I recommend imagining a funnel with a sieve at the bottom. The goal is to dump all the potential properties into the funnel and let the following criteria dictate what comes out the bottom. 
The first step is to identify what types of properties are available for public access in your state. Two of the most common are state-run Wildlife Management Areas (WMAs) and National Forests. The best place to start learning about the opportunities for state WMAs is usually your state wildlife agency's website. My native state of Alabama has a good example at: outdooralabama.com/where-hunt.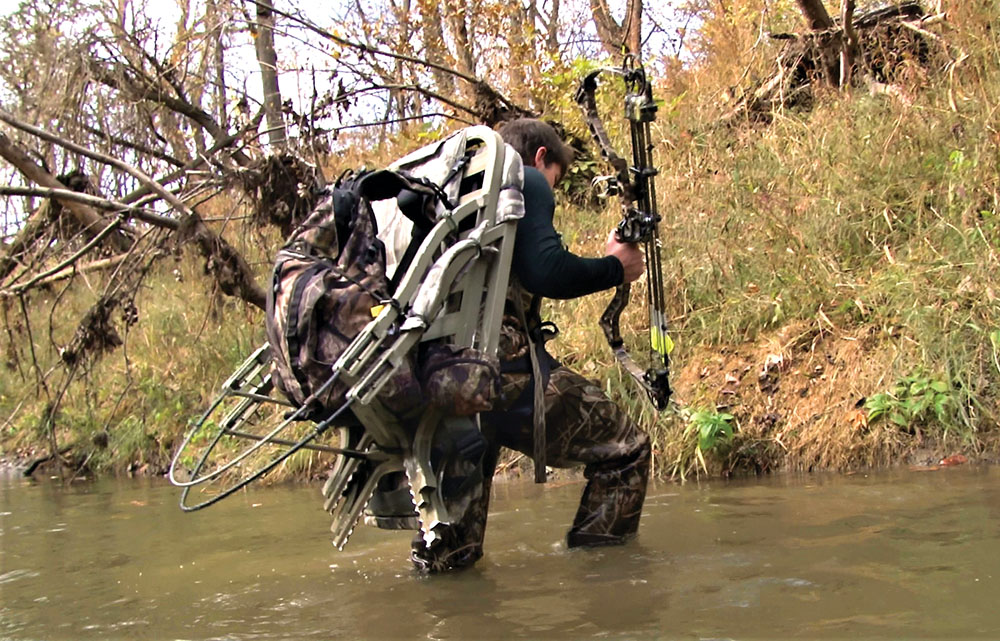 A couple of often overlooked land options are U.S. Army Corps of Engineers land, state trust land, state private lease program lands, and county/township lands. That said, not every state has these and some digging can be required to find the land listings and specific regulations. Without question, the best approach after your initial research is to call your state wildlife agency and inquire about all public land options available. Now that we have our properties to load into the funnel, it is time to narrow them down to those which will give you the best chance at harvesting a public land buck!
For home-state hunts, the first variable to filter is proximity to where you live. Simply put, the more scouting and stand time you can squeeze in, the better your chances of filling the freezer. I like to limit the property distance to under 1.5 hours of drive time. If not, you are talking about some really early mornings. The next criteria I dig into is checking on my target properties' specific deer regulations. It is important to confirm what weapons are allowed, whether there are closure periods, whether there are quotas (you must apply for a permit and be drawn), what sex or antler restrictions are enforced, and what type of vehicle access is available. All these answers could change your opinion about wanting to dive into a property. 
One of the main things I key on is seeking out areas that are bow-only. This immediately tells me two critical factors: it's highly likely more bucks will make it to maturity, and I will have less competition trying to kill those bucks. Corps of Engineers properties are very often bow-only, and this is where I have consistently had some of my best success. Another aspect that makes Corps land so attractive is that it is usually walk-in only. Having to hoof it in and drag one out, coupled with being bow-only, means there are some serious diamonds in the rough if you look hard enough. Another consideration is a property's immediacy to a highly-populated city. This is all about numbers. The closer a piece of public ground is to a city, the far greater the odds you are competing with more hunters. 
After filtering to this point, you should still have several contender properties to choose from in your target lineup. The last thing I use to weed through prospective properties is harvest data. This data will certainly vary in its quality and availability state-to-state and by property type, but if it exists you need to search it out and absorb it. Remember, you cannot kill what is not there. If no harvest data exists, a direct phone call to the area supervisor or a wildlife technician who works on the area can usually yield valuable insights. 
Scouting From Home
Now that you have whittled it down to a handful of target properties, how do you attack getting into killing position consistently on cagey whitetails? The very first thing I do is visit a copy/print store and have them print and laminate a couple of aerials or topo maps of each property, which are usually available from the managing agency. I then proceed to color-code the places where I want to emphasize my scouting efforts and areas I know are longshots. The formula is simple: on larger properties, I am looking for areas that are at least 1,000 yards from the nearest point a human can drive a mechanized vehicle. I color-code all those areas in green. Anything from 1,000 back to 500 yards is yellow, and anything within 500 yards back to the parking lot or trailhead is marked in red. This is the single fastest way to reduce a large property down substantially before ever leaving your desk! Does that mean deer don't live and possibly get harvested near the parking lots? Absolutely not. But the fact is, my deer sightings and harvest record have always been highest on public land when I push into the harder-to-access areas.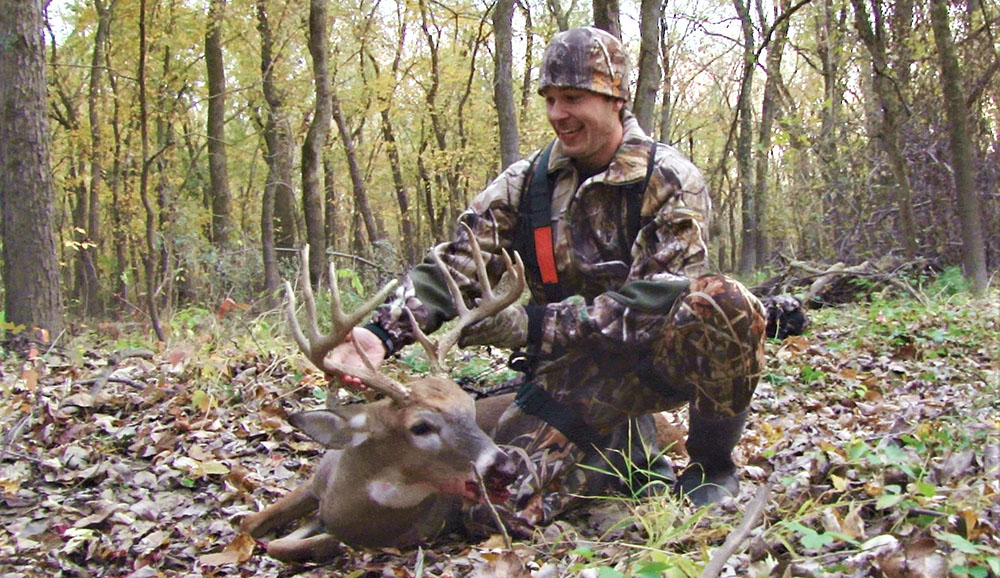 Now that I have drastically reduced my area, I continue my desk scouting by looking for two main features: distinct funnels and transition lines. We could talk until next month about funnels, but let's keep it simple. I mark any obvious block-to-block pinches, inside corners, double inside corners, elevation saddles, and potential water obstacles with a pink highlighter inside my already established green focus zones. I do the same exercise anywhere I can clearly see an established transition line: like anywhere a mature hardwood stand collides with a nasty clearcut or maybe where a third-row thinned pine stand borders a five-year-old stand of impenetrable pines. 
Boots on the Ground
At this juncture in your public-land quest, you have focused it down from a laundry list of possible properties to two or three winners. From there you have taken say a 1,000-acre tract and should have focused your in-person scouting effort down to less than 100 acres. Now it's time to put boots on the ground. 
Before you head off to connect the last pieces of the puzzle, make sure to arm yourself with a couple of key resources to make the most of your scouting time. Bring along either a handheld GPS for marking potential stand locations, or go with an app like onX Maps. This way you can begin to build your library of stands. I also bring reflective tacks. Remember, a GPS will get you close, but all those trees run together in the dark. You want to tack your predetermined tree but refrain from tacking or flagging all the way in. There is no need to draw attention to the area. 
Once on the property, it's time to turn on your public pressure gauge and pay attention to the clues around you. Is the first parking lot riddled with garbage and signs of a high volume of vehicle travel?
Is there a human cattle trail leading from the parking lot to the nearest and most convenient acorn flat? If the answer is overwhelmingly yes, it is time to try another spot on the property while continuing to focus on your green- and specifically pink-marked map areas. Once you have invested as much boot leather as your schedule will allow, you should have a nice arsenal of stand sites ready for the season. Be mindful of your property's regulations, as some public lands do not allow you to leave a stand up permanently. For this reason and for being flexible, I like to use light, super-portable climbing stands. 
Now it's time to hunt.
Whenever possible, get in the woods on a weekday. I know not everyone can do this, but if you can, you should. Generation after generation of deer are accustomed to the weekend onslaught: the pimped-out trucks and the slamming doors at the parking lot, the barrage of human scent and noise hitting the woods. Deer become habituated to that schedule and for sake of survival will move less during daylight on those days. (Editor's Note: Gaines' observation is supported by science. An Auburn University study recently found that daylight movement by deer on hunted private and public lands was lowest immediately following weekends and recovered to normal by Wednesday or Thursday of each week.) When the pressure is on, deer will also move into your green zones, those areas where they encounter humans less often. Those zones might include a swamp with standing water or an area that requires a hunter to cross water several times to access it.
Any stream or river that requires waders or stripping down to access the other side is solid gold! I guarantee you nine out of 10 hunters will simply not do it, and I have connected with several bucks by searching for that recipe.
The second most critical tactic to embrace is staying on stand longer in the mornings. I know this topic has been beat to death, but I believe there is nowhere this holds more true than on public dirt. These deer, especially the older bucks you are targeting, know the play! They are clearly able to detect pressure patterns like location and timing and will actively adapt their movement around them. This same line of thinking should be applied as you map out the entry and exit routes to your stand. Very often the longer way in is the best way in. Don't overlook using water to access your green zones as well. A canoe, kayak, or even boat can be dynamite for slipping in quietly and from a direction the deer are not accustomed. 
At this point you have narrowed down your search to a handful of trees. The only thing left to do is get in the saddle and hunt hard! 
Out-of-State Hunts
Now, let's turn our attention to the subtly different tactics to employ when planning an out-of-state DIY public land whitetail hunt. 
Everyone dreams of chasing whitetails in the hardwood bottoms and fertile croplands of the Midwest states. However, the prices of today's outfitted hunts or Midwest land leases are out of reach for many hunters. My brother Bowen and I were in the same boat over a decade ago when we set our minds to researching and hunting public land in the Midwest. Since that time, we have managed to harvest bucks in Missouri and Kansas on public lands. It was a long, bumpy road to realize any measure of success, but here are some tips to shorten your learning curve. 
The first step is to identify preferred states based off mature-buck potential, harvest data, and most importantly the ability to get a tag in that state either over-the-counter or high-odds draw. The NDA's annual Deer Report, available at DeerAssociation.com, can be a great resource for state-by-state harvest data. 
I cut my teeth in northeast Missouri based on the habitat and the fact that Missouri is over-the-counter for nonresidents. I also chose Kansas due to the low population density of hunters, great habitat, solid public land infrastructure, and almost guaranteed tag draw every year. There are other great states to consider once you start digging.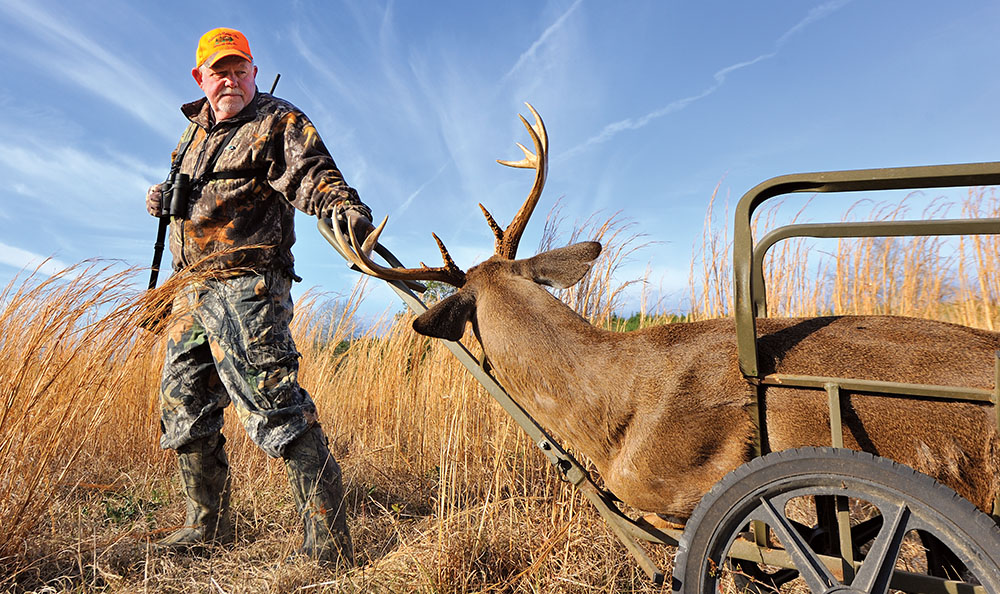 Once you have landed on your state and the region of that state that you want to focus on, you must turn your attention to the overlooked hurdle of lodging. Many of the Midwest target states are extremely rural and lodging can absolutely limit your hunting radius, which in turn limits your property inventory. A rental camper or RV is a great solution to this, allowing you to be mobile and flexible, which is paramount to upping your odds. If a camper is not your style, research lodging well in advance and get it reserved as soon as possible, because it will likely be full come hunting season. 
At this point, you can use the home-state funnel concepts to identify potential properties, print up maps, isolate high-traffic areas, and put together your potential stand sites for multiple winds. This is where the real differences between home-turf hunting and out-of-state public land really start to show. The best thing you can do is pore over your target property maps and then begin to rank them by order of attractiveness. Remember, you are probably going to be walking into these properties sight unseen, and you have to narrow them down. Another tip when sizing up properties is not to overlook small tracts! In many cases these small out-holdings are bow-only or simply get overlooked by hunters due to size. Another key feature I look for that is paramount is a true water obstacle. Any stream or river that would require carrying in waders or stripping down to access the other side is solid gold! I can guarantee you nine out of 10 hunters will simply not do it, and I have connected with several bucks by searching for that perfect recipe. To sum up what I dig for in a small public tract: small thus overlooked, a river cutting it in half with no public access from the other side, bow-only, a natural funnel, and it's a bear to drag a deer out. 
After all the time, effort, and research you have invested in building your property inventory, it's time to hit the road and try to get one killed. 
Let's say you have five hunting days allocated for your out-of-state adventure. I can't overemphasize grabbing your GPS, binder of maps, and a handsaw for a day of speed scouting. I understand it hurts to eat a day of hunting, but I promise you will increase your odds of tagging a buck. Start with your most attractive properties and go straight to those target green and pink areas you have marked. This will provide so much valuable real-time information. Can I cross that river? How is my proposed access route looking? What is the current state of food sources, row crops, rubs and scrapes? Can I get a climber on any trees? 
Also, how much human activity seems to be here? More than once I have awakened at 3 a.m. to drive an hour only to find that beautiful, 200-acre tract I was so high on from the computer has four campers and seven trucks entrenched in the parking lot. So, after a day of speed scouting you should know where you want to focus the next morning, and you should have scouted your access trail to the stand. Allocate extra time to get to the property and walk in: things always take longer the first-time in. 
Now it's time to enjoy your time off and hunt hard. I highly recommend keeping a journal of your sits and activity. If you continue to hunt in those same areas every year, that information will become invaluable to you. 
Lastly, you need a plan once you ground-check that mature buck! Many of the best public pieces are walk-in only, which means you need a way to get your deer to the tailgate. One option is to carry a knife and a quality bone saw, dress your deer in the field, cut it into two pieces and carry one out at a time. In my younger days I found this to be good fun, but I have since made the switch to a portable pull-cart. Several manufacturers make suitable models, or you can go with redneck ingenuity and fashion one out of an old dolly, a 55-gallon drum, and a ratchet strap. 
Whether you decide to hunt close to home or strike out to a new state, public-land hunting is an adventure that calls for thorough planning, hard work, and self-reliance. When you finally do beat the odds and walk up on a public land buck, it will be a memory you will carry for the rest of your life. 
See you out there!