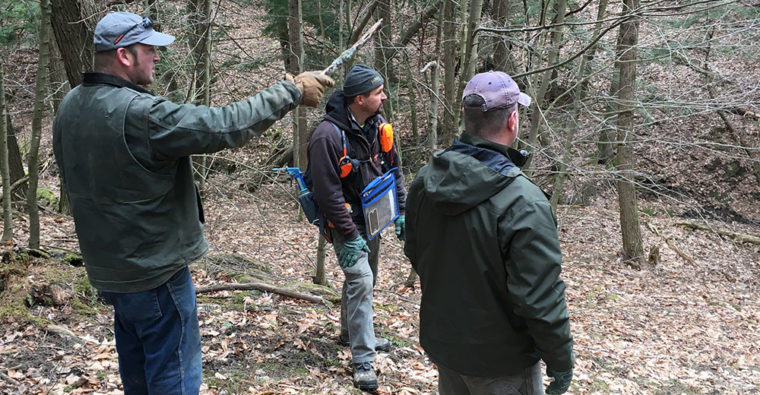 I recently received a question from an NDA member that went something like this: "I just purchased some land, and I'm looking to turn it into a great deer hunting property. I contacted a forester who looked at the property and gave some advice, but I don't think he understands what I'm looking for. My main concern is the wildlife that live there, specifically deer. I'm not worried about money from the timber. Can you help?"
This, or at least some assemblage of it, is likely the most common question I get annually. But why is this question asked so often? That head-scratcher leads to your opportunity to "scratch the deer niche".
Merriam-Webster defines the term "niche" as 1) a job or activity that is very suitable for someone; 2) the situation in which a business's products or services can succeed by being sold to a particular kind or group of people; and, of course, as many of us think of it 3) an environment that has all the things that a particular plant or animal needs in order to live.
Consulting foresters fill a very important niche to landowners seeking silvicultural advice, a necessary field of expertise to both forests in need of care and to people wanting to care for the resource. I understand this necessity from my experience working for a forestry and wildlife consulting firm for several years before my current tenure at NDA; a job I thoroughly enjoyed. A young man, his pickup truck, chocolate lab by his side, with nothing to do but walk in the woods all day. It does not get any better.
It was there, fresh out of graduate school, I truly learned about the unique perspective of a forester; a gift not all practicing natural resource managers are given: The ability to don 'time-traveling goggles' to look back, read and predict how and why the landscape changes over time. Foresters, I realized for the first time, are the ones who get to shape what wildlife habitat truly looks like; especially in regions where the landscape is dominated by forest. This was an astounding revelation to someone who defined himself as "driven by all things deer and deer hunting" and had chosen a career in wildlife because of it.
Since then, however, I have found it incredibly eye-opening how often I get the above question, or that few deer hunters actually look first to hiring a forester to help them improve their deer hunting.
In my opinion the very core of both problems is a combination of lack of awareness and a broken line of communication. Generally speaking, foresters aren't aware of the massive potential client-base of deer hunters out there, and when they become aware, they don't always speak the same language. Hunters, on the other hand, are all too often quick to try other "fast-track" methods to improve their hunting, and although some provide marginal gains, most techniques typically pale in comparison to landscape-level habitat management, such as managing a forest.
So, what's the solution?
Routinely, my advice to deer hunters looking for a forester who "gets what I want," is to find a forester who hunts deer. Or even better, find one who's an NDA member!
It's really quite simple. Routinely, my advice to deer hunters looking for a forester who "gets what I want," is to find a forester who hunts deer. Or even better, find one who's an NDA member! We are proud of the fact that several thousand natural resource professionals are active members in the NDA, and you can find them quite easily through a recommendation from another NDA member. Contact and get involved in your local NDA Branch, or seek out a local QDM Cooperative. It's likely that a landowner in those places has found and is using a forester who they like and will offer up their contact information as a referral. You can also check out NDA's Land Certification Program, where many of the LCP inspectors are foresters. These are just a few of the many options and benefits to being a member.
The typical result when hunters enlist the help of a forester who isn't one of the above things? Frustration. For both parties. The hunter is often irritated because they feel like they aren't being heard, and the forester may be frustrated as well because the landowner is more focused on wildlife-specific objectives, and they're equipped to enhance and improve timber production. The reality is, no matter what type of change a forester recommends and implements, wildlife will respond. However, the risk is that animals may respond in a way that degrades the overall hunting experience, at least temporarily. You may see less deer, access could be more difficult, or it could take longer than expected to reap the rewards of QDM. The key is having an integrated approach, where both forest and deer hunting values are considered, framed within the landowner's goals. That's when everything hums, and everyone (the landowner, the forest and the wildlife) wins.
And, as a public service announcement to my fellow foresters: begin marketing yourself better outside of strictly silvicultural-based services. Take a Deer Steward class.  Specifically, learn to speak to the nine million-plus deer hunters out there, because apparently the combination forester/deer guru is a niche left unfilled across North America. Four times more hunters pursue deer than any other game animal, and this group in particular is known to spend time and money on their passion. Additionally, there's at least a perception by some of the 1.4 million hunters who own land solely for recreation that when they hire a forester all they are getting is forestry advice. And that may be true, but it doesn't have to be. You just need to learn to speak their language.
As Merriam (or maybe it was Webster) said, you deal with a particular kind or group of people by selling land management advice; similarly, if you're a deer hunter and are looking for advice to improve your hunting, you should seek the kind of professionals who are armed with the right knowledge and skill. You two are obviously made for one another! Good thing NDA is here to put you together.