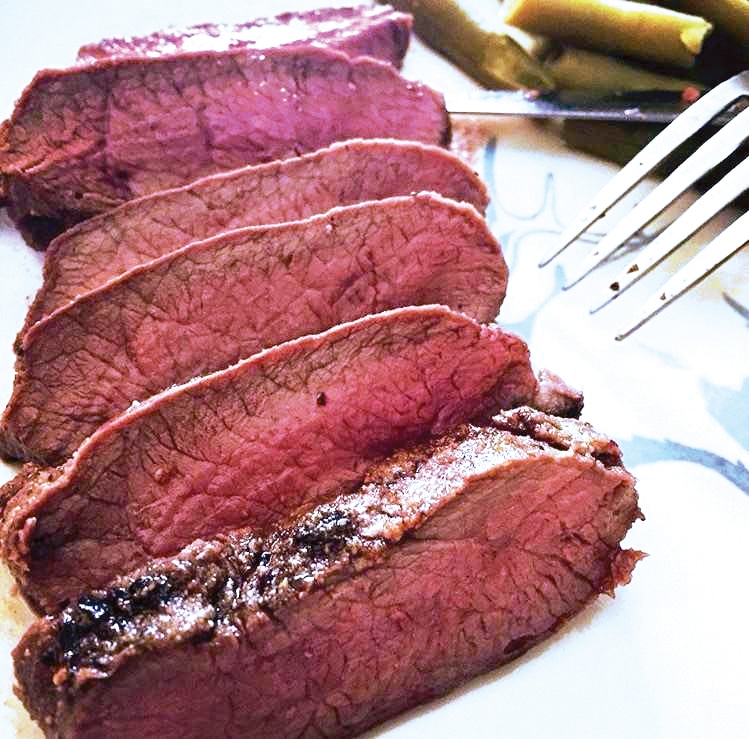 A lot goes into preparing a wonderful meal, especially one that gives your taste buds that "wow" reaction. Isn't it amazing that a single serving of "wow" can have 26 grams of protein but only 2.7 grams of fat in one 3-ounce serving? I am in no way a culinary expert, but I am fortunate enough to know a gentleman who has perfected over decades a "wow" recipe for grilled venison backstrap (or loin). I am also lucky to be able to call this same gentleman my father, Ron Foster. He has mentored me from a very young age through the whole process from habitat management, hunting techniques, processing deer, to eventually what ends up on the dinner table. It took a bit of convincing, but he has finally agreed to share with you his recipe for "Rondog's Deer Loin," so you too can share a wonderful meal of venison with a family member, friend, hunter, or non-hunter.
Too many times, I have heard people say venison is too dry, it's too gamey, it's bland, and the list goes on. For the record, these comments were not about venison prepared by me or my dad. These comments could be said about any prepared dish, but I believe such comments are the result of venison prepared incorrectly. This isn't the impression we want to give somebody who is a first-time venison consumer, or quite frankly, ever. We wouldn't want to lose a potential advocate for conservation and hunting to a poorly cooked meal. To ensure we don't, my dad and I would like to share some simple steps to preparing and grilling a delicious venison backstrap.
Dad and I like to do our own deer processing. We cut the whole backstrap out from each side. We trim any connective tissue, cut each backstrap into three to four sections and vacuum seal them individually. You can always request this from your butcher if you don't do your own processing. We like to thaw the backstrap in the refrigerator for two to three days prior to grilling. On the day you'll be grilling, you'll need these ingredients handy:
Garlic Powder

Onion Powder

Garlic Salt

Onion Salt

Lawry's Seasoned Salt

Crushed Black Pepper

Jack Stack Barbecue All Purpose KC Barbecue Rub (or other desired steak rub)

McCormick Grill Mates Steak Rub

Olive Oil
Placed the thawed backstrap on a ceramic dish and season with garlic and onion powder on both sides (just a light dusting). Then season lightly with each of the other ingredients in the list above, again on both sides. It is important to not overapply the salt seasonings. The saying "less is more" applies to this. Don't be concerned about the blood as it thaws. You want to leave the blood on the plate as it helps add to the flavor and should always be used when seasoning. Cover with plastic wrap and let the backstrap come to room temperature. Preheat your grill to 450-475 degrees. Lightly brush olive oil on both sides of the backstrap to ensure full coverage. The olive oil helps to keep moisture in to prevent the venison from drying out. Grill for 3½ minutes on one side, and then flip for an additional 3 minutes. For maximum flavor and tenderness, cook to medium rare or on the rare side. Place on a warm platter and immediately cover with tin foil to rest on the counter with a towel on top for 10 to 15 minutes. Cut and serve in half-inch slices.
My dad has done a great job mentoring me through the entire process of deer hunting from field to fork, and he has taught me to thoroughly appreciate the butchering and cooking process. Good preparation and care from field to freezer to the dinner table is crucial to getting the true value and flavor that venison holds. I hope you too enjoy my dad's recipe and more importantly share it with several hunters and non-hunters. Good luck this season, and many more to come.