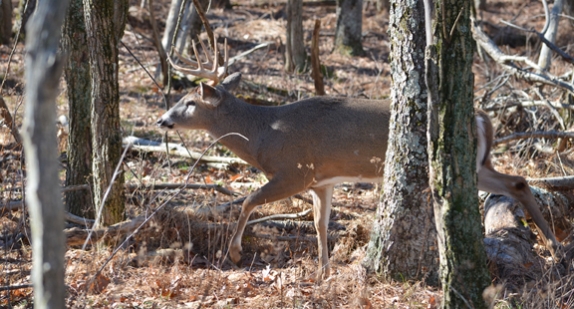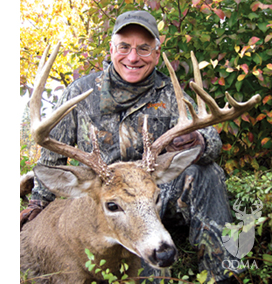 Most bragging-sized bucks are harvested by hunters who fall into one of two categories: the very well prepared or the very lucky. Sometimes those paths intersect. The better you prepare, the luckier you get. That's how I explain the hunting success I've had. I've spent a lot of time improving deer habitat on my 176 acres of hunting land in the Finger Lakes region of New York, but I wasn't just trying to improve deer nutrition or attract deer to the general area. I tried to do things in ways that put me in bow range of mature whitetail bucks standing broadside. It worked. The buck on the right is just one example.
I'd like to show you some of the improvements at three of my stand sites and how they work to enhance my hunting opportunities. I think you'll find ideas you can apply where you hunt.
1. Put On the Buck Brakes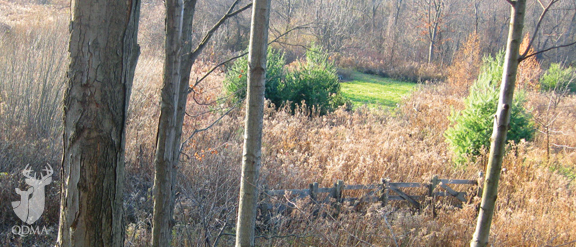 I have had my most enjoyable hunting opportunities where various types of habitat merge. This creates intersections where deer love to cross. The photo above was taken from one of my most productive tree stands.
On the left side you see shrub willow cuttings I planted eight years before the photo was taken that are now regularly passed through and rubbed by bucks on their way to my clover/chicory food plot. Rubbing doesn't hurt willows and may even protect my conifers from being abused by bucks.
Except during the very tail-end of legal light, all my shooting opportunities occur in the brush, not the food. I also try to establish barriers so a buck trying to check a plot is forced to move around a bit, giving me more face time with him. I have used white pines and larch since this area is low and wet. To get things started, I like to reuse split-rail fence from old landscapes to channel the deer where I'd like them to go. Many times the fence is fatigued and I just get three to five years out of it. Since the cost is little, I can justify time spent moving and installing it. Once the deer get used to traveling a certain way, even if the fence falls over they generally continue to travel the old route.
I have planted a few Concord grapevines on better fence or Polana raspberries next to it. This creates a living barrier along which deer seem comfortable walking and browsing. These work well as extended shooting lanes for that desirable double-lung shot. The side benefit is that pheasants, turkeys and my family sample many of the foods I have provided for deer when soft mast is in season.
2. Channel Buck Movements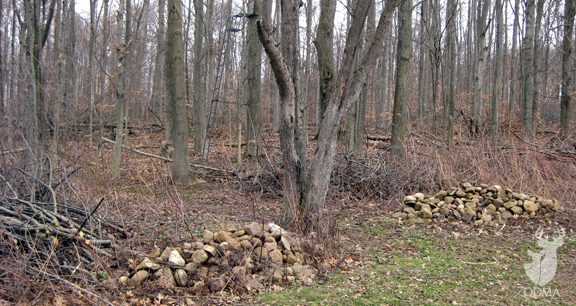 Along that same line of thinking, when I make a new food plot and have to clear out the rocks (which we have aplenty in these glacial soils) I use the rocks to create barriers so deer and turkeys are channeled where I want them to go. You can see an example in the photo above. After I released this apple tree by removing competing plants and pruning it, I piled the brush I cut to enhance the field-stone trail and set up a ladder stand to maximize the broadside shot opportunities.
3. Make Them Look

In the photo above, you can see how I use larger grass clumps to block visual access to a food plot from the woods. I added these three Miscanthus giganteum in a baffle pattern so deer have to go around or through the sight barrier. I want to force bucks to come see what is going on, bringing them near enough to my stand that I have a shot opportunity. In this case, I have bracketed the trail opening with white pines which eventually will be large enough to help constrict viewing/access. Grasses are just quicker in the beginning.
I learned this trick while talking to a logger who did the same technique with large timber tops. Most anything can work if you use your imagination to match the vegetation to the site conditions. Even large piles of discarded Christmas trees can be just the ticket. The price is right, and they're all natural.
About the Author: NDA member Jim Sollecito is from Syracuse, New York and is a Lifetime Senior Certified Landscape Professional.