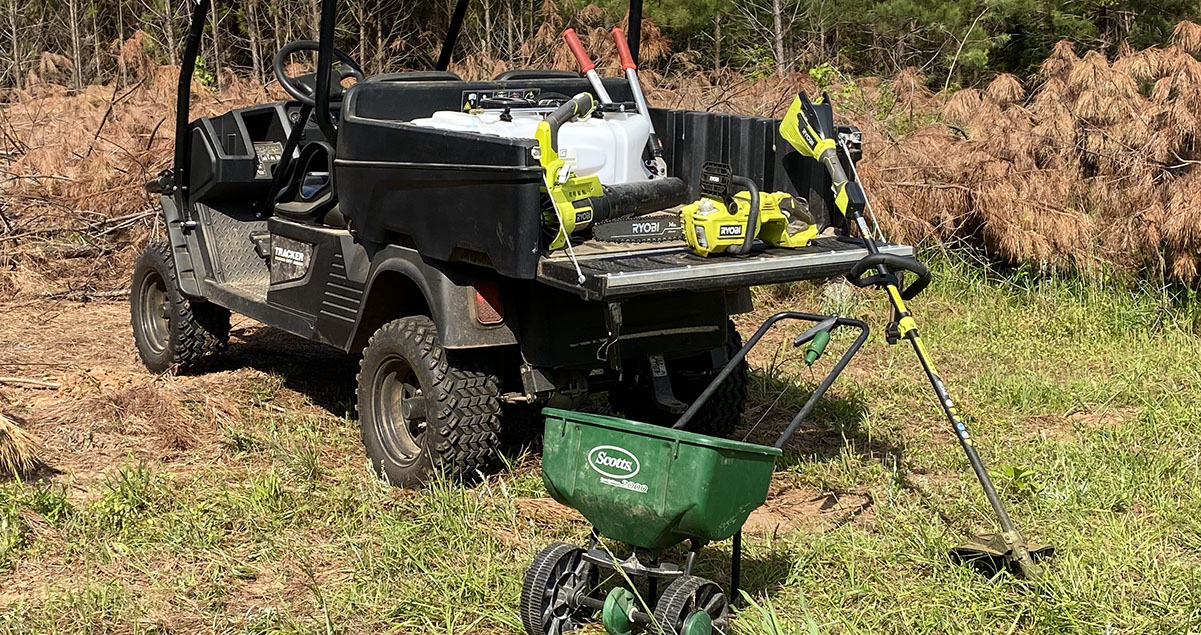 One of the perks of owning a small hunting property is you don't need a lot of big, expensive equipment to manage it for whitetails. With some basic, inexpensive tools, you can create food plots, make forest stand improvements, remove invasive species, and create early successional habitat — all worthy tasks for providing excellent wildlife habitat.
In this article, we'll take a look at the six most common tools I use here on my 15-acre Fixer-Upper, and how I use each, to hopefully help fuel some ideas for your next habitat project.
Chain Saw
One of the most important tools a small property manager can have is a good chainsaw. Many hunting properties contain more woods than open areas, so by managing those woodlands you can maximize the impact of your efforts across the entire property.
A chainsaw can be used to take down trees, hinge-cut trees where it makes sense, or girdle trees so that herbicide can be applied to kill the tree while it's still standing. By removing certain trees — starting with those of minimal wildlife value — you can open the forest canopy to sunlight and stimulate understory growth that will provide valuable food and cover for years to come.
What type and size of chainsaw you need depends on the size of trees you'll be cutting, and how often you'll be cutting them. For my small property, one of the newer battery-powered chainsaws made the most sense. My 14-inch Ryobi will cut down small to mid-sized trees, and what it can't cut, I can easily girdle and spray with herbicide. I'm typically not running a saw for long periods of time, so a couple batteries provide plenty of run time to do what I need to do. And best of all, there's no gas to mix and no worries about having to take the chainsaw to the shop for carburetor work because I left gas in it too long.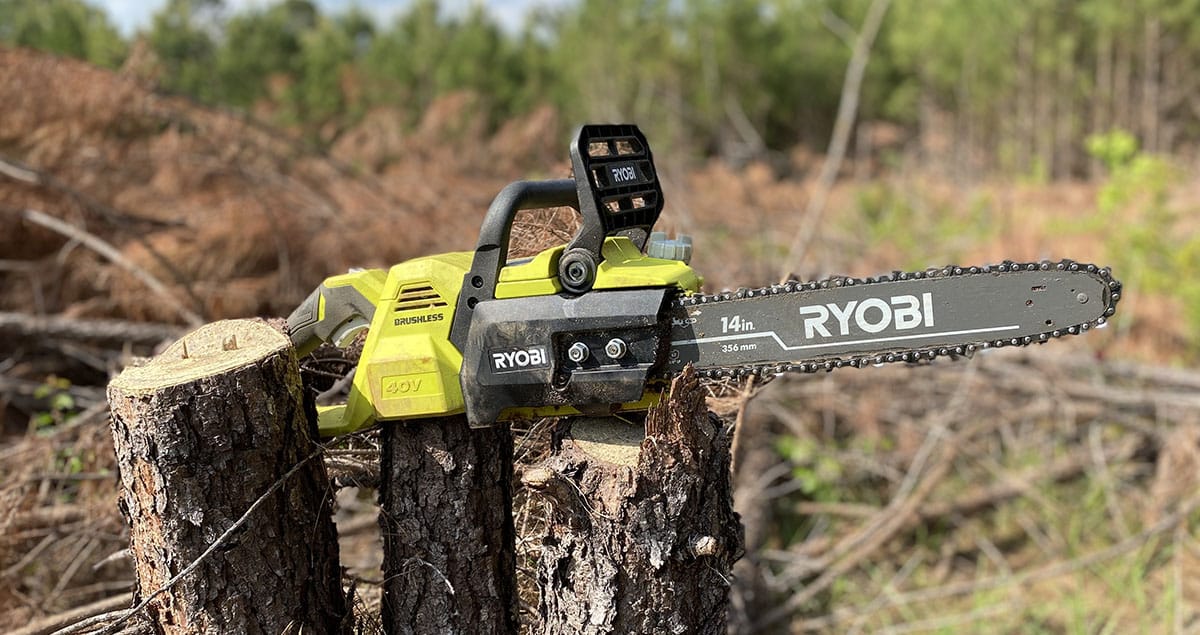 Weedeater
While it would be great to have a small tractor and bushhog for clearing open ground for the purpose of preparing food plots, for now I have to rely on my trusty weedeater. Weedeaters work great for clearing areas that are too rough or too tight for my riding mower. There's nothing fun about clearing a half-acre field with a weedeater, but it's doable, and a much better option than trying to plant into tall weeds, ultimately wasting your time and seed for poor results.
Like a chainsaw, weedeaters aren't overly expensive, and used ones are plentiful. Since I already had my Ryobi chainsaw, I opted to go with an electric Ryobi weedeater that uses the same 40-volt battery as the saw. The electric weedeater has plenty of power, and with the two batteries I have, I can clear a decent sized area. By the time both batteries run out, so has my will to run a weedeater, so it works out perfectly.
Sprayer
Another essential tool for the small property manager is a sprayer. A sprayer comes in handy for preparing my food plot area for planting, as well as spot spraying invasive weeds and shrubs. Once I start a prescribed fire regime (more on that below), it will also serve as a water supply to suppress the fire along my fire breaks or anywhere I don't want the fire to spread.
There are lots of sprayer options out there at affordable price points. I started out with a cheap one-gallon hand sprayer and eventually upgraded to a 15-gallon electric unit that I can mount in the back of my Tracker utility vehicle.
Seeder/Spreader
This is another area where I have slowly been able to upgrade my small property equipment. When I first bought the property, I used a small, hand-held spreader to spread seed, fertilizer and pelletized lime. It got the job done, but I had to constantly stop and refill the small hopper. Then last year I was able to pick up a larger push spreader like people often use on their lawns, and even came across a great deal on a pull-behind spreader that attaches to my utility vehicle.
As I mentioned above, a spreader comes in handy for liming, fertilizing, and seeding food plots. A small push spreader is more than adequate to get the job done on a small property, and you can pick one up for around $50. When spreading lime or fertilizer, you may have to make frequent stops to refill the hopper, but otherwise, it should handle anything you throw at it.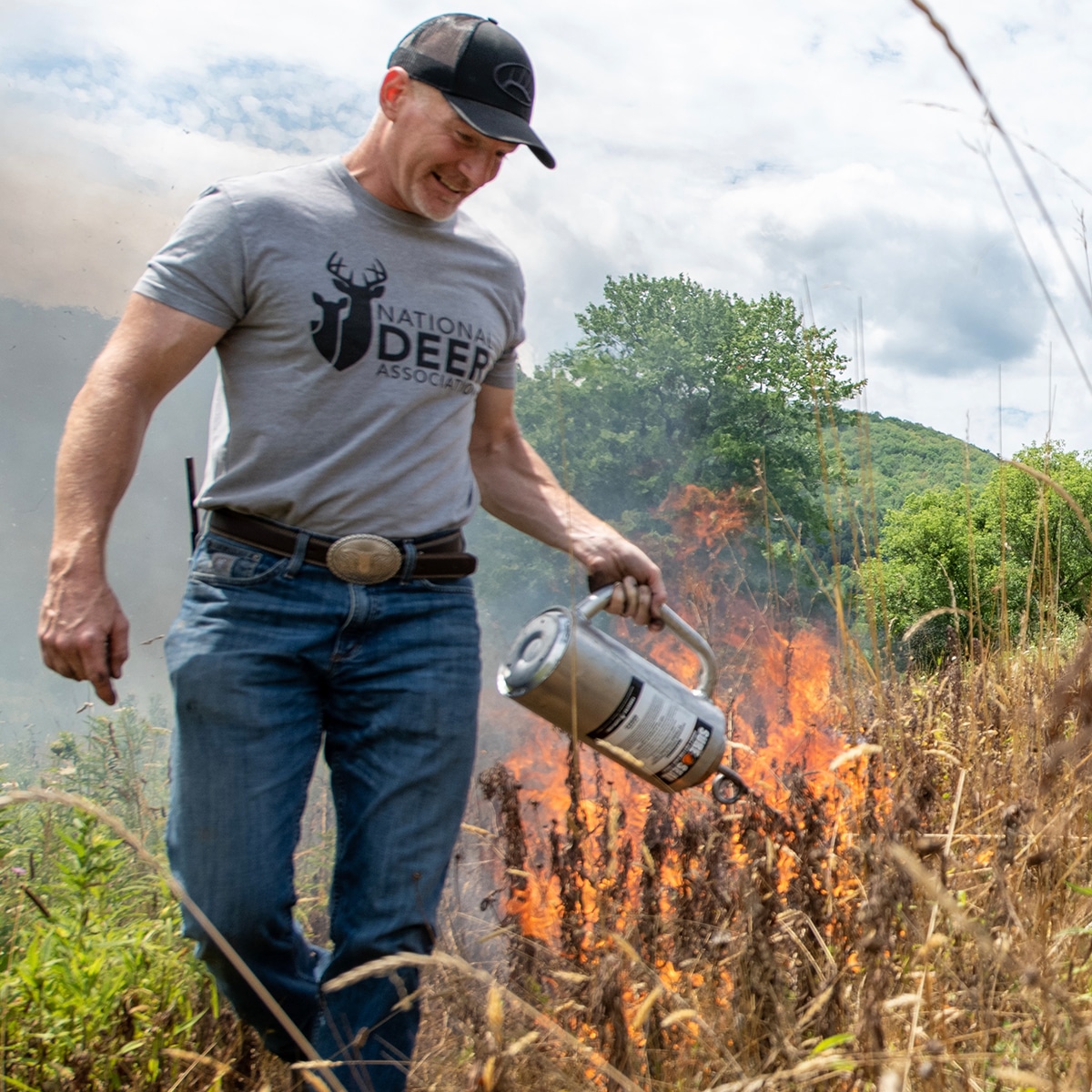 Drip Torch
I've yet to conduct my first prescribed burn on the new place, but it's in my plans for next winter. Before I do that, though, I'll add a drip torch to my arsenal of tools. Prescribed fire is one of the best management practices for improving the maximum acreage in the shortest amount of time, and at the least expense possible (providing you're doing the work yourself). But to effectively burn on even a small property, you'll want a drip torch to string fire.
In addition to the torch, you'll also want a sprayer of some type (as discussed above) to contain the fire as needed, as well as some hand tools like a fire flapper and a fire rake. It's worth noting that some state agencies and non-profit conservation organizations have prescribed fire tools available that they loan or rent out, and in some cases, they will even help you conduct the burn.
Leaf Blower
And while we're on the subject of prescribed fire, a leaf blower can be very handy for blowing fire breaks as needed. While I prefer the added safety of a nice, wide disked firebreak, that's not always possible. If you're burning in a wooded setting that is not conducive to disking, give a leaf blower a try. I just recently picked one up from Facebook Marketplace, and once again I went with a 40-volt Ryobi battery-powered model.
Final Thoughts
Managing my 15-acre property for deer hunting has been a rewarding experience, and the tools I've discussed here have played a vital role in the work I've been able to accomplish.
If you're looking to improve your own small property's habitat for deer hunting, I highly recommend incorporating some of these tools and techniques into your habitat work.