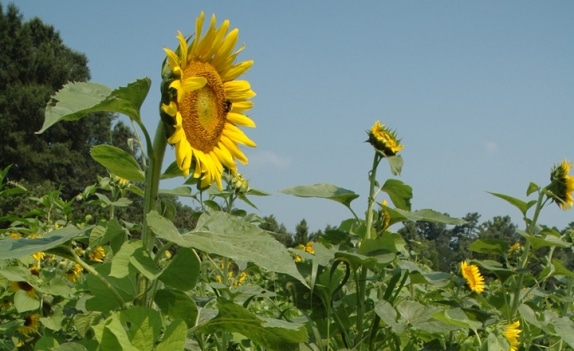 In my past article "Weed Control Primer" in Quality Whitetails magazine, I shared strategies for effective weed control in cool- and warm-season food plots. I also included several food plot mixtures and matching weed-control methods I have used successfully. Here's a brief excerpt from that article looking at strategies for weed control in warm-season food plots, along with two warm-season mixes I commonly use and the herbicide applications I use with them.
Warm-Season Food Plot Strategies
There are many preplant incorporated and preemergence herbicide options for the majority of warm-season crops you might plant (see the chart in the Gallery below). I strongly recommend them. They are a key to clean, weed-free warm-season plots. There are also several postemergence options. Of course, the most popular are Roundup Ready options for corn and soybeans. However, if you intend to plant non-Roundup Ready crops, you should think carefully about your problem weeds. Be aware of warm-season grass weeds. Some of the most common include johnsongrass, crabgrass, goosegrass, and broadleaf signalgrass. If you plant a mixture that contains a grass, such as grain sorghum, your postemergence grass-control options are severely limited. Think about what weeds you have before you decide what to plant.
There are many warm-season plantings that can be used to grow high-quality food plots for white-tailed deer. My personal favorites are soybeans and corn, planted separately. I would argue the single best planting for white-tailed deer is soybeans. No other single planting provides more management flexibility or better nutrition over a wider window of time than soybeans. However, I also commonly use other crops to provide diversity in food choices for deer and other wildlife. Below are a couple of warm-season mixtures I commonly use and the herbicide applications I use with them. There is nothing magical about these mixtures, but I can assure you they work well. With regard to variety, choose the one that is best suited to your location. Always read and follow the label of any herbicides you use.
---
Mix 1
Iron-clay cowpeas  50 lbs./acre
Lablab 10 lbs./acre
Peredovik sunflowers 5 lbs./acre
With this mixture, we plant conventionally and use 3 pints Prowl (per acre) preplant incorporated, then apply 12 ounces of Clethodim (per acre) postemergence with a non-ionic surfactant to control grass weeds before they reach 4 to 5 inches in height. See the photo in the Gallery below of this mixture at maturity.
---
Mix 2
Iron-clay cowpeas 60 lbs./acre
Corn 8 lbs./acre
If we are not planting Roundup Ready corn and want to plant something with the corn, we generally use cowpeas because they vine up through the corn better than most soybeans. We use 2 pints of Dual II Magnum preplant incorporated. You can either disk-in the corn and cowpeas with the Dual II, or you can plant them separately with a planter or drill after you've incorporated the Dual II. If you use a planter or drill, adjust seeding rate as necessary. We normally broadcast this mixture because we are already disking-in the herbicide. See the photo in the Gallery below of this mixture at maturity.