WHAT: White oak acorn collection for local reforestation project
WHERE: Daniel Boone National Forest (DBNF) – London District; 2 hours (south) from Lexington, KY. Exact location will be provided.
WHEN: Saturday, October 14th, Time TBD
WHY: Improve Forest Regeneration, Restore Forest Condition, Foster a New Local Seed Source, Nature-based Solutions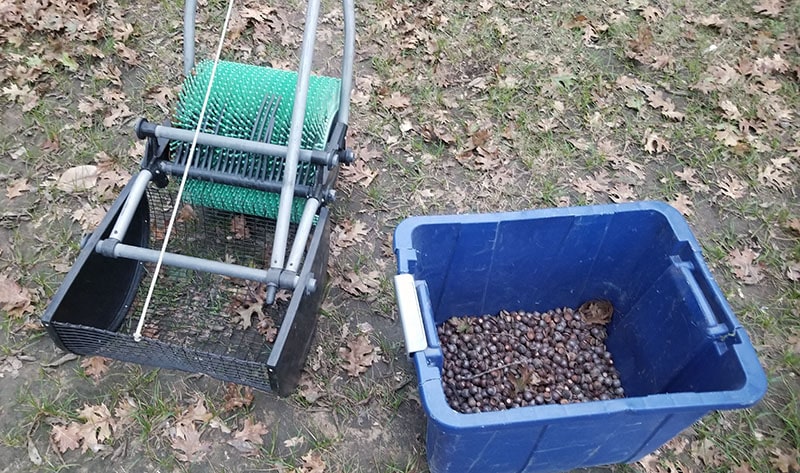 NDA currently has an agreement with DBNF that aims to increase forest cover diversity, improve stream function, public access, and support more sustainable wildlife populations like deer and grouse.  Part of that agreement tasks NDA to reforest nearly 100 acres with desirable mast-producing species, such as oaks.   To do that we plan to leverage both natural and artificial regeneration techniques, including utilizing volunteers like you to collect white oak acorns from DBNF lands this fall.  We will then work with the Kentucky Department of Fish and Wildlife Resources, Kentucky Division of Forestry and University of Kentucky to transport and grow those same acorns in a state-owned nursery and plant the successfully grown bareroot seedlings back to the same land a year later. Are you willing to help?
The event will begin with U.S. Forest Service (USFS), state agency, and university representatives on hand to answer your questions and provide background info/goals of the project. We will also hear from MeatEater's Mark Kenyon and NDA's Matt Ross about the importance of improving our public lands, being involved, and why applying innovative nature-based solutions can make all the difference. Volunteers will then be given brief safety instructions and turned loose to gather acorns with specialized collection devices and hand tools (some will be provided) in pre-determined locations.
The day will end with some food and camaraderie, so bring a good attitude, a strong back and an appetite! We will communicate via email with everyone that registers a few weeks before the event with important details of where to meet, what to bring and more. We may even ask early interested registrants to help with mast surveys a few weeks before the event to identify the best stands of trees to collect under – so, if you're interested in assisting with that shoot us a note!
If you have questions about this event or run into any issues getting registered, please contact our Director of Conservation, Matt Ross.
If you plan on attending our Mississippi event, please email Matt Ross, NDA Director of Conservation, so we can plan accordingly. We look forward to seeing you there!